Wood Brothers Racing back on the radar
February, 24, 2011
02/24/11
4:22
PM ET
HARRISBURG, N.C. -- The lobby desk is covered in flowers, including an arrangement of 21 yellow roses from the chairman of Indianapolis Motor Speedway. The makeshift souvenir stand to the right has doubled to four book shelves to handle an inventory that has more than quadrupled.
A storeroom in the back is filled with arrangements and gift baskets.
Unread newspapers are stacked a foot deep in many office chairs.
"Like a tornado hit in here," 24-year-old Jordan Wood said Wednesday afternoon.
Welcome to the Wood Brothers Racing shop in Harrisburg. It's been crazy here since 20-year-old Trevor Bayne shocked the NASCAR world on Sunday by giving the legendary organization its first Daytona 500 victory since 1976.
There's a constant flow of fans and television crews in and out of the building many didn't know existed a week ago. The front desk phone and cell phones of owners Eddie and Len Wood still ring off the hook.
[+] Enlarge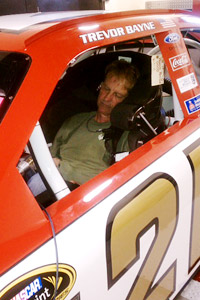 Jordan Wood/Special to ESPN.comEddie Wood took a catnap Monday after swapping out a driveshaft on the No. 21 Ford.
It's been the same way at the team's old shop in Stuart, Va., where 80-year-old Bernese Wood has done her best with the help of family members and friends to keep up with demands.
Imagine a small business being told to prepare for the arrival of President Obama on short notice. It's about that way for this company, which runs a partial Sprint Cup schedule.
"We weren't prepared for anything like this," Jordan said.
Jordan is Eddie's daughter. She's been helping out with marketing while earning her MBA at nearby UNC Charlotte. She's also the head of public relations, merchandise purchases and whatever other title she needs.
She was supposed to take a quiz on Monday, but begged out of that with an e-mail to a professor from Victory Lane on Sunday. She's hoping to get midterms scheduled for next week postponed while she digs out of this hole of media requests and paperwork.
Kim Hall, Eddie and Len's sister, also has been swamped doing ... well, you name it. When somebody saw her Ford Explorer parked in front of the Stuart shop at 9 p.m. Sunday, about 50 people showed to celebrate.
"There's good explosions," Hall said. "And this is a good one."
Let's start with souvenir sales. The 60 items that were listed on the team website were gone within an hour of Bayne's win, which linked him with Wood Brothers 500 winners Tiny Lund, A.J. Foyt, Cale Yarborough and David Pearson. The site had nothing featuring Bayne. Now there are Bayne T-shirts featuring a picture of him, the No. 21 car and the words "Daytona 500 Champion."
There also is a new gray T-shirt that says, "Wood Brothers, Seven decades of winning."
Jordan says there were about $2,000 in souvenir sales before the race and only $4,000 all last season.
"Now there's $12,000," she said, almost out of breath.
The website hits were up 600 percent, and the site crashed briefly Sunday night. Facebook friends have grown from 3,400 to more than 9,000. Newsletter requests have increased from 850 to 1,600.
The city of Harrisburg put a congratulatory sign in front of the shop and at two entrances to the city. There are similar signs at almost every business in Stuart.
Eddie and Len don't have enough hours in the day to keep up. Shortly after a ceremony at Daytona USA Monday morning they were back at the North Carolina shop with a car on the dyno getting ready for Sunday's race at Phoenix.
Eddie was so tired that he fell asleep changing a driveshaft.
"Nobody's complaining," Len said. "It's a good problem to have."
Len has spent much of his time answering phone calls from potential sponsors in hopes of extending the Wood Brothers' season past the 17 races it scheduled plus the Martinsville race, which was added after the win. So far no offers have been substantial enough to make him believe the team can run an entire season, but he doesn't have to make that decision for a few more weeks.
He's also planning for the All-Star Race that Bayne qualified for. The team wasn't even going to attempt to run the qualifier for the non-points race in Charlotte before Sunday, adding Darlington to the schedule because it paid more to start.
But there's only so much the organization can do moving forward. They have Bayne on loan from Roush Fenway Racing, which means if Jack Roush opts to put this budding superstar in a Sprint Cup ride next year the Wood Brothers will be looking for another driver.
So Len and Eddie are capitalizing on everything they can now. They have lightning in a bottle, with Bayne representing the skateboard and snowboard crowd NASCAR so desperately wants to attract.
"Like Dad said, our fans are waking up from the dead," Jordan said.
Those fans are keeping this makeshift crew of 26 full-time employees, including six family members, awake in the process. That's OK. You could almost see a light bulb go off in Len's head when he was reminded that the IndyCar Series has offered a $5 million reward to any driver not competing full time in its series who wins the season finale at Las Vegas.
"That kid, he doesn't know what he can't do yet," Len said of Bayne, smiling.
Yes, there's been an explosion in Harrisburg.
And it's a good one.