Would Danica Patrick be the No. 1 pick?
April, 28, 2011
04/28/11
1:28
PM ET
CHARLOTTE, N.C. -- And with the first pick of the 2011 NASCAR draft …
Wouldn't it be fun if NASCAR had a draft like the NFL? It would give race-starved fans something to talk about during the offseason. It would give non-Sprint Cup drivers we seldom hear about exposure they don't get because Cup drivers are winning everything in the Nationwide and Truck series.
[+] Enlarge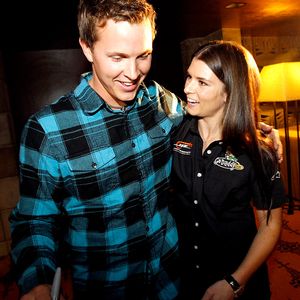 Tom Pennington/Getty ImagesWho would you pick No. 1 in a NASCAR draft, Daytona 500 winner Trevor Bayne or crossover star and media darling Danica Patrick?
Instead of 40-yard times we could break down lap times. The vertical jump would be replaced by burnouts. The bench press would be out and hand-eye coordination in. And wouldn't you love to know whatDale Earnhardt Jr. or Kyle Buschscored on the Wonderlic Test (a 50-question exam the NFL uses to assess aptitude) when they were young prospects?
We could have detailed daily analysis and mock drafts. I'd volunteer to be the Mel Kiper of the sport as long as the Kiper haircut isn't a prerequisite. I've already been practicing draft-speak: "The kid's gifted in the straightaway but feet are too small to manage brakes and have immediate impact on short tracks. Has big hands that are ideal for left turns but needs to develop right turnability to be a complete driver.''
I know it's not realistic. It would require all Cup organizations to have a full-time developmental program to give their picks seat time.
But for the fun of it, let's pretend there is a draft. Let's put together a mock board and compare notes.
Remember, no full-time Cup drivers allowed.
1. Danica Patrick -- Like Cam Newton on the NFL side, she may not be the most talented, but when you combine talent with marketability she'd be hard to pass on at No. 1. By the way, don't look for her to commit between NASCAR and IndyCar until sometime after the Indianapolis 500 -- probably by midsummer -- although most signs point toward NASCAR.
2. Trevor Bayne -- This 20-year-old ranks too high on marketability after winning the Daytona 500 to overlook. The Justin Bieber of the sport has the Hollywood look that sponsors clamor for and enough talent to make him an instant star.
3. Austin Dillon -- The sport loves legacy drivers like Richard Childress' grandson. He's already won a few races in the Truck series and has shown potential in Nationwide. Plus, he'd be the perfect candidate to bring back the black No. 3.
4. Justin Allgaier -- He has an ARCA championship, was the 2009 Nationwide rookie of the year and leads the 2011 Nationwide standings. He also has a Nationwide victory, something those above him can't say. Enough said.
5. Chase Elliott -- If the 15-year-old son of 1988 Cup champion Bill Elliott is good enough to be signed by Rick Hendrick, then he's good enough to be taken here.
6. Ricky Stenhouse Jr. -- He's the defending Nationwide rookie of the year and ranked second in points. He has 16 top-10s and two poles in 47 starts, so there's plenty of upside.
7. Darrell Wallace Jr. -- He's the top prospect from NASCAR's diversity program and made history by becoming the first black driver to win in NASCAR's K&N Pro Series East. He won Thursday night's East race at Richmond.
8. Travis Pastrana -- This X Games star and motorcycle racer already has an international following. Like Patrick, if he shows anything behind the wheel, sponsors will come.
9. Cole Whitt -- Sports Illustrated picked him as a driver to watch so he has that going for him. He also has three top-10s and is ranked fifth in points after five Truck races.
10. James Buescher -- Hey, he almost beat Kyle Busch in the Truck race at New Hampshire last season. Not many can say that.
So, who would make your list? See, this can be fun.