No. 48 team leads pit crew evolution
May, 20, 2011
05/20/11
11:50
AM ET
CHARLOTTE, N.C. -- Look no further than Ron Malec if you want to know how much NASCAR's Pit Crew Challenge has changed.
For almost half a dozen years, the car chief for five-time defending Sprint Cup champion Jimmie Johnson was a competitor in the event.
[+] Enlarge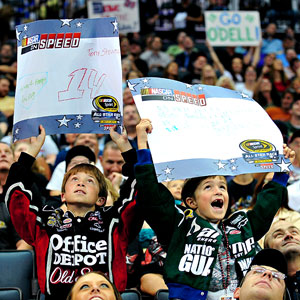 Jared C. Tilton/Getty Images for NASCARSorry, kids, but your favorite teams didn't make it to the finals of the Pit Crew Challenge.
He has been replaced by baseball, football and hockey players who, he admits, are far more athletic than he ever dreamed of being.
For the record, the No. 48 crew finished second in the challenge, which was held Thursday night at the Charlotte Bobcats' Time Warner Cable Arena. Denny Hamlin's No. 11 crew finished first.
Instead of prepping for the event earlier in the day, Malec was telling media about a new line of Kobalt tools that he and other members of the No. 48 team helped redesign to bring them up to their professional standards.
The tools are pretty good, by the way.
But back to the pit crew: The No. 48 team is redefining the over-the-wall gang. It began late last season at Texas when crew chief Chad Knaus swapped his entire crew for Jeff Gordon's in mid-race.
It continued into the offseason when Knaus came up with a plan to split 18 crew members between the teams of Johnson and Dale Earnhardt Jr., with six starters for each team and six backups to be shared.
Instead of looking for athletic mechanics and engineers who could perform jobs outside of pit road, Knaus went, for the most part, with athletes who know little about cars.
The new outdoor training facility at Hendrick Motorsports is further evidence to this commitment.
So far, it has worked.
When one of Earnhardt's tire changers sustained an injury earlier this season, backup Camron Waugh was inserted flawlessly.
[+] Enlarge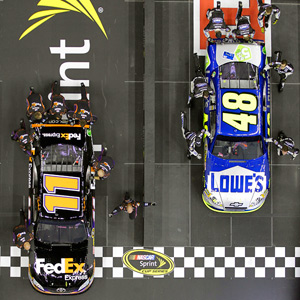 AP Photo/Terry RennaDenny Hamlin's team crosses the finish line ahead of Jimmie Johnson's on Thursday night.
When Johnson's team was penalized late at Darlington for a missing lug nut, Waugh was called up to replace Colin Fambrough as the front tire changer.
As Malec said, the teams are looking for perfection from their crews, just as he was looking for perfection from the tools that had become inferior over the years.
"Nobody wants to be a starting quarterback and get sat down because of performance," said Malec, a former rear tire changer. "But it's a performance-driven sport, and we try to get the best product out there every week just like we do with the cars."
Listening to Malec talk about the tools in front of Kobalt brass, it's easy to understand a mentality which could be construed as cutthroat.
He had Kobalt brand manager Greg Palese so shook up with his brutal honesty about one line of merchandise that Palese said, "I wanted to crawl under my desk."
"That's kind of how we are with our attitude," Malec said of the 48 team. "We want to bring them up to our level."
That's what Knaus and Malec are doing with the pit crew. They understand a drop-off in performance in any one area could end their run of titles.
"It's definitely bringing it up to another level throughout the sport," Malec said.
But for the record, Malec still believes he could handle a few of his stellar athletes in chin-ups.