Jimmie Johnson's right where he usually is
June, 22, 2011
06/22/11
10:41
PM ET
CHARLOTTE, N.C. -- One week people are wondering if Jimmie Johnson is laying low like a snake in the grass, ready to pounce on a sixth straight Sprint Cup championship. The next they are wondering if there's a chink in Superman's armor that possibly could open the door for somebody else to claim the prize.
To those that are hoping for the latter, particularly after last week's 27th-place finish at Michigan in which Johnson spun out on his own and finished a lap back, sorry.
[+] Enlarge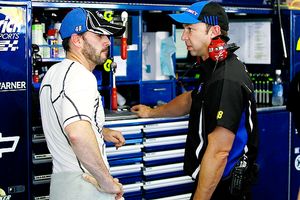 Chris Trotman/Getty ImagesDon't let Chad Knaus and Jimmie Johnson fool you, they're right where they usually are.
The No. 48 team is right where it has been the past five seasons, and we all know how that turned out.
It's amazing, really, when you compare Johnson's statistics after 15 races this season with 15 in each of his championship runs. Other than a win or two here, a top-5 or two there and a few laps led there, there's really no difference.
Let's break it down year by year:
• 2011: One win, five top-5s, nine top-10s, 473 laps led and fourth in points.
• 2010: Three wins, six top-5s, nine top-10s, 625 lap sled, sixth in points.
• 2009: Two wins, six top-5s, nine top-10s, 794 laps led, third in points.
• 2008: One win, four top-5s, seven top-10s, 573 laps led and fifth in points.
• 2007: Four wins, eight top-5s, nine top-10s, 668 laps led and third in points.
• 2006: Three wins, seven top-5s, 12 top-10s, 325 laps led, first in points.
Outside of 2006, Johnson hasn't been better than third in points at this point. There have been times when he's led fewer laps and had fewer top-5s.
In other words, things are status quo, which can't be good for the rest of the competition.
"I don't know where people have had this impression it's all holding hands and singing 'Kumbaya' for the 48 team," said Johnson, who is the defending champion at this week's race in Sonoma, Calif. "We're racers. We don't enjoy running midpack. We've been through this each and every year. That's just racing."
And don't read anything into the frustration you may have heard in crew chief Chad Knaus' voice on occasion, particularly at Charlotte where after a late pit stop in which many teams took two tires to gain track position, Knaus radioed, "Oh, hell, I don't know how to work these races anymore."
That was just frustration of several weeks in which a solid run, maybe a potential win, slipped away because of strategy.
"All in all, things are good," Johnson said. "Things can be better. We're very aware of that. We want more for ourselves."
Unfortunately for the competition, that typically comes around during the Chase.