Kyle Busch puts ticket in the rearview
August, 24, 2011
08/24/11
12:25
PM ET
CHARLOTTE, N.C. -- "Want the special?" the man at the hot dog stand outside the North Carolina District Courthouse of Iredell County asked on Tuesday.
I politely said no and asked whether there was a nearby restaurant where I could work and eat while waiting for Kyle Busch to appear in court for the speeding penalty he received in May.
"Sure you don't want it?" the man asked, pointing to a sign.
Sometimes you miss what's staring you in the face. You know, a "can't see the forest for the trees" sort of thing.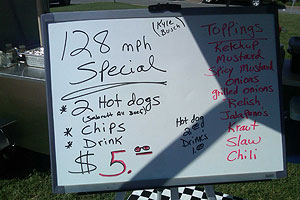 David Newton/ESPN.comOnly in America: A hot dog vendor outside of a North Carolina district courthouse was offering a special meal deal in honor of Kyle Busch.
But there in big black-and-red handwriting on a whiteboard was the "Kyle Busch 128 mph special" -- two hot dogs, chips and a drink for $5.
You couldn't help but laugh.
A few hours later, NASCAR's Sprint Cup points leader was fined $1,000 and had his licensed suspended for 45 days by Judge Thomas Church for going 128 mph in a 45 mph speed zone down a rural road near Mooresville, N.C.
Case closed.
"This is it," Busch said outside the courthouse, adding that the hearing for him brought closure to the incident.
It did from a legal standpoint, but Busch still has this image thing to deal with. So does NASCAR.
First, Busch. As long as people such as the man running the hot dog stand are making jokes about Busch, there'll be a certain part of the NASCAR fan base who won't take the 26-year-old superstar seriously -- even if he goes on to win the Cup title.
There will be a certain part who will consider Busch a punk no matter how much good he does -- and he is doing a lot of good, supporting the B.R.A.K.E.S (Be Responsible and Keep Everyone Safe) program that NHRA dragster Doug Herbert began for teenage drivers and other charities through his foundation.
Busch wants people to realize that as a driver, he's special -- not to have specials named after him.
Which brings me back to the "can't see the forest for the trees" phrase. Perhaps fans are so caught up in Busch's past mistakes that they can't see what's staring them in the face -- that he has changed.
Jimmie Johnson, the driver Busch wants to knock off the throne, nailed it after finishing second to the Joe Gibbs Racing driver on Sunday at Michigan. He reminded us that he didn't come into Cup full time until he was 26, the same age Busch is now with almost seven full seasons under his belt.
"At the time I thought that opportunity had passed me by, and I wasn't sure I was ever going to get a shot," said Johnson, the five-time defending Cup champion. "But looking back, I'm very thankful getting my late start. It helped me mature in a lot of ways. I made my mistakes more on the lower levels instead of in the spotlight with the pressure of the Cup series.
[+] Enlarge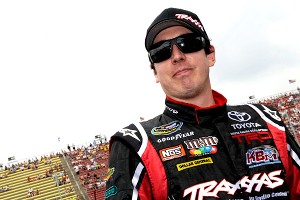 John Harrelson/Getty ImagesSprint Cup points leader Kyle Busch has put the infamous speeding ticket in his rearview.
"He's getting into that in his mid-20s now. So he's getting into his sweet spot, I think."
Perhaps it is time to look at Busch for what he is now, not what he was coming into the sport. How many people would like to be judged on what they did during their first few years in business? Probably not many.
Yes, Busch made a big mistake when he sped 128 mph down a winding rural road in that bright-yellow Lexus LFA that he had on loan for a day. Yes, he endangered lives regardless of what his attorney, Cliff Homesley, argued so eloquently in court.
Yes, he also deserves a chance to prove that he has changed so the jokes will stop.
Now for NASCAR: If the governing body really wants to send a message that will make its stars think twice before doing immature things, how about making it mandatory that you have a driver's license to compete in the top three series?
I understand there are arguments against it. NASCAR officials will note that driving on a racetrack has nothing to do with driving on a highway and that there are ways to lose a license that have nothing to do with speeding or reckless driving.
And they would be right. You can lose a license in North Carolina for being delinquent in child-support payments or failure to appear in court. You can lose a license for accumulating a certain number of points on your driving record from numerous minor violations.
But as Busch's attorney repeatedly said, his client is looked at differently because of his celebrity status. What he didn't say is with that comes a responsibility, and if the way you make a living is threatened because you don't have a driver's license, the line would be clearer.
Maybe Nationwide Series driver Michael Annett would have called a cab instead of climbing behind the wheel when he was three times the legal level of intoxication, which cost him his license for one year.
Maybe that's one of those "can't see the forest for the trees" things as well.
It happens to all of us, whether it's specials on hot dogs or hot dogs that are special.