Earnhardt focused on title, not contract
September, 1, 2011
09/01/11
11:11
AM ET
CHARLOTTE, N.C. -- You may be wondering why Thursday's official announcement that Dale Earnhardt Jr. has signed a five-year extension at Hendrick Motorsports didn't involve a huge news conference, a lot of hoopla, pomp and circumstance.
After all, HMS did lock up NASCAR's most popular driver through the end of the 2017 season.
The answer is simple: Earnhardt didn't want to bring attention to this.
So we got an email with a prepared statement.
[+] Enlarge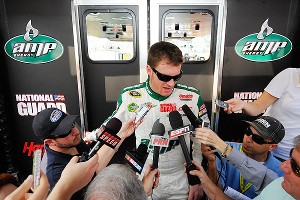 Jason Smith/Getty Images/NASCARDale Earnhardt Jr.'s new deal with Hendrick Motorsports will keep him in the No. 88 Chevy through 2017.
That's it.
From the time team owner Rick Hendrick told me he was working on an extension more than a year ago -- then with two years remaining on the current deal -- he said Earnhardt didn't want to make a big deal out of this. He reiterated that in May, when he told me all terms basically had been agreed upon.
This says a lot about Earnhardt. This says, as he mentioned last weekend at Bristol Motor Speedway, that his focus isn't on contracts or making the Chase. His focus is on winning a title.
And he believes HMS is the best place to do that.
"Making the Chase is great and all, but as a person, you want to be the champion," Earnhardt said at Bristol. "Making the Chase doesn't really make you feel better at the end of the season if you don't win a championship … you are really disappointed. I don't really think about I need to make the Chase, personally. Those aren't my thoughts."
Some interpreted this as Earnhardt, ninth in points with two races left before the Chase is set, didn't really care about making the Chase.
Totally opposite. He was saying that it's not enough just to make the 10-race playoff.
Hendrick feels the same way, which in part is why he committed to a driver who hasn't won since 2008 for the long haul. That, and Earnhardt still brings in more revenue than any driver on the planet.
It he wins a race or two, that will only increase his value.
If he wins a title ... you get the picture.
"My feelings haven't changed since the day he first signed with us," Hendrick said Thursday. "I'm committed as ever to putting him in the best possible situation to be successful and compete for wins and championships."
It took a lot of guts for Earnhardt, 36, to leave Dale Earnhardt Inc., the company his dad built from scratch, after the 2007 season. But it was the right decision then and it is the right decision now to stay put, and possibly retire at HMS.
Earnhardt is like a son to Hendrick and Hendrick is like a father to Earnhardt.
Earnhardt gives Hendrick a challenge to win a title like none other he's faced in the business, and Earnhardt wants a title.
It's an ideal match.
This deal will end all the talk about Earnhardt moving JR Motorsports up to Cup and driving for himself. This deal will end talk of Earnhardt going to Richard Childress Racing, where his dad won six of his seven titles, and possibly drive the No. 3.
This will allow Earnhardt to focus on winning titles without worrying about long-term plans.
"It's great to have it all wrapped up so quickly and far in advance," Earnhardt said in the release. "Rick and I were on the same page from the first time we talked about it, so there wasn't any sense in waiting. There were never any questions or hesitations from either of us. It was just, 'Yeah, let's do it.'
"I'm really happy at Hendrick Motorsports and enjoy working with everyone here. The team's been very competitive this season, and we're all excited about the direction of things. I want to make sure we're giving our fans something to cheer about for a long time."
Earnhardt will address this in person on Friday at Atlanta Motor Speedway, but he won't make a bigger deal about it then than he did Thursday. He'll probably shrug his shoulders and say how he's glad to get it done and move on to the next chapter.
That's not the Chase.
That's winning a championship.
That, not a contract, is his focus.