'The Newlywed Game,' NASCAR-style
December, 1, 2011
12/01/11
6:22
PM ET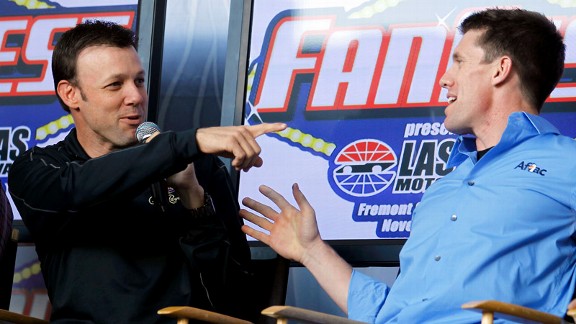 Todd Warshaw/Getty ImagesRoush Fenway Racing drivers Matt Kenseth, left, and Carl Edwards disagreed like an old married couple during a twisted version of "The Newlywed Game" in old Vegas on Wednesday.
LAS VEGAS -- Oh, the things you can learn about NASCAR's 2011 Chase class during a twisted version of "The Newlywed Game" -- like the one staged Wednesday at the Fremont Street Experience in old Vegas.
Warning: This blog may be offensive to those who have problems with noisy bodily functions, wet T-shirt contests and stupidity.
And did I mention that Bob Eubanks, the original host of the show that tested newly married couples on how well they know each other, made himself available afterward to sign autographs on some of his "old pictures"? I thought every picture of the 73-year-old, not to be confused with Bob Barker, was old.
Hey, that was a tame shot compared to what happened when the 12 drivers were partnered up. Speaking of partnering up, Brad Keselowski apparently found that phrase offensive after about the 10th time Eubanks referred to Kurt Busch as his partner.
Or maybe it was just that Busch was his partner.
That's a debate for later. Here's what you would have learned had you been one of the 2,500 or so fans who attended this kickoff function to the Sprint Cup champion's week:
• That Ryan Newman apparently "can fart the alphabet." This was his answer when asked what he does to annoy his partner, reigning Cup champion and boss Tony Stewart. Stewart, for the record, predicted Newman would say belch in team meetings, something else we learned.
• That Jimmie Johnson used to shave his legs. According to the five-time champion's partner, Jeff Gordon, Johnson did this because he was a swimmer in high school. Johnson later admitted it, to which Matt Kenseth slyly said, "Sure he was."
• That Kenseth really is the funniest driver in NASCAR. When asked what driver his partner, Carl Edwards, least likely would allow his daughter to date, Kenseth said "Danica," as in Danica Patrick. When Edwards wrongly predicted that Brian Vickers is the driver Kenseth most likely would knock out of the way on the last lap to win a race, Kenseth replied, "He probably wouldn't be leading."
• That Kyle Busch really does believe he is the best driver in the world. At least that's what Eubanks said Busch told him.
• That the Busch brothers really aren't all that popular in their hometown of Vegas. Prior to the show, when a fan was asked to name the Chase field beginning with who finished last, the response was, "Kyle Busch, who is a loser, was 12th. Kurt Busch, the other loser, was 11th."
• That none of the 12 drivers is willing to admit the other's wife or significant other could win a wet T-shirt contest. Dale Earnhardt Jr. shyly answered the question with "my future wife."
• That Kurt Busch has a sense of humor about his questionable behavior of late. When asked what would be something funny someone could watch him do without him knowing, Busch started with, "I've been pretty good at not making myself look good everywhere." Keselowski, by the way, suggested watching Busch on an in-car camera.
• That Johnson may be a great driver, but he's not great at this game. At one point Eubanks responded to one of Johnson's answers with, "That's dumb."
• That Keselowski, who is sponsored by Miller Lite, "can get drunk very easily."
• That Kyle Busch thinks Denny Hamlin's haircut is so bad that it looks like it "came straight out of [the movie] "Dumb and Dumber."
• That, according to Newman, Stewart is the "hairiest man alive."
• That drivers think too much, or at least Stewart thinks Newman apparently does. And when Eubanks sarcastically said "NASCAR drivers don't think?" Stewart deadpanned, "Hey, it's worked for me."
• That the fans as well as Johnson think four-time Cup champion Gordon whines too much. OK, we already knew that.
• That Edwards still is a bit sensitive about finishing second to Stewart in the Chase. When Eubanks jokingly said Edwards, traditionally late to everything, was "sometimes late crossing the finish line," the Roush Fenway Racing driver responded with a pulled kick to the shin.
• That Stewart is as smart as he is a great driver. The three-time champion and Newman beat Joe Gibbs Racing partners Kyle Busch and Hamlin in the final round.
• That drivers really shouldn't be allowed to drink and play games.