Honey or honey badger? Danica says both
January, 13, 2012
01/13/12
4:21
PM ET
DAYTONA BEACH, Fla. -- Having been born and raised in the deep South, referring to a woman as honey seems as natural as eating grits and fried green tomatoes.
But in considering a line to accompany my Thursday column on Danica Patrick, I refrained from tweeting, "From Honey to Honey Badger." The backlash Kasey Kahne had for his Twitter comment about breastfeeding was cause for concern the term might be offensive to somebody.
"Isn't that terrible? You can't say from honey to honey badger?" Patrick said as I shared this during a break in Sprint Cup testing Friday at Daytona International Speedway. "Isn't that a bummer? You can call me honey all you want."
[+] Enlarge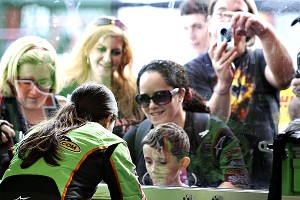 Jerry Markland/Getty ImagesDanica Patrick gets in some autograph time at Daytona during Preseason Thunder on Thursday.
Glad it was her and not Kurt Busch saying that.
In case you missed it, Patrick has become infatuated with the honey badger ever since seeing a video about the critter on YouTube. She has a picture of one on her cellphone and promises to have the on-track attitude of the animal that "takes what he wants."
"I don't want to be confused into thinking I want the nickname as the honey badger," Patrick said with a laugh. "I just like the attitude of the honey badger."
Patrick was having fun and enjoying the moment, just as she has every moment since arriving at Daytona on Thursday for her first test in a Sprint Cup car. She's more relaxed than she ever was at an IndyCar test.
"In IndyCar, it's just taken a little more seriously," Patrick said. "It's not that it's not taken seriously here. It's just a comfort zone of being able to joke around throughout and during it and having fun with it instead of feeling like you had to be serious."
At an IndyCar test, Patrick always was worried that if she joked around and something bad happened with the car that "they would blame me on not being focused."
Patrick loves the atmosphere at Daytona. She's felt comfortable here ever since her debut in an ARCA car in 2010.
That car, by the way, is in her garage along with the 2010 Hot Wheels Nationwide Series car in which she finished the 2010 season and an old IndyCar.
Perhaps one day she'll add the Cup car she drives in the 2012 Daytona 500 to her collection.
Remember, like the honey badger, she can take what she wants.
"Honey is sweet, isn't it?" Patrick said with a smile. "Sweet with just a little bit of bitter in it."