Joe Gibbs likes what he sees in Tim Tebow
January, 23, 2012
01/23/12
5:56
PM ET
CONCORD, N.C. -- Tim Tebow doesn't have anything to do with NASCAR or the Sprint Media Tour, but he's made an impression on one team owner.
"I love Tebow," said Joe Gibbs, the owner of Joe Gibbs Racing and former head coach of the Washington Redskins.
Gibbs knows a thing or two about quarterbacks. No other coach in NFL history has won three Super Bowls with three different signal-callers -- as Gibbs did with Joe Theismann, Doug Williams and Mark Rypien.
[+] Enlarge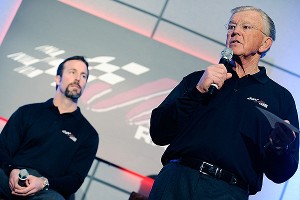 Jared C. Tilton/Getty Images/NASCARFormer NFL coach Joe Gibbs, right, on Denver Broncos quarterback Tim Tebow: "I admire him. There's not many young guys who would stand up and say the things he says. That takes guts."
So when the conversation Monday turned from racing to the popular Denver Broncos quarterback, the Hall of Fame coach couldn't say enough good things.
It had nothing to do with Tebow's outward expression of his faith, something Gibbs doesn't hesitate to share with others. It wasn't an attempt to be a part of the so-called Tebow bandwagon.
Gibbs genuinely is impressed.
"I think he's a player," Gibbs said of Tebow as he took a break from racing to talk football. "Everybody is talking about his throwing motion and all of that. I can't tell you how many guys up there have bad throwing motions."
Gibbs mentioned San Diego Chargers quarterback Philip Rivers and Pittsburgh Steelers quarterback Byron Leftwich, to name a couple.
"Don't get caught up in that stuff," Gibbs said of throwing technique. "Tebow brings a real different deal to the game. He can run and he's a great competitor. Up there, one thing is for sure, you can't fake it. It's like driving these race cars -- you can't talk your way to the front."
Gibbs knows a thing or two about drivers, as well. He has won three Sprint Cup titles with two drivers -- Tony Stewart in 2002 and 2005, Bobby Labonte in 2000 -- and has a stable in Kyle Busch, Denny Hamlin and Joey Logano capable of adding to that list.
But we were talking football, and Tebow was the topic. Gibbs laughed at the suggestion that NFL coaches can change the Heisman Trophy winner's throwing motion.
"Anybody that starts telling you they're going to change somebody's throwing motion when he spent 16 years playing football and throwing that way is kidding you," he said. "What you see is what you get."
And Gibbs likes what he sees in Tebow, including his faith.
"Everybody deals with faith differently," Gibbs said. "In his case, he just said 'I'm going to take a stand.' It's been interesting to see how that polarizes stuff.
"I admire him. There's not many young guys who would stand up and say the things he says. That takes guts."
And for the record, Gibbs likes the New York Giants over the New England Patriots in the Super Bowl.
"I'm an NFC guy," he said. "I'm not going to jump ship."