New Ford Fusion NASCAR car looks great
January, 24, 2012
01/24/12
10:15
PM ET
CONCORD, N.C. -- The Nationwide Series garage at Charlotte Motor Speedway was dark except for blinding spotlights shining on the front of the room. Rock music blared over the loudspeakers. Anticipation was in the air.
You half expected Steven Tyler or Mick Jagger to come barreling through the black curtain.
It was better, at least if you're a NASCAR fan.
It was the 2013 Ford Fusion.
Remember the last time a new Sprint Cup car was introduced, in 2007? Everyone from crew chiefs to drivers Tony Stewart, Jeff Gordon and Kevin Harvick called the boxy-looking Car of Tomorrow ugly. And they were right.
[+] Enlarge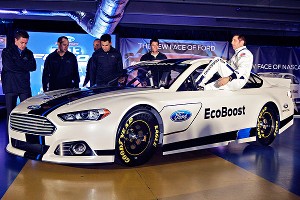 AP Photo/Chuck BurtonGreg Biffle climbs out of the 2013 Ford Fusion NASCAR Sprint Cup series race car into a news conference during the NASCAR Media Tour on Tuesday.
Some said real ugly, and they were right. Kyle Busch said it "sucked," and that was after winning the inaugural race in it.
Many fans hated the car as well, complaining it looked nothing like the car they drove at home. Because fans hated it, so did manufacturers who were used to the "race on Sunday, sell on Monday" motto.
"They're not going to complain about that thing," Greg Biffle said as he pointed to the car he drove into the room. "That thing is badass."
It really is.
It's sleek. It's racy. It's everything the car we've grown to hate hasn't been.
"If it runs as good as it looks, we'll be good," seven-time champion Richard Petty said.
The COT was designed with safety in mind, but it was never popular.
Officials tweaked the looks over the past few years to keep manufacturers and fans seeking brand identity happy, but the focus has been on a totally new look in 2013.
The focus has been on getting the cars closer to the days when Petty could buy one off the showroom floor and prepare it for the Daytona 500.
"This won't solve the problem 100 percent, but it'll give them 90 percent," Petty said.
Chevrolet, Toyota and Dodge will roll their 2013 cars out later in the year. There's anticipation Chevy will depart from the Impala SS and go with a new line.
There's anticipation, period.
"This stuff started as stock cars, and that's what got it going," Petty said of NASCAR. "We just got away from that for a couple of years."
Far away.
Tuesday's unveiling was such a big event it was called a milestone, a landmark.
NASCAR president Mike Helton said never in the history of the sport has there been a more collaborative effort between the governing body, manufacturers and teams "to start from the ground up and design a race car that they participate in the design of it."
Mission accomplished.
"This brings back the relevancy of NASCAR on the track to what fans have in their homes, garages and parking spots at work," Helton said.
As a kid I always wanted a Chevrolet Chevelle SS because that was the first car I remembered seeing my favorite driver, Bobby Allison, race. I wanted one because it looked like the Chevelles on the street.
The 2013 cars for all manufacturers will return the sport to that.
It will energize old fans and help bring in new ones.
"They've been hollering for this for a long time," Petty said.
NASCAR and the manufacturers finally answered. They answered with spotlights and rock music that made you stand up and pay attention.
"It's kind of sexy looking," Biffle said. "The old car didn't have all those features. This looks like a race car."
No, it looks like a stock car.