Happy news for Kevin Harvick and DeLana
January, 26, 2012
01/26/12
3:16
PM ET
CHARLOTTE, N.C. -- The biggest news of the 2012 Sprint Media Tour wasn't that Danica Patrick will run the Coca-Cola 600 or the unveiling of the 2013 Ford Fusion. It wasn't that NASCAR has eliminated secret fines -- as far as we know -- or that Wal-Mart will sponsor Bill Elliott for the July Daytona race.
It wasn't that Jimmie Johnson and the No. 48 team are "pissed off" over not winning a sixth straight Sprint Cup championship or that team owner Rick Hendrick will be disappointed if he doesn't get all four cars into the Chase.
[+] Enlarge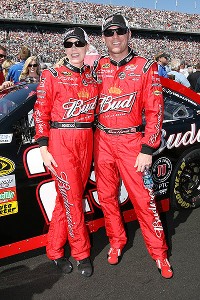 Harold Hinson PhotographyKevin Harvick announced Wednesday night that his wife, DeLana, is 14 weeks pregnant.
The biggest news was DeLana Harvick is pregnant.
Fourteen weeks.
Yes, sometime in July, a little "Happy" will join the NASCAR family.
You scoff, but look at all the things the decision to start a family triggered. As Kevin Harvick revealed during Richard Childress Racing's tour stop in Welcome, N.C., on Wednesday, this is the main reason he and DeLana shut down their Truck and Nationwide Series race shop in Kernersville, N.C.
That led to a consolidation of much of the Nationwide program with RCR, which worked out perfectly with Richard Childress' grandson Austin Dillon, ready to run full-time in the series. It led to Eddie Sharp forming his own Truck team with KHI equipment.
This also ended the speculation that Kevin Harvick Inc. was shut down because the couple's marriage was in trouble.
And it cemented what we've all known for years, that DeLana really does wear the fire suit in the Harvick household.
"There were a lot of factors that went into the KHI decision, but when your wife tells you she's not starting a family unless you get out of the race team business, that's a pretty big factor in things that are going on," Harvick told reporters on Wednesday night.
"It was kind of like it was all meant to be, Austin coming up in the Nationwide car, us wanting to do the family aspect of life and Eddie Sharp starting his team. It all lined up perfectly."
And get this for planning: The due date is during a rare off week in the Cup schedule.
Maybe that golden horseshoe Harvick once claimed Johnson owned really has changed hands.
We don't know if it's a boy or a girl, but we are confident either way the baby won't be named Kyle. Harvick made it clear his feud with Kyle Busch isn't over.
The sad news is we likely won't see DeLana in her familiar fire suit on pit road for long. Kevin doesn't really want his wife climbing those steep steps to the pit box.
The good news is the Harvicks really are Happy.
Congratulations.
Big news.