Trouble follows Danica Patrick at Daytona
February, 27, 2012
02/27/12
11:14
PM ET
DAYTONA BEACH, Fla. -- Danica Patrick won't take away many good memories from her first full Speedweeks at Daytona International Speedway.
She wrecked on the final lap of the 150-mile qualifying race.
She wrecked on Lap 49 of the Nationwide Series race.
[+] Enlarge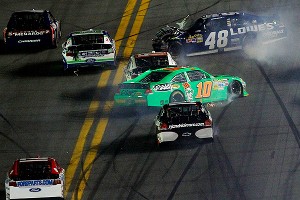 Tom Pennington/NASCAR/Getty ImagesDanica Patrick (10) got caught up in a Lap 2 crash in her Daytona 500 debut Monday. She finished 38th.
She wrecked on Lap 2 of the Daytona 500.
None was her fault, mind you. She simply was in the wrong place at the wrong time, particularly Monday night, when she barely got past the first lap around the 2.5-mile track before being collected in a crash ignited by Elliott Sadler turning five-time Cup champion Jimmie Johnson.
But it'll still be hard for Patrick to leave Florida with a feeling of accomplishment. Even her winning the Nationwide Series pole seems lost amid the crumpled sheet metal.
Patrick sounded despondent as she sat in her car in the garage for more than the first quarter of Monday's race, which was run under the lights for the first time because of Sunday's rainout. She didn't take down the window net for most of that time as crew members worked on her car.
She sounded as though she wanted to be left alone.
Yes, it was that kind of week. Around all the hoopla of her becoming the third woman to start the Great American Race and anticipation of her first full season in the Nationwide Series, the results were what most will remember.
People won't remember that the wrecks were for the most part unavoidable. They'll just remember she wrecked.
But this isn't the real test for Patrick. She has shown in the past that she can handle Daytona, having finished 10th in the Nationwide race here last season. Her real test will come on the intermediate and short tracks that make up the majority of the schedule.
To her credit, Patrick didn't just ride around after returning to the 500 on Lap 66. At times she was able to hang with the big pack, using the race as a learning experience. Her tone sounded more upbeat as the long night wore on.
The irony is that Patrick found trouble in all three races. Before her IndyCar finale at Las Vegas, a race that wasn't completed due to the death of Dan Wheldon, she finished a series-record 50 consecutive races.
That's more than double the second most by championship driver Scott Dixon with 24. And as bad as her day was in the 500, Patrick finished 38th, and ahead of Johnson (42nd) and four-time Cup champion Jeff Gordon (40th), who blew an engine on Lap 81.
Baby steps.
Patrick took time during a red-flag stoppage after Juan Pablo Montoya ran into a jet dryer under caution with 40 laps remaining to apologize to her team for not avoiding the first wreck. She also thanked her team for working so hard to get her back on the track.
In the end, she reminded, the No. 1 goal was "getting experience."
Patrick got plenty of that.