Kyle and Kurt Busch: Dodge saviors?
March, 9, 2012
03/09/12
12:21
PM ET
There's a solution to save Dodge's presence in NASCAR.
It's not totally realistic thanks to existing contracts and a few other not-so-minor details, but if the manufacturer could pull this off, it would remain a major player in the Sprint Cup Series after Penske Racing moves to Ford in 2013.
Busch Brothers Motorsports.
[+] Enlarge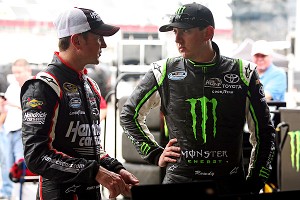 Jerry Markland/Getty ImagesIf Dodge could lure Kurt Busch, left, and Kyle Busch into its Sprint Cup program, the manufacturer would have two of the most talented drivers in NASCAR.
Yes, throw a ton of money at Kyle and Kurt Busch the way Dodge did with Ray Evernham when he re-entered the series in 2001, persuade Kyle to turn his Nationwide Series organization into a Cup organization, and have at it.
There are issues. Kyle is under contract with Joe Gibbs Racing and Toyota. He also doesn't have an engine shop at Kyle Busch Motorsports.
Otherwise, it's the best solution to keep Dodge viable.
And Dodge wants to remain a player. Otherwise, it wouldn't be revealing the 2013 Charger designed for NASCAR's premier series before Sunday's race at Las Vegas Motor Speedway despite Penske's recent announcement that leaves the manufacturer basically homeless.
But look at the options:
Hendrick Motorsports and satellite team Stewart-Haas Racing aren't leaving Chevrolet. Neither is Richard Childress Racing. Earnhardt-Ganassi Racing could, but it also doesn't have an engine shop, and the Earnhardt part of the equation never will leave Chevy.
Roush Fenway Racing is more committed to Ford than many husbands are committed to their wives. Richard Petty Motorsports could be a viable option, and Petty has a big history with Dodge. But RPM doesn't have an engine shop, and there's no realistic reason to believe that the financially strapped organization could survive on its own.
Toyota might be susceptible to a raid. Michael Waltrip always is open to ideas, but like others, he doesn't have an engine shop and is heavily invested with the Japan-based manufacturer.
Joe Gibbs Racing left a comfortable situation at Chevrolet a few years ago to stand on its own, and it has the infrastructure to build engines again. Outside of Busch Brothers Motorsports, that may be the best option, but it's not likely.
So the best option is BBM. Kyle and Kurt are two of the most talented drivers in the series, and without great talent you have no chance. Kurt is in the market for a ride, and the brothers might behave better if they're forced to apologize for themselves instead of having an owner do it for them.
It might be a costly initial investment for Dodge, which was totally blindsided by Penske's decision. But it's better than throwing money into a dark hole with smaller teams that will reap few benefits.
Maybe it would be a gradual process. Put Kurt in the Monster Energy Drink Dodge for a year or two until Kyle's contract with JGR expires or JGR simply releases him.
But Busch Brothers Motorsports is the best solution despite all the roadblocks.