MWR run brings up subject of split title
March, 31, 2012
03/31/12
12:34
PM ET
MARTINSVILLE, Va. -- NASCAR finally has entered the wacky world of college football.
There could be a split champion in the Sprint Cup Series.
For the first time since the sport went to a playoff format in 2004, there is the opportunity for a different driver and owner champion. What's next? A BCS poll to determine who makes the Chase?
Here's how this scenario -- that few if any in NASCAR ever imagined when making the guidelines -- would work. Michael Waltrip Racing's No. 55 driven by Mark Martin, Brian Vickers and Waltrip is eighth in owner points. If it is in the top 10 after 26 races the car's points will be reset just like the driver's points and it is eligible for the owner's championship.
[+] Enlarge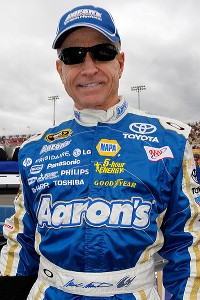 Jonathan Ferrey/Getty ImagesIs Mark Martin going to be the key to a split Sprint Cup title?
If the car has the most points after the 10 Chase races, it wins the title, not the owner of the car for the driver who wins the title, as has been the case so far.
That means there would be two tables on the stage for the banquet in Las Vegas, one for the driver's champion and one for the owner's champion.
If you really want to get crazy, try this scenario: MWR's Clint Bowyer or Martin Truex Jr. wins the driver title and the 55 has the most owner points. Where does owner Michael Waltrip sit in Vegas?
"On cloud nine," Waltrip joked.
But trust me, the split title is a possibility. It's on Page 36 of the NASCAR rulebook under Section 17-3-B. And you thought the only rule that existed was Section 12-4-A, aka "actions detrimental to stock car racing."
Here's what the rulebook says, "After the completion of the first 26 Events of the current NASCAR Sprint Cup Series Championship season, the top 10 drivers in the driver championship point standings and the top 10 car owners in the car owner championship point standings will each have their accumulated aggregate total adjusted to $2,000 points."
"It's always been there," Series director John Darby said.
Darby said the odds of that happening are long. The 55 could fall out of the top 10 on Sunday if Brian Vickers has another run here like he had in October.
Darby also admits that anything is possible when you have Martin driving a majority of the races.
Wouldn't that be crazy?