Danica and Decker share the spotlight
May, 27, 2012
05/27/12
9:01
PM ET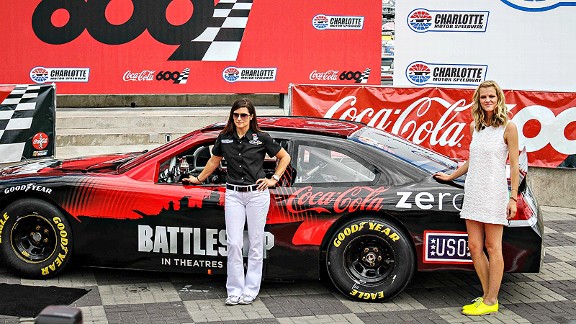 Jeremy Brevard/US PresswireDanica Patrick and actress Brooklyn Decker pitched their products at Charlotte Motor Speedway.
CONCORD, N.C. -- The Indianapolis 500 was drawing to an end on Sunday and Danica Patrick was standing in Victory Lane at Charlotte Motor Speedway with supermodel/actress Brooklyn Decker.
If Patrick's mind was on the IndyCar Series she left after last season to focus full time on NASCAR, it didn't show.
Patrick was explaining to Decker the intricate details of how to handle a gas can and a jack as the two revisited their days of posing in swimsuits for Sports Illustrated in 2009. Patrick also had a little shoe envy as Decker donned a pair of bright yellow patent shoes.
"They're really cute," said Patrick, words you seldom if ever hear from a NASCAR driver. "I wish I would have had something so stylish. Instead I just have tennis shoes on. Gosh, I just can't compete."
Decker, a native of nearby Matthews, N.C., was at CMS for the first time to promote her movie "Battleship" for Coke Zero. Patrick, here to make her Sprint Cup debut in the Coca-Cola 600, was leery two weeks ago of appearing next to the woman who has appeared on the cover of SI's Swimsuit Issue.
"Unfortunately, I'm going to look terrible compared to her," Patrick said then when introduced as the newest member of the Coca-Cola Racing Family. "You know, the short brunette and the tall blonde."
Patrick's trepidation continued on Sunday as she referred to Decker as a "smoking hot model." That started this exchange between driver and actress:
"She can do my job, she can do her job," Decker said.
Replied Patrick, "The only thing is I have to diet for four to six weeks straight, hard-core, to get in shape for it. She's just like, 'Tomorrow? I'll be there.' "
Said Decker, "That's hardly the case. Not only is she obviously beautiful, she's a strong girl. She's cool. She's good at what she does. She's a really good example for women out there."
Patrick and Decker met at a Swimsuit Issue launch party a few years ago. They were introduced by tennis star Andy Roddick, who went on to marry Decker.
"I remember him telling me at the bar while we were standing there. ... He was like, 'I really like this girl. I think I'm going to marry her,' " Patrick said of a story she'd yet to share with Decker.
If Patrick's mind was on the Indy 500, a race she'd run since 2005 before today, she didn't show it. She seemed more interested in the good sport Decker was for playing gasman and jackman for photographers.
"I know I wouldn't want to pick up the gas cans," Patrick said. "I just like turning left."
Said Decker, "You're really good at turning left. … I can't keep up with her. She's so skilled and talented. If I can hold your gas can, I'm honored."
And so it went.
By the way, Patrick did clear her schedule to watch the last 10 laps of the 500.