AJ Allmendinger gave Penske little choice
August, 1, 2012
08/01/12
1:16
PM ET
CHARLOTTE, N.C. -- Brad Keselowski was right three weeks ago when he said the failed drug test by Penske Racing teammate AJ Allmendinger was a "death sentence."
Team owner Roger Penske was right on Wednesday when he let Allmendinger go.
He had no choice, really.
In a world dictated by sponsors and perception, in a world where the participant is more of a danger to others than in arguably any other sport if under the influence of drugs, there is no room for violators of the substance abuse policy.
"Within the sport we rely on sponsors and reputation," Keselowski said at New Hampshire.
Allmendinger has neither now. It will be hard when he completes NASCAR's Road to Recovery program to find an owner or sponsor with a top-tier -- or maybe lower -- organization willing to give him a second chance unless we discover the form of amphetamines found in the test came from a supplement or over-the-counter drug.
[+] Enlarge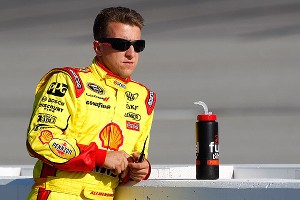 Todd Warshaw/Getty ImagesAJ Allmendinger on his future: "As I stated last week, I have begun NASCAR's Road to Recovery program and look forward to using those resources and its completion to compete again in NASCAR in the near future."
That isn't likely, according to Dr. David Black, the administrator of NASCAR's drug-testing program in Nashville, Tenn.
"Certainly, if that had been a possibility that would have been ruled out before any action was taken," Black told me last week. "On every positive test we have, we look to rule out the possibility of a supplement being involved.
"I'm not aware of any commercial products that would have influenced the test outcome."
Death sentence.
That Allmendinger has remained mostly mum, refusing to talk publicly since it was announced a few hours before the July 7 Daytona Cup race that he violated the policy, doesn't help his cause. If he doesn't defend himself, who will?
That he's never won a Cup race, had a DWI from a few years ago and was 23rd in points at the time of the failed test also doesn't help.
Allmendinger did issue a statement Wednesday, thanking Roger Penske, the sponsors and fans, and apologizing "for the distraction, embarrassment and difficulties that my current suspension from NASCAR has provided."
While NFL and NBA teams tend to forgive players who fail drug tests, there isn't nearly as much tolerance in NASCAR because of sponsors and reputation. Maybe that's why Jeremy Mayfield fought his suspension in 2009. He knew he was damned if he did, damned if he didn't.
Making the decision now was Penske's only choice. He simply could have let Allmendinger's one-year deal run out and signed somebody else for 2013, hoping the situation would go away quietly.
But as long as Allmendinger was under contract for this year there still would have been questions, which would lead to distractions.
Penske doesn't want or need distractions. He has Keselowski with three wins vying for a championship. He has a top sponsor in Shell Pennzoil that already went through an embarrassing situation when Kurt Busch was released following an embarrassing end to last season, opening the door for Allmendinger in the No. 22.
He also has the move from Dodge to Ford in 2013 that will involve possibly the sale of his engine department and the transition to Roush Yates engines.
The last thing Penske needed was weekly questions about what he'll do with Allmendinger if and when the driver is reinstated four or five months down the road.
So he made a clean break.
Now Penske can move forward trying to find a driver for the No. 22. Sam Hornish Jr. is the front-runner. He will drive in most -- if not all -- of the remaining races this year. If he does well, knowing Penske's fondness and loyalty to the three-time IndyCar champion, the ride likely is his.
If Hornish isn't the pick, Joey Logano could emerge as a candidate if Joe Gibbs Racing can't get him full sponsorship in Sprint Cup for next year. If sponsorship can't be found for Ryan Newman at Stewart-Haas Racing, he could seek a return to the organization he left after the 2008 season to join SHR.
Brian Vickers perhaps is driving himself into candidacy with two top-5s in four races as a fill-in for Mark Martin at Michael Waltrip Racing.
Maybe with the move to Ford, Penske will turn to 2011 Daytona 500 champion Trevor Bayne, who already plans to drive a full Nationwide Series schedule for Ford's Roush Fenway Racing and part time for the Wood Brothers in Cup in 2013.
As Penske said on Sunday at Indianapolis Motor Speedway, his phone is ringing off the hook. He has lots of options.
And no, as some of you insist on asking, bringing Busch back isn't one of them.
Penske also gave us a hint that Allmendinger's release was coming, reminding us that he lets go regular Penske Racing employees who fail a drug test. He reiterated that on Wednesday.
So this wasn't a surprise.
After all, Allmendinger already had been given the death sentence.