What's in a baby name? Help Hamlin
August, 3, 2012
08/03/12
6:19
PM ET
LONG POND, Pa. -- There's something in the water in the Sprint Cup garage.
Babies are turning up left and right. OK, all left since that's the way they turn in this sport with the exception of road courses.
Jeff Gordon, Jimmie Johnson, Kevin Harvick, Jamie McMurray, Greg Biffle, Ryan Newman, Matt Kenseth and Sam Hornish Jr. all have become fathers in the past few years, several in the past few months.
Now it's Denny Hamlin's turn.
The difference between Hamlin and the rest is they're all married.
[+] Enlarge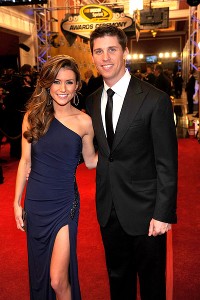 Ethan Miller/Getty ImagesDenny Hamlin and girlfriend Jordan Fish attend the NASCAR Sprint Cup Series Champion's Week Awards Ceremony in Las Vegas last December.
"No need to rush into anything," Hamlin said on Friday at Pocono Raceway as he delivered the news that he and girlfriend Jordan Fish are expecting in January.
But we can rush into picking names. If it's a boy, Michael Jordan Hamlin might work since the Joe Gibbs Racing driver is good friends with Charlotte Bobcats owner Michael Jordan.
Or maybe Bubba Hamlin after Hamlin's good golfing buddy and Masters champion Bubba Watson. Or maybe General Lee Hamlin after Watson's "Dukes of Hazzard" car. Or Fed Ex Hamlin after his primary sponsor.
If it's a girl, maybe Butter Hamlin after Hamlin's nightclub in Charlotte. Or Michelle Jordan Hamlin. Or Toyota Hamlin. Or Jordan Jordan Hamlin. Chesterfield Hamlin.
If you have any better suggestions, please send them.
Hamlin admits he'll lean heavily on his parents, Dennis and Mary Lou, who he said were inspirational while raising him.
"My family has done a lot for me to get to this point, obviously, and just all of the sacrifices and all that they've gone through," Hamlin said. "My dad tells me all of the time that some of the best times he had is just carrying me around in his pickup truck every day taking me to work with him and things like that.
"It's going to be a great experience, and so I'm really excited about it and really just excited to be a part of it. For my parents to have grandkids is all going to be good."
Later, he added, "I turned out just fine, other than my head's all turned around at times."
He got that right.
Congrats.