Bowyer not ready for tightrope act yet
August, 30, 2012
08/30/12
3:57
PM ET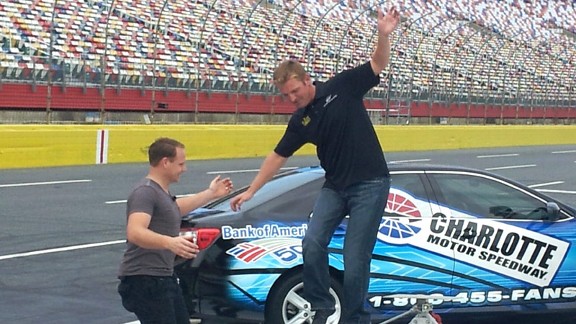 David Newton/ESPN.comHigh-wire daredevil Nik Wallenda coaches Sprint Cup driver Clint Bowyer across a cable set up at Charlotte Motor Speedway.
CONCORD, N.C. -- I am 100 feet above Charlotte Motor Speedway, my black Converse Chuck Taylors clinging to a 5/8-inch steel cord stretching 750 feet from the frontstretch grandstand to a crane behind Victory Lane.
I don't have a safety tether.
I could become a grease spot on the concrete below at any moment.
I am distracted by Sprint Cup driver Clint Bowyer, taunting me as though I somehow was responsible for the 150-point penalty he received during the 2010 Chase because his car was 39,000th of an inch out of tolerance.
I slip.
I recover.
I slip again, and plummet to earth.
OK, I was only 18 inches above the track and I had to walk only about 10 feet over the tightrope used to demonstrate what legend Nik Wallenda will do on the dimensions above before the Oct. 13 Chase race at CMS.
I'm not crazy.
Wallenda is. So is Bowyer.
[+] Enlarge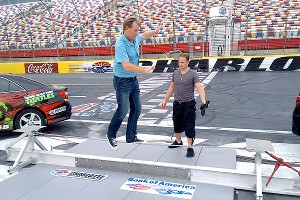 David Newton/ESPN.comIntrepid writer David Newton tries the high-wire act for himself.
Both do things few of us would attempt, Wallenda tightrope-walking over Niagara Falls and Bowyer driving 200 mph against the walls. They each are daredevils in their own right.
But as much as Bowyer is willing to put life and limb on the line, he does it with a steel roll cage encasing his body. He can't even imagine doing what Wallenda will before the Chase's only night race.
"It's insane," Bowyer said Wednesday. "I watched his Niagara Falls tightrope. That's high. If you look up there at the top of those grandstands … man, I'm telling you, it's a little nerve-racking to get up there and look over the edge.
"Can you imagine on a 5/8ths cable standing in the middle of hundreds of thousands of people just waiting for you to make a mistake and have a bobble? I couldn't imagine the pressure and feeling that goes through your mind."
Wallenda can't imagine the pressure Bowyer must feel driving at high speeds in close quarters with cars all around him. But unlike Bowyer, who couldn't be paid to walk a tightrope higher than 18 inches off the ground, Wallenda would jump at the opportunity to drive a stock car.
"I'd love to try going 180 [mph] around here," Wallenda said during the promotion for his event. "Each one has their challenges. There's a lot of danger in driving a car at 180. I have deep respect for these guys."
Bowyer's biggest risk was leaving Richard Childress Racing after last season for Michael Waltrip Racing. And it looks like it was a good risk to take. He's sixth in points heading into Sunday's race at Atlanta.
Wallenda's stunt will mark the 26th anniversary of The Flying Wallendas' high-wire act here in 1986. It's another example of how tracks try to provide great prerace shows as well as great races.
I'll be watching this one with Bowyer from the ground.
For the record, Bowyer made it across the cord during the demonstration. I was a foot short.
But I lived to tell about it.