Keselowski played 'big role' for Logano
September, 5, 2012
09/05/12
1:41
PM ET
CHARLOTTE, N.C. -- We've been getting subtle hints throughout the past year-and-a-half of how influential Brad Keselowski has become in the decision-making at Penske Racing.
We got hit between the eyes with it on Wednesday.
"Brad Keselowski played a really big role in getting me in here and getting a meeting with Roger [Penske]," Joey Logano said while being introduced via conference call as the driver of Penske Racing's No. 22 next season.
Interpretation: When Keselowski speaks, his team owner listens.
[+] Enlarge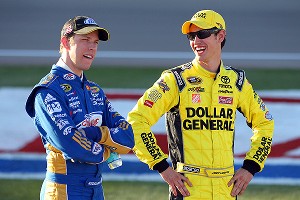 Jeff Bottari/Getty Images/NASCARJoey Logano, right, on future teammate Brad Keselowski: "Hopefully, we can learn from each other and make each other better race car drivers and make our team the best we can."
Keselowski actually convinced Penske to give Logano a look during the offseason when Kurt Busch was released after his meltdown in the season finale. But because Logano had a year left on his contract at Joe Gibbs Racing and JGR had no idea Matt Kenseth was going to be available to drive the No. 20 in 2013, the talks didn't go anywhere.
So when AJ Allmendinger was suspended and ultimately released last month from the 22 for failing a drug test, and with Logano in limbo at JGR with Kenseth signed to replace him, Keselowski went back to Penske.
"Brad had come to us last year and mentioned Joey's name," Penske racing president Tim Cindric said. "He felt he was somebody he could work with. That chemistry is so important."
Keselowski calls Logano a "good guy with a ton of talent." It's quite possible he sees some of himself in the 22-year-old driver.
Both have been highly successful in the Nationwide Series. Both won a race early in their careers, then struggled in ensuing seasons. Keselowski was 25th in points during his first season at Penske Racing after winning at Talladega the year before. Logano won a fuel-mileage race at New Hampshire in his first Cup season at JGR, then fell to 24th last season.
But as we saw with Keselowski, when put in the right situation, he flourished. He has won six races the past two seasons, finishing fifth in points a year ago and ranking sixth 25 races into this season.
Expectations are that Logano's career can take off in the same way.
"Joey seems from the outside at that point in his career where we feel we can openly provide him an environment where he can be successful," Cindric said.
There's no question Logano will be a bigger asset than Allmendinger. Logano's current and soon-to-be former teammates, Denny Hamlin and Kyle Busch, can't say enough good things about Logano's contributions -- particularly this season.
"Joey has phenomenal feedback and notes," Busch said on Tuesday when Kenseth was introduced as Logano's 2013 replacement. "He's a great note-taker and does a lot of stuff that Denny and I don't do.
"I love Joey to death. He's one of the hardest-working drivers out there."
Yet more similarities with Keselowski. Few work harder or are more involved with their team than the 28-year-old from Michigan.
"Hopefully, we can learn from each other and make each other better race car drivers and make our team the best we can," Logano said.
The downside of this is Sam Hornish Jr. He has poured his heart and soul into becoming a candidate to drive the No. 22 next year, but ultimately Keselowski and Penske saw more potential in Logano.
Unless sponsorship for a full Cup ride steps forward, which is unlikely at this point, Hornish will be relegated to another full-time Nationwide Series ride with a few Cup races next season.
But as JGR officials believed they couldn't pass up the opportunity to sign Kenseth, Keselowski believed Penske couldn't pass up the opportunity to sign Logano.
And as we are seeing more and more every day, when Keselowski speaks, people listen.
"He's the one that called me and said, 'Hey, this is a great opportunity for you,'" Logano said. "He was pretty involved in getting me here, for sure, as he is in most of the decisions that happen here at Penske."