Jeff Gordon's mustache talk of the Chase
September, 12, 2012
09/12/12
6:22
PM ET
CHICAGO -- The biggest news during Wednesday's pre-Chase media blitz at the House of Blues wasn't that Clint Bowyer is getting a new spotter or that Dale Earnhardt Jr. is a contender for the championship.
It was Jeff Gordon's mustache.
Or mustache in progress.
Gordon vowed to his crew more than a month ago that if he made the Chase he would grow back that god-awful mustache he had in the early 1990s, when he entered the sport as a 21-year-old rookie.
[+] Enlarge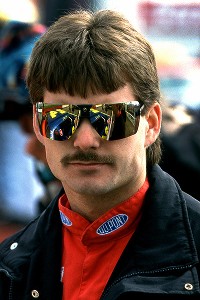 Bob Harmeyer/Getty ImagesJeff Gordon admits today the mustache he wore in the early '90s wasn't his best look.
So after finishing second in Saturday's race at Richmond, Gordon began letting the facial hair go.
It's still in that rough stage -- actually, it just looks like Gordon hasn't shaved his entire face for four days -- but Gordon promises to shave the beard portion and have a full-blown mustache by Friday's first Chase practice at Chicagoland Speedway.
And for the record, I can say "god-awful" because even Gordon admits now it wasn't a good look in the '90s.
"Trust me, it has nothing with being cool," Gordon said in response to a reporter's question.
Gordon's '90s mustache often was compared with that of one worn in the 1970s by men in a not-so-reputable profession. Since cleaning up his act and going GQ on us before his first championship in 1995, Gordon has become the epitome of style in NASCAR.
As much as making the Chase advances his career, the mustache is a step back.
And it likely will draw many funny remarks, such as the ones we heard from fellow drivers.
"He's got to grow back the eyebrows to match it, too," defending Sprint Cup champion Tony Stewart said of Gordon's once-bushy brows. "It was kind of a matching set."
Said teammate Jimmie Johnson: "You can't leave out the mullet. I've seen discussions of old trucker hats, too."
"I'm just impressed," Johnson added. "I wasn't sure he had the stones to follow this through, and he's doing it gray and all. He's older now. His mustache is going to be more defined and he might not be so porn-stache.
"It might be more of a Tom Selleck."
Gordon admits, hair care products aside, there's little he can do about the graying. He also blames his wife, Ingrid, for reminding the world of his promise on Twitter after the race.
But Gordon and crew chief Alan Gustafson, who made good on a promise to shave his head if the 24 team made the Chase, are so thrilled to be in NASCAR's playoff that they would do just about anything.
"So we're committed," Gordon said. "We're committed."