Tony Stewart just being, well, Tony Stewart
September, 18, 2012
09/18/12
5:11
PM ET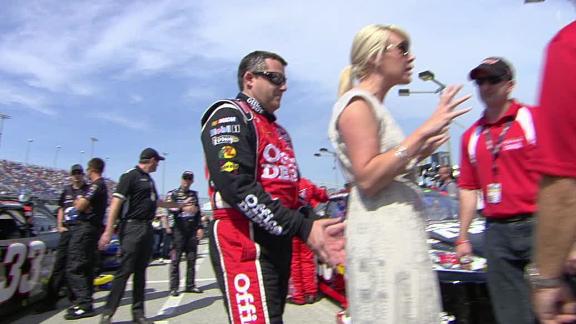 Tony Stewart Caught On Tape
CONCORD, N.C. -- Had Jimmie Johnson, Jeff Gordon or practically any other driver in the Sprint Cup garage been caught on video grabbing the rear end of a fellow driver's wife during prerace festivities, we would be jaw-dropping shocked.
Tony Stewart does it and it's defended as normal.
Expected.
Accepted.
"It's good for me, at least," Stewart joked on Tuesday at Charlotte Motor Speedway.
Stewart's two-handed goose of DeLana Harvick before Sunday's Chase opener at Chicagoland Speedway has been huge in terms of Internet traffic. The video went viral, appearing on "CNN Headline News" among other major news outlets. It was all over Twitter with the hashtag #sneakyassgrabber.
Stewart spent more time Tuesday answering questions about the video than the Wounded Warrior Project that he was at CMS to promote for the October race. He reminded us he'd been goosing DeLana for years for good luck and it wasn't intended to be offensive at all.
As far as I know, there hasn't been any outcry from women's rights organizations.
Told the video got more attention than Brad Keselowski winning Sunday's Chase opener, the three-time champion said, "That's pathetic."
It speaks volumes about the society we live in.
It also speaks volumes about Stewart. Whether he's winning a race, knocking a tape recorder out of a reporter's hand or goosing a good friend's wife, he gets attention.
"Anything I do gets that attention, which still amazes me," Stewart said. "I guess it's a compliment."
It's why Stewart is one of the most marketable drivers in NASCAR behind Dale Earnhardt Jr., why he really shouldn't be all that worried about losing primary sponsor Office Depot for 22 races in 2013.
Like Earnhardt, who revealed this past weekend he has more demand than he can supply for spots on his car despite Diet Mountain Dew reducing its involvement next year, sponsors come to Stewart.
The three-time champion doesn't spend his down time cold-calling companies to see if they want to be on the side of his No. 14 Chevrolet. He has a marketing team that handles that. He usually doesn't get involved until the end to close the deal.
When it comes to sponsors, Stewart's personality is charming and appealing. They come to him because they know people will pay attention when he pushes their product just like they pay attention when he grabs a rear end.
And he wins.
It's why Bass Pro Shop reportedly will jump from Jamie McMurray's Earnhardt Ganassi Racing car to Stewart's in 2013 even though the sponsor appeared headed back to EGR before inventory on the 14 became available.
"Smoke" draws attention, and sponsors love that. It's why Gene Haas in 2008 basically gave Stewart half of his organization to drive for him.
Stewart immediately brought on Office Depot and Mobil 1.
"That's the whole point in having us a part of the team ownership," Stewart said. "There's nobody going to give half their team away just for the heck of it. That's part of the draw of us being a car owner is hopefully helping draw sponsorship."
Stewart would much rather be known for grabbing up sponsors, wins and championships than the rear end of a driver's wife.
But if there is one driver that can get away with the latter, it's Stewart.