Cowabunga! Jeff Gordon break-dancing?
September, 20, 2012
09/20/12
1:36
PM ET
CONCORD, N.C. -- Here we go again. Jeff Gordon with another promise.
The four-time Sprint Cup champion made good on his last promise to bring back that not-so-GQ-ish mustache he donned in the early 1990s if he made the Chase.
He shaved the 'stache on Monday, a day after his title hopes took a major setback when the throttle stuck and turned a potential top-5 finish into a 35th that left him 47 points in the hole.
On Thursday at Charlotte Motor Speedway, while introducing the "Teenage Mutant Ninja Turtles" paint scheme he will use in conjunction with his "Drive To End Hunger" program in the October race, Gordon promised to break-dance with TMNT's Leonardo in Victory Lane if he wins.
[+] Enlarge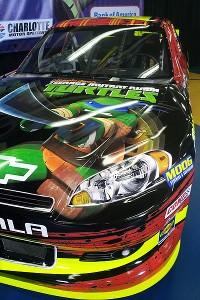 David Newton/ESPN.comLeonardo of Teenage Mutant Ninja Turtles fame will be on the hood of the No. 24 Chevy at the Oct. 13 Charlotte race.
He even volunteered that his 2-year-old son, Leo, would break-dance with him.
"If I win, I will,'' Gordon said. "I mean, it might be light. I've got to teach Leo to dance. I've already shown I'm a man of my word. I can pull off a couple of little moves, and that maybe won't hurt me too bad.''
In case you didn't know, Gordon has been break-dancing since middle school. He went so far as to sneak into the school bathroom to practice because it wasn't allowed in the hallways.
Gordon showed he still has a move or two in him in December when he danced in front of the crowd at the "NASCAR After The Lap" event in Las Vegas during Champion's Week.
OK, he didn't spin on his head.
But at least he tried.
Gordon may be 41 and married, and he has two kids and is showing a bit of gray, but he's still one of the coolest drivers in NASCAR. With a break or two on the track, he still could climb back into Chase contention.
Hey, he made up almost 47 points over the final 10 races to make the Chase.
"We're not going to stop, we're not going to give up,'' Gordon said.
Believe him.
But Thursday was about family. Gordon came to the news conference featuring the Teenage Mutant Ninja Turtles -- which will be reintroduced in a Nickelodeon television series on Sept. 29 -- with his wife, Ingrid, and Leo.
Gordon wanted Leo to see the Turtles, particularly Leonardo with the blue ninja mask, which will be on the hood of his car.
Daughter Ella didn't make this trip.
But as Gordon said, they're all excited because they wake up every morning watching cartoons on Nickelodeon.
"They would have been a fan regardless of whether they were on my car,'' Gordon said. "The fact that one of them is named Leo, my daughter is going to be jealous and my son is going to be pretty excited about it.''
Gordon's family brings balance to his life. That's where his attention has been the past few days as he's put the disappointment of Sunday behind him.
He's barely watched the news or read the newspaper to see what people have been saying about him. He avoided Twitter as well, although he admits he tweeted a picture of a car that drove into his front yard earlier in the week.
"I knew it would take about 10 seconds,'' Gordon said. "Somebody was like, 'Did the throttle stick?' I did get a good laugh at that.''
Gordon was all laughs and smiles on Thursday as well. He was in such a good mood that he made yet another promise that I'd selfishly like to see him have to keep.