Kyle Busch's latest tirade was misguided
October, 4, 2012
10/04/12
5:12
PM ET
CHARLOTTE, N.C. -- We were wondering when Kyle Busch's frustration over not making the Chase would come to a head.
We saw it on Sunday at Dover.
Shortly after finishing seventh due to fuel mileage in a race he led 302 of 400 laps, the Joe Gibbs Racing driver went on a profanity-laced tirade on his in-car radio against Toyota Racing Development.
"Thank you TRD," Busch said. "F----- us out of another one. Piece of s-- mother------."
Should Busch have been frustrated? Definitely. It was yet another good day gone sour, a microcosm of his season in which he has only one win in the Sprint Cup Series and none in the Nationwide Series.
Should Busch have lashed out at TRD? No. Crew chief Dave Rogers elected to go with more horsepower than fuel mileage in the engine setup as the other Toyota teams did. The team made its proverbial bed before the race just as teammate Denny Hamlin, who is racing for a title, did.
[+] Enlarge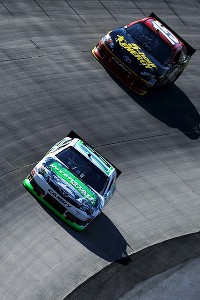 Patrick Smith/Getty ImagesIt has to be frustrating when a driver leads most of the race and doesn't win, as happened to Kyle Busch at Dover on Sunday.
Both had to pit late for fuel, while winner Brad Keselowski was able to go the final 89 laps without stopping.
If Busch wanted to blame somebody for his seventh-place finish, he should have blamed the team. It was a calculated decision that would have worked had fuel mileage not become a factor.
But to blame TRD, to attack the engine provider in the way Busch did, was out of line. It quite frankly made him look silly and immature, an image he has worked very hard to change.
He seemed to come to realize that by Thursday afternoon.
"I made some remarks out of frustration on my radio at the end of last weekend's race in Dover that were very misguided," he said in a statement. "I owe my friends at Toyota and TRD an apology. We have a great partnership with TRD and they built me a motor that helped me lead over 300 laps and nearly lap the field. It's just frustrating that the caution fell where it did and suddenly it became a fuel mileage race and we were set up for maximum horsepower. Obviously, that worked well for most of the day and you can't control when the cautions will fall
.
"I think we have a great partnership with TRD and we will continue to communicate with them on what our team is looking for. I'm looking forward to getting down to Talladega this weekend and focusing on the race."
Hamlin had just as much reason to be frustrated. He had a potential top-three finish, maybe even a win, turn into an eighth-place finish. He is now 16 points behind Keselowski in the Chase. Those five or so points could prove costly in the end.
As we saw a year ago when Tony Stewart won the championship on a tiebreaker over Carl Edwards, every point is vital.
But Hamlin didn't erupt or bash the engines that helped put him in the Chase, the ones that may help him win a title. He acknowledged the decision to go with more horsepower over fuel mileage.
"We need to improve our fuel mileage, we know that and we'll work on that as much as anything," said Hamlin, who basically gave away the 2010 title because of poor fuel mileage in the next-to-last race at Phoenix when JGR built its own engines. "For me, I'm not too discouraged because we ran our ass off today."
That Busch reacted so strongly makes you wonder how that might impact negotiations for him to re-sign with JGR. His contract is up after 2013 and there are rumblings that he might look at options, perhaps Stewart-Haas Racing.
JGR president J.D. Gibbs acknowledged negotiations are taking place and he'd like to get a new deal done "sooner rather than later." Such outbursts by Busch make you wonder if it could be later or never.
I don't anticipate Busch moving on or this being an issue this weekend at Talladega. This simply was Busch's frustrations over missing the Chase finally erupting.
Frustration is good. It shows the emotion and passion that make him a top driver.
But in this case, it was aimed in the wrong direction.