Who crashed Clint Bowyer's victory party?
October, 17, 2012
10/17/12
3:46
PM ET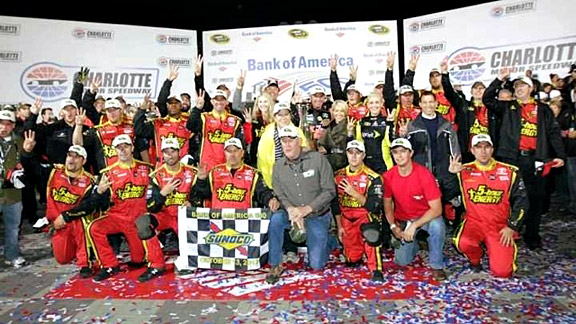 Getty ImagesKnow the man in the red T-shirt and jeans in the front row? That's OK, Clint Bowyer doesn't, either.
CHARLOTTE, N.C. -- Kyle Nelson never had been on pit road before Saturday night's Sprint Cup race at Charlotte Motor Speedway.
Next thing you know, he was pushing Clint Bowyer's car into Victory Lane, posing for pictures during the traditional "hat dance," meeting team owner Michael Waltrip, and having the time of his life as the mystery man in Bowyer's life.
Next thing you know, discovering his identity became the focus of my blog, and Nelson was getting treated like a celebrity by his friends.
Only in America.
"For me, somebody who lives [NASCAR] so much, it was awesome," Nelson told me on Thursday after his identify was revealed. "I was like the kid in the candy shop. It was the greatest feeling in the world."
Nelson, a 22-year-old senior at North Carolina State, is in that 18-34 age demographic NASCAR wants to reach so badly. Crashing Bowyer's postrace party already has helped introduce the sport to some of his young friends.
Maybe we're on to something.
"All these sorority girls are always like, 'What is NASCAR?'" Nelson said. "Now that they've seen me [in Victory Lane], they think it's like being at the Super Bowl with me holding up the Lombardi Trophy.
"Everybody I know wants to go to a race now."
A civil engineer major, Nelson didn't go to Saturday's race expecting to be a part of Bowyer's victory party. He'd gotten tickets from a vendor and actually was on his way to the grandstands when he and his buddies decided to stop by pit road.
Next thing you know, they were standing in an empty pit stall next to Ryan Newman's pit box, so close Nelson could see Newman's eyes when he came in for stops.
When the race ended, Nelson innocently was sitting on the pit wall as Bowyer's team pushed the car from the track after it ran out of gas. Next thing you know, he was high-fiving the crewmen as they went by him, then pushing the car to Victory Lane with them.
Then he saw team owner Michael Waltrip and shouted, "Michael!"
"He hands me a hat," Nelson said. "He thought I was one of Clint's dirt-car guys, I think. Then Mark Martin comes up and congratulated me. I guess he thought I was another part of the team. I was getting splashed with energy drink just like everybody.
"I think it all worked because I was in this red shirt."
That would be his red Pi Kappa Alpha frat shirt from NC State, which blended right in with the red 5-hour Energy drink firesuits Bowyer and his crew wore.
The way Bowyer tells the story, he finally kicked Nelson out because the team needed a picture without him. But Nelson says he wasn't physically removed or treated badly. He simply rejoined his buddies who were waiting for him and disappeared into the darkness.
For the record, Nelson had a hot pass that allowed him on pit road, and he's not in trouble with track officials or the police -- although his parents were a bit concerned when he got home.
"There was no ill intent," said Nelson, from nearby Gastonia, N.C. "I just got in there and got so happy, next thing you know I was in Victory Lane holding up the No. 1. When I got back to the camper, I couldn't go to sleep I was so excited."
He still is.
***
Posted Oct. 17
CHARLOTTE, N.C. -- Clint Bowyer has a "mystery man" in his life.
Sounds a bit weird, but it's true.
This mystery man appeared in almost every one of Bowyer's team photos following Saturday night's victory at Charlotte Motor Speedway. He's the guy in the front row wearing a red shirt, blue jeans and one of the team hats.
Bowyer noticed him during the traditional Victory Lane "hat dance" while the team posed for countless pictures -- holding up the traditional No. 1 sign each time -- wearing the hats of team sponsors, NASCAR sponsors and track sponsors.
Bowyer eventually turned to the guy below him to the left and asked, "Hey, who are you?"
The man confidently offered that Michael Waltrip said he could be there, so Bowyer turned to his team owner and asked if he knew "who the hell he is."
"I [told the guy], 'This is Michael. Michael, do you know this guy?' He said no. The guy just turned around and got right back in the game and began to pose again.
"I think it ruined his day when I told him to beat it, but we needed at least one photo with the regular team in it."
Bowyer still doesn't know who the guy is and probably never will. But he thought it was "funnier than hell" and appreciated the resourcefulness because he's been known to crash a party and photograph himself.
Yes, another crazy side of Bowyer we're getting to know as he becomes a factor in the Chase, only 28 points out heading into Sunday's race in his home state of Kansas.
A few years ago, Bowyer found himself in the middle of a family picture with five-time Sprint Cup champion Jimmie Johnson that wound up being the Christmas card for Johnson's dad.
"That's exactly what I did," Bowyer said. "I photo-bombed their photo."
There might have been tequila involved, but that's another story for another day on how Bowyer has vowed to outdo Johnson's Las Vegas Champion's Week party if he were to win a championship.
"His dad [was taking] a picture with all the brothers and I stumbled outside," Bowyer recalled. "I didn't even know they were taking a picture. I look up and grandma is taking the picture."
Then it went out for Christmas.
Then it went out the following Christmas.
"His dad didn't realize he … sent it again," Bowyer said. "So I'm two years running."
Maybe Bowyer's mystery man will show up in a Christmas card somewhere. Maybe Bowyer will show up in somebody else's Christmas card again one day.
This kind of stuff apparently happens in big-time racing.