The call that changed Keselowski's life
November, 28, 2012
11/28/12
12:59
AM ET
LAS VEGAS -- By now you probably know that Brad Keselowski wants a tank, that he'd like to date Jennifer Love Hewitt and that there's a new market for giant Pilsner beer glasses like the one he drank from live on ESPN's "SportsCenter" after winning his first Sprint Cup title.
But what you probably don't know is none of this would have been feasible were it not for Discount Tire.
Stick with me.
You won't see the name of Keselowski's Nationwide Series sponsor splattered all over Las Vegas, where NASCAR is celebrating its newest champion this week. In the world of sponsors, this is Miller Lite's week to get the spotlight with the driver of the No. 2 blue deuce.
[+] Enlarge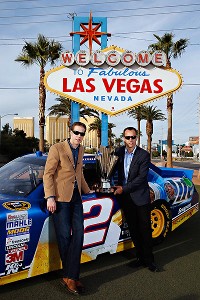 Chris Graythen/Getty ImagesBrad Keselowski and crew chief Paul Wolfe will take center stage at the Wynn Las Vegas during Friday's Sprint Cup banquet.
But were it not for Discount Tire, the 28-year-old from Michigan never would have gone to Penske Racing and delivered Roger Penske his first Cup title.
"Without that phone call from them, it doesn't happen," Keselowski said Tuesday.
This is how it all came down, a story that some of those closest to Keselowski weren't aware of until he talked about it first during the NASCAR Motorsports Marketing Forum at the Aria Convention Center and later with me at the Wynn Las Vegas sportsbook.
Keselowski, then driving the Nationwide Series car for JR Motorsports, had spent the summer of 2009 working with Rick Hendrick to stay in the Hendrick Motorsports family.
They looked at placing him in a Cup car at Red Bull Racing, but that deal fell apart. They looked at placing him at Stewart-Haas Racing, but the organization wasn't ready to go to three cars. Dale Earnhardt Jr. even looked at adding a Cup team at JRM, but that didn't happen.
Keselowski already had talked to Penske, telling "The Captain" he'd sign on only if given a full-time Nationwide ride, too. Penske said thanks but no thanks, maybe the last time he flat-out denied the driver something he wanted.
"So we walked apart, we broke up discussions," Keselowski said.
Late in August, when Keselowski's dream of landing a full-time Cup ride for 2010 seemed bleak, Discount Tire went to Penske with the offer to leave Roush Fenway Racing for his team if and only if Keselowski was the driver.
The rest is history.
Keselowski gave Penske his first Nationwide title in 2010 and first Cup title two weeks ago at Homestead-Miami Speedway, the site of one of the craziest celebrations you'll ever see.
"Without [Discount Tire] doing that, I don't go to Penske Racing," Keselowski said.
So why was a Nationwide ride so important to Keselowski? Simple. He figured to struggle during his first full year in Cup -- which he did, finishing 25th in points -- and that the Nationwide experience would benefit his growth as a driver.
"Absolutely," Keselowski said. "There was no doubt in my mind that going into Cup the first year was going to be very difficult. Sometimes you don't want to believe that, but obviously that was the case."
Now Keselowski has the money -- his share of more than $5 million that goes to the champion -- to buy the tank he always wanted and the celebrity star power that may at least help him get a foot in the door with Hewitt.
For the record, she hasn't called, as far as he knows.
"There's been so much going on; maybe they tried to get a hold of me and I missed it," Keselowski said with a laugh.
But Keselowski has had a few of what he'd call cool moments since winning the title. He got a Twitter mention from Washington Redskins quarterback Robert Griffin III -- "We did it!!! (@keselowski voice) ha ha But seriously, loved coming back to Texas and getting the W on Thanksgiving. Big for our season" -- after a Thanksgiving Day win over Dallas.
He got to meet soccer star Alex Morgan, which he didn't realize at the time was a "pretty big deal," at the Thanksgiving Day parade in Detroit.
And he got to see his name up in lights at the Wynn Las Vegas, where on Friday night he'll be honored as the champion.
"It's everything I thought it would be," Keselowski said. "Everybody treats you like a champion. It's quite remarkable."
And it all happened because of a Nationwide Series sponsor that may barely get mentioned this week.