Keselowski is Jim Hunter's kind of champ
December, 3, 2012
12/03/12
9:51
AM ET
LAS VEGAS -- Brad Keselowski met Jim Hunter only two or three times. He didn't know much about the longtime NASCAR executive when he died of cancer in October 2010, leaving a void in the sport that still hasn't been filled.
So when Tony Stewart said during Friday night's Sprint Cup banquet that Hunter would be proud of Keselowski, that he would like his style, the 28-year-old from Michigan may not have known exactly what he meant.
Those of us who knew Hunter did.
It was perhaps the highest praise the three-time champion or anybody in the sport could have given NASCAR's newest champion.
Here's what he meant:
"I don't think Brad's learned to be cautious yet,'' Stewart said backstage during the nationally televised event from the Las Vegas Wynn. "Hopefully, that won't bite him like it has a lot of drivers in the past.
[+] Enlarge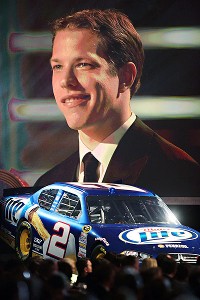 John Gurzinski/Getty ImagesTony Stewart on 2012 Sprint Cup champion Brad Keselowski, above: "It's nice to see somebody who speaks form the heart and isn't guarded when he speaks. That's the way all of us should be."
"It's refreshing. It's nice to see somebody who speaks form the heart and isn't guarded when he speaks. That's the way all of us should be.''
That's the way Hunter wanted drivers in the sport to be. He worked behind the scenes in ways many never will know to make sure the competitors didn't lose sight of who they were amid the politics of rules and sponsors that often tainted their views.
That made them change.
He didn't always succeed, but he fought relentlessly for the personalities who made the sport what it is today.
"Jim was always so good at putting into perspective and taking back to NASCAR and explaining to them that you really weren't a complete jackass,'' Kevin Harvick said. "He was 'always be yourself, express yourself.' ''
Stewart and Harvick knew Hunter about as well as any driver. They admittedly wouldn't be in the sport if it weren't for his guidance and support at times when they appeared on the path of self-destruction.
So when Stewart brought up his name in the midst of the mandatory thanks to sponsors and congratulations to the new champion, it struck a chord.
Hunter understood better than most that what took NASCAR to the national level wasn't necessarily the competition on the track. He understood it was the personalities of the drivers.
He also understood corporate America and intense attention from the media sometimes makes the competitors guarded, afraid to be themselves for fear of offending a sponsor paying millions to put them on the track.
Keselowski personifies what Hunter wanted. His 12-minute, unscripted speech captured everything many of us have been telling you about him for several years.
It was honest.
It was humble.
It was spoken in a way that made everyone in the room of about 1,500 industry people realize everyone is responsible for the future of the sport.
And it came at the ideal time with the sport at a turning point with the introduction of the new car that has raised expectations for the future.
"As we look into '13, I hope as a sport we can continue to find common ground to unify," Keselowski said as though he were speaking to a room full of Republicans and Democrats in Congress. "We have some of the smartest people that can solve any problem. As a champion, I want to be your leader, and I want to help you make it happen."
It was a serious moment, but not an unexpected moment for one who has entertained us all year through Twitter and other social media outlets. Amid the pranks of drivers running up a huge tab on his hotel suite, of filling him up with shots of liquor while they unknowingly to him drank soft drinks, this week has been about unification and representation for Keselowski.
Although his voice was almost gone from all the parties and late nights, that he wants what's best for the sport could be heard loud and clear.
"I know he's enjoying the heck out of himself, and I'm proud of him for how he's handled himself,'' four-time champion Jeff Gordon said. "We've thrown everything at him, let me tell you. And some have thrown more than that at him, and he's stepped up like a pro.
"He's going to make a great champion. It's great to see a young guy like him enjoying the moment the way he is. He's got a great appreciation for the sport to be able to respect where he is as well."
Stewart's message said it all:
Don't change.
Stewart has scars from feeling he was burned by things he's done and said over the years. They are scars Hunter helped heal before he passed. They are scars he hopes Keselowski doesn't have to deal with, because he understands -- as he believes Hunter would -- that this new champion is good for the sport.
"To be perfectly honest, I hope you guys continue to treat him the way you are now,'' Stewart told reporters in an almost sermon-like tone. "That gives him that opportunity to be that way.
"I'm so scared that at some point somebody is going to turn on him and it goes downhill from there. But I'm proud to see you guys give him the chance to be open like he is.''
As funny as banquet host Howie Mandel was with cracks about Gordon taking him out in the hotel's massive corridors, as much as we all agreed with Clint Bowyer that our job is done for this season and "my a-- is clocking out,'' that is what we should take away from the banquet.
That is what we should take from the season that appropriately began with its champion-to-be tweeting from the track during a red-flag situation.
Yes, Hunter would love Keselowski's style.