Full speed ahead for Keselowski, Kenseth
December, 11, 2012
12/11/12
3:54
PM ET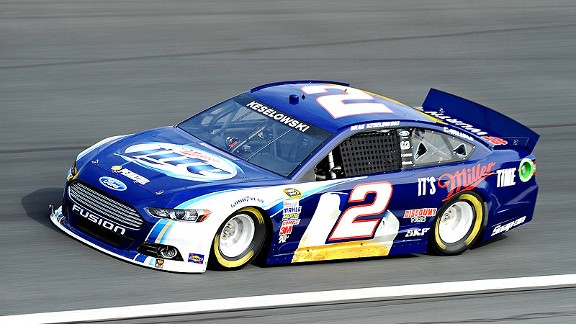 Jared C. Tilton/Getty ImagesBrad Keselowski stretched his legs in the new Miller Lite Ford Fusion during Tuesday's NASCAR test.
CONCORD, N.C. -- You won't find the sterling silver Sprint Cup trophy made by Tiffany and Co. at the home of reigning champion Brad Keselowski.
"No, I don't keep trophies at my house,'' Keselowski said during Tuesday's test at Charlotte Motor Speedway. "I don't believe in building a shrine to myself. It's kind of weird."
This is why Keselowski will be a threat to repeat in 2013.
The Penske Racing driver doesn't want to be reminded about what he has accomplished. He wants to work on building toward the future, and this two-day test at CMS is the first step in doing that.
Keselowski spent about as much time focusing on how he and new teammate Joey Logano will work together as he did the new car and new manufacturer.
"I'm curious to see over time how we can work together and push each other to be the best we can be, so I've had a lot of fun with that so far,'' Keselowski said. "We've got a lot of work to do.
"We're only a half a day into two really important days, not only for Penske Racing but for the sport itself, and hopefully we can continue to show progress."
Matt Kenseth, who replaced Logano in the No. 20 at Joe Gibbs Racing after spending his entire Cup career at Roush Fenway Racing, also was focused on getting to know new people at a time drivers typically are getting away from the sport.
That he chose to be here instead of spending quality time with his family is a reason he'll be a threat in 2013.
"I've got to be honest, it was probably the first time I've been nervous in a race car -- getting in there and going out for the first time -- in as long as I can remember,'' the 2003 Cup champion said. "It's always exciting and you're a little anxious when you go do something different. It's been fun so far."
OK, it wasn't all fun. Kenseth did create more work for his new crew than they probably expected when he over-revved the engine near the end of the first practice.
"So they're back there changing it,'' he said of the engine during lunch break. "So I think the guys are in love with me right now. Like, 'Where did we find this clown? Give us the other one back.' Other than that it's been good."
Bottom line for Keselowski and Kenseth: They still are hungry to prove themselves.
And that will make both contenders in 2013.