'Humpy' Wheeler gets achievement award
January, 29, 2013
01/29/13
4:34
PM ET
CONCORD, N.C. -- H.A. "Humpy" Wheeler was in the middle of one of his classic behind-the-scenes race stories on Monday night when he interjected: "Well, we had another drink."
Those do make for some of the best stories -- and Wheeler has a ton of them.
[+] Enlarge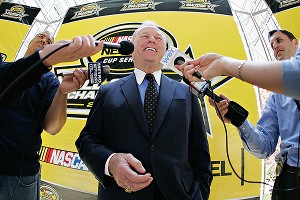 Streeter Lecka/Getty Images H.A. "Humpy" Wheeler was known as the P.T. Barnum of race promoters for his wild stunts.
The former president and general manager of Charlotte Motor Speedway shared a few on this night as he was honored with the Achievement in Motorsports Tribute Award at the seventh annual North Carolina Motorsports Industry banquet.
There even was a moment when Wheeler seemed on the verge of making peace with his former longtime boss, Speedway Motorsports Inc. chairman Bruton Smith.
"Bruton and I argued a lot, but we did a lot of great things together," Wheeler said during his acceptance speech. "In the end, it was a lot like a football coach who doesn't win enough games; it was time for a change. I'm grateful for the opportunities he gave me through the years and for what we achieved together."
Wheeler and Smith accomplished great things during their long run together at CMS, where Wheeler became known as the P.T. Barnum of race promoters for all his crazy stunts.
To see that relationship end in 2008 was disheartening to those of us who looked forward to seeing each of them on a race weekend.
Maybe Wheeler's acknowledgment of "the opportunities he gave me" will open a door for them down the road.
Maybe it's too late.
Smith definitely would have added another element of entertainment to the post-acceptance speech fireside chat with Wheeler, team owner Richard Childress, broadcast legend Ken Squier and Fox TV race announcer Mike Joy.
Squier had the audience laughing to the point of tears when telling about the time Wheeler considered putting a shark and a swimmer in a giant water tank as prerace entertainment.
Wheeler did the same while talking about the stunt in which he stuck his head in the mouth of a tiger.
"That almost cost me my marriage," he said.
Not to mention his head.
The stories reminded me of why Wheeler set the standard for track promoters today, of why I miss seeing him on race weekends at CMS and hearing his stories.
As Childress told Wheeler: "Everything they said about what you've done is just a small part of what you've done for the sport."
Congrats, Humpy. Well-deserved honor.