Evernham in giving, not working, mood
February, 8, 2013
02/08/13
4:25
PM ET
MOORESVILLE, N.C. -- Legendary crew chief and former team owner Ray Evernham recently had an opportunity to return to the Sprint Cup Series -- in a big way.
He turned it down.
"I really had to stop and think about it," Evernham said on Thursday as he presented a $280,000 check to the Autism Society of North Carolina. "I had to make sure not to make decisions with ego and think about why I wound it down the first time and the reality of what it would be.
"It's so easy to be 10 years later thinking about how great you are and how you can still do it. You can lull yourself back into thinking, 'I could still do that.' I probably could still do it, but I don't think I could have the results I had."
[+] Enlarge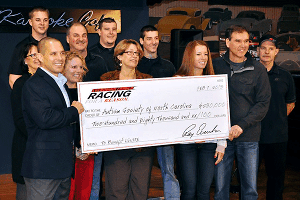 Courtesy Ray Evernham EnterprisesRay Evernham, right, holding check, presents a $280,000 donation to the Autism Society of North Carolina.
Evernham wouldn't say which organization came to him other than that it wasn't Hendrick Motorsports, where he won championships as Jeff Gordon's crew chief in 1995, '97 and '98 before moving into an ownership role with Dodge in 2000.
One thing is certain: He wouldn't have considered the offer had it not been a top organization capable of winning titles now.
So Evernham turns his focus to being an analyst on ESPN, building and collecting custom cars and working with charities such as the Autism Society.
The check he presented Thursday came from proceeds from a custom-designed 1964 Plymouth Belvedere ForPly that sold last month for $180,000 at the Barrett-Jackson auction in Scottsdale, Ariz.
The other $100,000 was donated by car collector Ron Pratt.
The money will help with projects such as IGNITE, a program Evernham recently helped start to enable adults with high-functioning autism or Asperger's syndrome to enjoy a better quality of life.
Evernham also has been busy shining up a 1966 Modified built by the Wood Brothers. The car temporarily will be in the NASCAR Hall of Fame with 2013 inductee Leonard Wood while the 1963 Galaxie Wood built spends time in Daytona.
"The Leonard Wood car, talk about blown away and an honor," Evernham said. "I don't know how you explain something like that. As a kid growing up, Leonard is one of my heroes and one of the greatest mechanics ever."
For Evernham, a return to the Cup series in a managerial role would have meant less involvement with this type of projects.
"Would I like to hang out with a race team and be part of answering questions and giving direction on stuff? Yeah," Evernham said. "Would I like to be in that competitive environment? I don't think I fit in that anymore. I think I'd be frustrated all the time.
"I'm an innovator. I cut fenders off in the garage area. I'm not, 'Here's my technical drawing on my part and will you please approve it?' I'm going to read the rule book and say, 'Here's a gap, let's build something here.' Now you go to jail for that. I don't want to go to NASCAR jail. I've been there. It's not a fun place."