Dale Earnhardt Jr. avoiding the drama
April, 5, 2013
04/05/13
4:09
PM ET
CHARLOTTE, N.C. -- Remember the little kid in kindergarten who stood almost invisible in the corner and smiled while the other kids got in trouble?
That's Dale Earnhardt Jr. right now.
NASCAR's most popular driver has avoided all of the drama of the past few weeks between Joey Logano and Denny Hamlin, Logano and Tony Stewart and the question of who will replace Hamlin while he recovers from a compression fracture in his lower back.
[+] Enlarge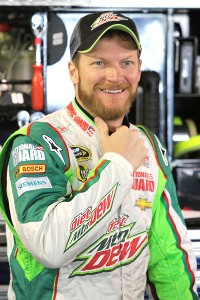 Jerry Markland/Getty ImagesSprint Cup points leader Dale Earnhardt Jr. is working on a streak of five top-10 finishes to start the season.
He's gone about his business in workmanlike fashion without drawing much, if any, attention to himself. It hasn't gotten him into Victory Lane, but he does have five top-10s that have him in the points lead heading into Sunday's Sprint Cup race at Martinsville Speedway.
Avoiding the spotlight -- for a driver who always seems to be in it -- is just fine with him.
"I feel like it gives us the opportunity to keep focusing on what we need to do," Earnhardt said of the attention being focused elsewhere. "We've finished well, but there's a lot of areas that we can improve, and we get to focus on that sort of being out of the scope and out of the spotlight. We can pay more attention to how do we get better as a team.
"You know, if we go out and win some races, we'll get credit where credit is due."
With a little luck -- and continued avoidance of the drama that could unfold if Stewart decides to take short-track revenge out on Logano for blocking him on the final restart at Auto Club Speedway -- a win can't be far away.
It could be staring him in the face.
Martinsville statistically has become Earnhardt's best track. Before a 21st-place finish last fall, he had four straight finishes of seventh or better, including a second and a third in the past two spring events at the quirky half-mile track.
His driver rating at Martinsville is 99.8, better than any track on the circuit -- including Michigan (97.1), where he has scored his past two wins. He's led more laps here (868) than any track by more than 100. He has as many top-5 finishes here (10) as he does Daytona, where he once was the restrictor-plate king.
He's come a long way from being the rookie who once hit everything at Martinsville but the concession stand where they sell the famous hot dogs.
"I ran into other race cars, walls, pace cars ... just about everything that could be ran into, I found it," Earnhardt recalled.
Even an ambulance.
"Yeah, the ambulance wouldn't move, so I had to give him a bit of the bumper," Earnhardt said. "I ran over everything and finally Dad was like, 'Man, tell that kid to park it.' "
But Earnhardt finally learned the rhythm it takes to maneuver the paper-clip-shaped track. After an average finish of 25th in his first four attempts, he rattled off five straight finishes of fifth or better.
His 14 career top-10s here now rank second to the 15 he has at Daytona.
He really loves this place -- from the nostalgia standpoint, little has changed here from the first Cup race in 1949 to the tight racing.
"Every track has something about it that you like or something characteristic about it that you enjoy," Earnhardt said. "But Martinsville is just a fun place, really fun track to race on.
"The fans get a great event. They get a great show when we're there. I think it's a good ticket between it and Bristol and Richmond. It's some of the best short-track racing in the country that you can see."
He'd like it better with a win.
And if he gets it, he won't be so invisible anymore.