Hornaday should not be suspended
April, 15, 2013
04/15/13
2:53
PM ET
CHARLOTTE, N.C. -- There's been an outcry on social media to suspend Ron Hornaday Jr. for wrecking Darrell Wallace Jr. under caution in Sunday's Truck Series race at Rockingham Speedway.
People contend that the four-time Truck Series champion deserves the same punishment that Kyle Busch got when he was parked for the weekend after wrecking Hornaday in 2011 at Texas Motor Speedway.
They argue NASCAR has painted itself in a box.
And they're right that there is a precedent.
But here's a major difference, at least in my mind, and an argument why Hornaday should be fined, but not suspended: Busch wasn't a Truck Series regular.
[+] Enlarge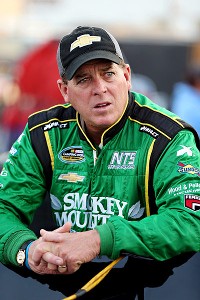 Matthew Stockman/Getty ImagesRon Hornaday Jr. knows punishment may be coming for spinning Darrell Wallace Jr.
Hornaday, 54, and Wallace, 19, are. They have to deal with each other on a regular basis. When they race each other hard -- and even retaliate -- as was the case on Sunday, they do so understanding both are trying to win a title.
Busch had nothing to lose, at least in that series. His actions cost Hornaday, who was 15 out of the points lead heading into Texas, a chance to compete for another Truck title.
It fueled the argument for why Cup drivers shouldn't be in the second- or third-tier series.
"[Busch] was just doing it for racing because he loves racing like everybody else does," Hornaday said on Monday. "Darrell and I, we've got to race each other however long I'm going to continue in the series."
There's another reason why Hornaday shouldn't be suspended. Busch wasn't apologetic about the Texas incident until after he was suspended. Hornaday went out of the way to immediately call himself an idiot for turning Wallace into the fence, explaining that that was not his intent.
He was so regretful that he went to his pit stall after the race and told his crew to stand back so he could accept whatever Wallace and his team did.
"If they wanted to come punch me in the nose, which I deserved, they could have," Hornaday said. "I took my helmet off and was going to take it like a man.
"I didn't mean to do it [wreck him]. I know in my heart I didn't mean to do it."
Busch made no excuses in 2011. He admitted he had enough of being wrecked several weeks in a row "and ended up losing my cool." Replays show he got on the rear bumper of Hornaday's truck and pushed until Hornaday turned into the wall.
Hornaday appeared to brush his front bumper across Wallace's rear bumper and clip the right side to turn him sideways. He apologized profusely afterward and again on Monday, saying you wouldn't turn "your worst enemy into the fence" intentionally.
"I don't know if I was too far up or he slowed, or whatever," Hornaday said. "It just happened so quick. I feel like an idiot about it.
"Any other racetrack, he probably wouldn't have hit the fence. He probably wouldn't have spun out. It's one of those things that happened and I've got to pay the consequences for it."
And there should be consequences. Wrecking another driver under caution shouldn't be allowed without penalty. Hornaday gets that.
He also believes there are major differences between what happened on Sunday and in 2011.
"I put them in a box," Hornaday said of NASCAR. "We shouldn't even be talking about it today. I guess you've got to take whatever they give you. I hope it's not too harsh."