Joey Logano keeps it all in perspective
April, 23, 2013
04/23/13
4:12
PM ET
CHARLOTTE, N.C. -- Showcased in the middle of the Carolinas Aviation Museum is the Airbus A320 that in 2009 Capt. Chesley "Sully" Sullenberger successfully landed in the Hudson River.
One-hundred fifty-five lives were saved.
None were lost.
[+] Enlarge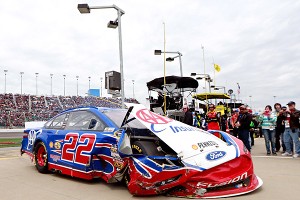 Chris Trotman/Getty ImagesAn early exit at Kansas left Joey Logano 39th in the race and 20th in the Sprint Cup standings.
Makes the feud between Joey Logano and Denny Hamlin seem kind of small, doesn't it?
So does standing in front of an Air Force war plane surrounded by military personnel promoting the Memorial Day weekend Coca-Cola 600 at Charlotte Motor Speedway.
"A tough day at the track is hard," Logano said during the Tuesday event outside the museum. "Nothing compared to what these guys are doing. It does put it in perspective. Compared to what all these military guys are doing, I'm not really doing much at all."
Logano has had a lot of tough days at the track lately. It began March 24 with his last-lap crash with Hamlin at Auto Club Speedway that ended his chance of winning and sidelined his former Joe Gibbs Racing teammate with a compression fracture in his lower back.
It continued two weeks later at Texas. NASCAR confiscated the rear-end housings of his No. 22 car and the No. 2 of Penske Racing teammate Brad Keselowski, then penalized the drivers 25 points each and suspended their crew chief, car chief and lead engineer pending an appeal.
It continued on Sunday at Kansas Speedway. Logano was the innocent bystander in a spinout of another former JGR teammate -- Kyle Busch -- that destroyed his car and left him with a 39th-place finish.
So in four weeks Logano has gone from a potential win at California and move near the top five in points to 20th.
"I'm still very confident and I know my team is very confident and I'm going to lead that team to make sure it stays confident," Logano said as he awaits a May 1 appeal of the penalties. "I don't feel like it is as big of a downswing as it may look on the outside.
"I feel like I'm still right where we need to be, like we were at California, to make sure we can go win."
No, Logano isn't concerned that JGR and Hendrick Motorsports have won seven of the first eight races and have led about 73 percent of the laps.
"They obviously have some great race car drivers, they have great teams," he said of JGR and HMS. "But I don't feel like it's anything we don't have.
"So, yes, the numbers may show one thing, but the way I feel doesn't relate to the numbers."
Logano also isn't worried about whether his issues with Hamlin will continue once Hamlin returns over the next few weeks.
He took the high road when given the chance to respond to a tweet by Hamlin -- "I know Joey felt bad but he doesn't have to keep falling in the points on my count :) #seeyasoon" -- after the Kansas crash.
"Personally, I don't like being in drama and I stay away from drama and I'm not going to get carried into any drama on this situation," Logano said. "I'm going to stay focused on what my task is, and that's winning the race.
"And the rest of it is whatever to me. I'm here to win and put the past in the past."
And keep things in perspective.