Jimmie Johnson arrogant? C'mon, people
May, 23, 2013
05/23/13
5:05
PM ET
CONCORD, N.C. -- For most of his career Jimmie Johnson has been called vanilla and boring even though he is neither.
Now some are calling him arrogant.
He's not that, either.
But the five-time Sprint Cup champion was called that by some of you after Saturday night's All-Star Race, when he joked about fans wanting to hate him for winning the event for the fourth time, when he joked that races were rigged and he was lucky as fans screamed conspiracy theory.
He simply was being funny, responding to a question about how the network televising the race confused fans by posting a graphic that incorrectly showed the Hendrick Motorsports driver should have entered pit road 11th instead of fourth, as he was.
[+] Enlarge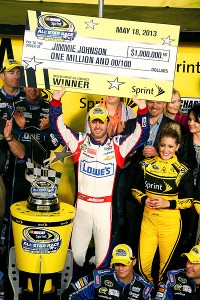 Jeff Zelevansky/NASCAR/Getty ImagesJimmie Johnson won his record fourth All-Star Race on Saturday night at Charlotte.
But some didn't take it that way. They took Johnson's response as being smug and arrogant.
Maybe fans simply were frustrated from the lack of passing and slam-bang racing in what was billed as a no-holds-barred event at Charlotte Motor Speedway. Maybe they were upset at having to face the reality that the No. 48 team may win a sixth title this year.
Maybe they were ticked that Danica Patrick won the fan vote.
Or that Bobby Labonte didn't.
Whatever, it was misdirected.
When you think of Johnson, words such as winner, champion, father, husband, athletic and consistent should come to mind.
Arrogant shouldn't be anywhere on the list.
Johnson is as humble as the sport has seen. Ask him how he compares with the Pettys and Earnhardts of the sport, as he was several times before Friday's first practice for Sunday's Coca-Cola 600, and he becomes almost shy.
"I just don't pay that much attention to it all," Johnson said. "It's very difficult to think about where I fit in while I'm still racing. I think of drivers' careers ending mid-40s. I still have 10 years or so to even think about that, worry about that.
"So to be recognized and thought of and even in the conversation with Petty, Earnhardt, Gordon, that's a huge compliment I'm very proud to have, proud to be a part of that conversation. But I haven't thought that much about it."
Peers certainly don't look at Johnson as arrogant. They may be jealous of his success -- 62 wins and five titles -- but they also respect him in the way they do a Hall of Famer.
"People can say whatever they want about him, but I don't know how you [can] say that he's not the best ever," 2003 Cup champion Matt Kenseth said. "Nobody has ever won five championships in a row and probably never will.
"It's kind of cool to be a part of that, because I think someday you will look back at history and be like, 'Oh, yeah, I raced against him.' But at the same time it stinks because you get beat so many times."
Four-time champion Jeff Gordon called his teammate's career "pretty phenomenal." Reigning champion Brad Keselowski called it "pretty damn good so far."
"I know there are a lot of people that would like to have it," he added.
None of the drivers called him arrogant.
That's because he isn't.