Ford teams in pursuit of performance
June, 6, 2013
06/06/13
11:24
AM ET
CHARLOTTE, N.C. -- Greg Biffle's paint scheme for an upcoming Sprint Cup race at Michigan may be about smiles, but the Roush Fenway Racing driver isn't smiling much these days.
Ranked 13th in points, the perennial Chase contender says RFR and Ford are searching for ways to improve performance for all of its cars, including more open communication with Penske Racing.
[+] Enlarge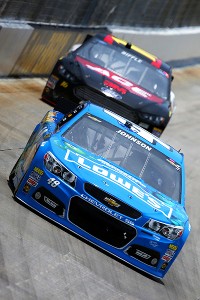 Tom Pennington/Getty ImagesA familiar sight in the Sprint Cup Series in 2013: Ford playing catch-up with Chevrolet.
"We are currently having discussions on how to make the Ford brand better across the board," Biffle said on Wednesday during a conference call to promote his 3M "Give Kids A Smile" paint scheme program for the June 16 race at Michigan. "They're [Penske] definitely not trumping the Cup series right now, but they're running better than us.
"As Ford, we need to be running better overall, Penske and Roush. Ford sparked the discussion of how can our teams elevate one another without an open book, without giving away our speed secrets."
RFR's Carl Edwards at second in points is the highest-ranked Ford driver. Reigning Cup champion Brad Keselowski of Penske Racing is next at 10th.
After that it's Aric Almirola of Richard Petty Motorsports in 12th, Biffle in 13th, RFR's Ricky Stenhouse Jr. in 15th, Penske's Joey Logano in 18th and RPM's Marcos Ambrose in 23rd.
Biffle said Edwards' position doesn't paint an accurate picture of where RFR and Fords are.
"I'm not going to downplay Carl's success so far this season, but we were all not very good at Dover," he said of Sunday's race. "We have a systemic problem similar to what we did two years ago with our cars when we were struggling bad company-wide."
At Dover, Stenhouse was 13th, Edwards 14th, Biffle 15th, Almirola 18th and Ambrose 19th. By contrast, Keselowski was fifth and Logano seventh.
"We had an hour and a half call-in debrief meeting the other day, and those are normally 30 minutes," Biffle said. "They're getting longer and longer because everybody is working so hard and we're all on board, but we're just struggling with our cars to get them where they need to be."
Laps led is a good indicator. After Edwards with 153, the next-highest Ford driver is Keselowski with 109. Biffle has led only 39.
Edwards, Keselowski and Biffle combined have led 301 laps. By contrast, former RFR driver Matt Kenseth has led 922 laps in his Joe Gibbs Racing Toyota, with teammate Kyle Busch leading a series-best 955.
"We're missing some part of the puzzle right now," Biffle said. "We recognize that. The cat's out of the bag. You look at our performance this season, company-wide, and Petty cars too. All of our chassis are, let's say our cars, are just not up to snuff."
Biffle hopes to see a turnaround the next two weeks at Pocono and Michigan.
"We recognize we have a problem," he said. "We're working very hard on it. We've got huge plans in place going to Pocono and Michigan to get better, get these cars fast again and get these cars competitive.
"Clearly, we're not there right now."
Working more closely with Penske Racing, which gets its engines from Roush Yates, is one area to start. Ford officials acknowledged there is an increased effort to encourage that.
"It's a delicate situation," Biffle said. "It's hard to do. We have proprietary stuff and they do. We're still racing against them for the championship and Chase spots."