Category archive:

Tony Stewart
December, 10, 2012
12/10/12
12:27
PM ET
INDIANAPOLIS -- Perhaps not surprisingly, Tony Stewart turned down Roger Penske's offer of a ride in the 2013 Indianapolis 500.
Stewart announced his decision at the annual International Motorsport Industry Show, of which he is a founding partner.
"It was kind of heartbreaking here to hear the crowd so upset when we said we weren't going to do it," Stewart said last week at a reception at Lucas Oil Stadium opening the 2012 edition of the racing trade show.
[+] Enlarge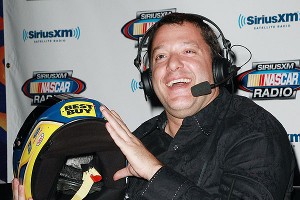 Marcel Thomas/FilmMagic/Getty ImagesTony Stewart on passing on the Indy 500: "... Since I've been a team owner I pretty much ruled out the possibility of ever running Indy again."
"But it's like being at Thanksgiving dinner … my plate is finally full. I don't know that I could add any more to what I've got right now."
At the NASCAR Sprint Cup banquet in Las Vegas on Nov. 30, Penske surprised Stewart and the rest of the racing community with his offer to provide a car so the two-time Sprint Cup Series champion could "do the double" -- compete in the Izod IndyCar Series Indianapolis 500 and the NASCAR Sprint Cup Series Coca-Cola 600 in the same day.
Stewart, who raced Indy cars under Indy Racing League sanction full-time from 1996 to 1998, performed the double feat in 1999 and 2001. In the latter year, he finished sixth at Indianapolis driving for Chip Ganassi Racing and third at Charlotte in a Joe Gibbs Racing stock car.
Since then, the 41-year-old Indiana native has maintained that an IndyCar non-regular would have little chance of being competitive in a one-off outing, and Stewart repeated that mantra Wednesday in Indianapolis.
"The IRL is so competitive now, probably stronger than it's ever been as far as competition," Stewart said. "You're not going to stroll in there for the month of May and expect to be on the same page as those guys. You'd have to start the season from the beginning to become acclimated to the team you were going to run the month of May with.
"Roger and I never even spoke about it," he added. "It's a great opportunity, but it's very hard when you're running three [NASCAR Sprint] Cup teams right now -- the obligations we have with making sure we're doing the right things for Ryan [Newman] and Danica [Patrick], as well as Donny Schatz and Steve Kinser and Bryan Clauson and Bobby East. We've got a lot of people that depend on us. There's a lot of responsibility there, and since I've been a team owner I pretty much ruled out the possibility of ever running Indy again.
"So as much as I would like to do it, I just don't have the time to do it proper."
If Penske is serious about running a Cup driver in the Indianapolis 500, and if contractual conflicts could be worked out, the legendary car owner wouldn't have to look far for a competitive alternative.
Brad Keselowski, who just clinched Penske's first NASCAR Sprint Cup title (to go along with 12 Indy car championships and 15 victories in the Indianapolis 500), told ESPN.com that he would be interested in "doing the double" in the future.
"Ford doesn't have a presence in Indy car racing, but if they did, I'd be knocking on Roger's door and he'd be knocking on mine," Keselowski said.
"How could it not appeal to you? It would be the pinnacle achievement in motorsport of all time. If you could go out and win one of those races, let alone two, you'd be a legend."
IndyCar Series champion Ryan Hunter-Reay said he was disappointed that Stewart did not accept Penske's challenge.
"I was hoping to see it happen," Hunter-Reay said. "We want the best here and welcome anyone who wants to come drive in the Indy 500, especially with someone like Tony Stewart's qualifications.
"We want to race against the best and we want to win against the best."
Hunter-Reay noted that Stewart -- or any other driver from a series outside of IndyCar -- would have a difficult time adapting to the foreign machinery, even with more than a week of practice time available at Indianapolis.
"We've seen the IndyCar drivers go over and put their toe in the water in NASCAR and more times than not it hasn't looked very good," RHR said. "I really respect what those guys do with those heavy cars, big horsepower, little tires, and I'd love to try it if I had a competitive opportunity.
"On the other hand, they would have a steep learning curve here, too. We haven't seen anybody come over here, but I would welcome seeing a NASCAR driver jump in an Indy car. Somebody like Tony knows how to adapt to different race cars. He's talented, he's been around the block, so he could absolutely do it."
Prior to the establishment of the Brickyard 400 stock car race, NASCAR drivers sporadically competed at Indianapolis through the mid-1970s.
Bobby and Donnie Allison, Cale Yarborough and LeeRoy Yarbrough all made starts in the Indy 500, with Donnie Allison's fourth-place finish in 1970 standing as the best result.
Indy car drivers Mario Andretti (1967) and A.J. Foyt (1972) have claimed victory in NASCAR's biggest race, the Daytona 500.
In 1994, John Andretti was the first driver to complete the Indianapolis-Charlotte double. Stewart, in 2001, was the last.
December, 4, 2012
12/04/12
5:02
PM ET
INDIANAPOLIS -- My lack of enthusiasm for NASCAR racing is well-known. But I think the prospect of stock car star Tony Stewart competing in the 2013 Indianapolis 500 for Team Penske would be great for the Izod IndyCar Series.
This isn't a news story. Yet. The genesis was when Roger Penske, perhaps giddy upon the occasion of celebrating his first NASCAR Sprint Cup Series championship, half-jokingly made Stewart an offer he really shouldn't refuse.
[+] Enlarge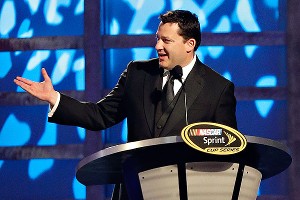 AP Photo/Julie JacobsonIndiana native Tony Stewart has yet to respond publicly to Roger Penske's Indianapolis 500 offer.
"You're a car owner, you're a race driver, you're a track promoter," Penske said, addressing Stewart while accepting the team owner's championship trophy last week in Las Vegas. "How about doing the double at Indy this year? Are you available?"
Penske Racing president Tim Cindric added fuel to the fire, asking via Twitter: "Hey, Tony, can we count on you for Indy? We've got a fast car for you."
Stewart, a Hoosier native, has not publicly responded. But Penske's seemingly throwaway remark at the NASCAR banquet actually turned into a PR lifeline for INDYCAR. Talk of Stewart "doing the double" -- driving in the Indianapolis 500 and NASCAR's Coca-Cola 600 on the same day, something Stewart did in 1999 and 2001 -- quickly developed into a grassroots campaign to actually make it happen.
Indianapolis Motor Speedway quickly established an online "Smoke2Indy" petition that garnered 1,700 signatures within 18 hours.
Many reasons have been given why no one has attempted to do the Indy/Charlotte double since Robby Gordon in 2004, aside from sheer difficulty. The Indianapolis 500's start time was twice pushed back from its traditional 11 a.m. ET start in an effort to increase television viewership in Western time zones, making it physically impossible to finish the 500 and make it to Charlotte in time to start the 600.
And from 2006 to 2011, of course, every car in the Indianapolis 500 was powered by Honda, creating a contractual conflict with every potential driver's relationship with their NASCAR manufacturer.
But Team Penske is now powered by Chevrolet, the same marque that supplies Stewart-Haas Racing in NASCAR. The only possible conflicts would be between Penske oil sponsor Shell/Pennzoil versus SHR's backing from Mobil 1, or possibly Sprint versus Penske's association with competing wireless phone carrier Verizon.
ABC/ESPN, which has broadcast the Indianapolis 500 since 1965, said it was open to discussing a change in the Indianapolis start time to accommodate Stewart or any other driver -- Danica Patrick? -- who wishes to "do the double." Julie Sobieski, ESPN vice president, programming and acquisitions, stated to the Associated Press: "ABC/ESPN would enthusiastically support the opportunity for said driver[s] to participate in both the Indianapolis 500 and the Coca-Cola 600. We have strong partnerships with the league and speedway."
Stewart created a frenzy at Indianapolis a few years ago when he showed up at the speedway to hang out with his buddy A.J. Foyt on a qualifying weekend and teased the media into believing he would give running the 500 another shot.
Remember, Stewart is a proud Indiana native who still resides in Columbus, about 40 miles from Indy. He grew up idolizing the Indianapolis 500 and, beyond Ed Carpenter's recent success, was the most successful Indy car driver of the past 20 years who came up through the traditional path of USAC Sprint and Midget oval-track racing.
Stewart was exactly the kind of Indy car driver Tony George envisioned when he formed the Indy Racing League, and Stewart took advantage of the opportunities that were made available to him. From 1996-98, he won three races, earned eight poles and captured the 1997 league championship.
But success at Indianapolis eluded him (his best Indy 500 finish was fifth in 1997), and no one can argue that TS made the full-time jump from Indy cars to NASCAR at precisely the right moment, prior to the 1999 season. Since then, he has developed into one of America's most popular racers, but you always got the feeling that Stewart feels he has unfinished business at IMS.
He'll never have a better opportunity than he would driving for Penske. Eleven years since he last drove an Indy car, Stewart's rear-engine skills may be a little rusty, and people will inevitably make jokes about his comparative lack of fitness compared to Indy car drivers in general.
But I can think of no driver in the world who has more mental toughness -- or anyone who derives as much sheer joy from driving as many different races and cars as possible.
People are always looking to Roger Penske as the man who can save Indy car racing. But as one of the world's busiest and most respected businessmen, he's never going to take on an active leadership role.
However, by putting one of NASCAR's biggest stars in one of his Indy cars, "The Captain" can certainly generate a lot of positive attention for the Indianapolis 500 and the sport itself. It makes too much sense not to happen.
Your move, Smoke.