Category archive:

Helio Castroneves
July, 20, 2014
07/20/14
8:43
PM ET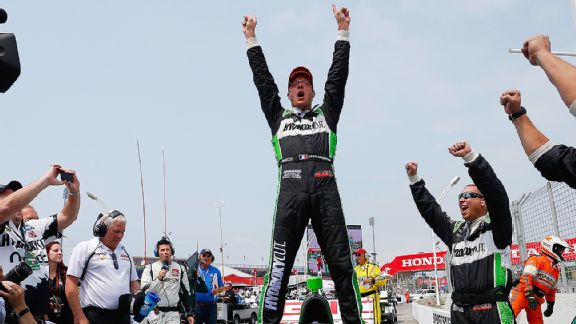 Chris Trotman/Getty ImagesSebastian Bourdais was excited to finally break a winless streak that went back to 2007.
TORONTO -- Rain pushed Race 1 of the Honda Indy Toronto "2 in TO" doubleheader back from Saturday afternoon to Sunday morning, and it returned later Sunday in the afternoon to significantly shake up the second Verizon IndyCar Series contest of the day.
A very long day of racing was prolonged by multi-car accidents that blocked the narrow 1.755-mile street course at the start of Race 1 and the end of Race 2, the latter prompting INDYCAR officials to red-flag the event with 4-½ minutes remaining.
Sebastien Bourdais' victory in the dry in Race 1 was a straightforward affair, with the Frenchman leading 58 of the 65 laps to secure his first Indy car victory since November 2007, when he won the swansong race of a five-year tenure in the Champ Car-sanctioned series.
Meanwhile, Race 2 started dry, but a midrace shower caused a series of incidents that brought the action to an end after a predetermined 80-minute time limit, rather than the scheduled 65 laps. It also introduced the element of tire strategy, as drivers and teams tried to determine the perfect time to switch from Firestone rain tires to slicks on a drying track.
[+] Enlarge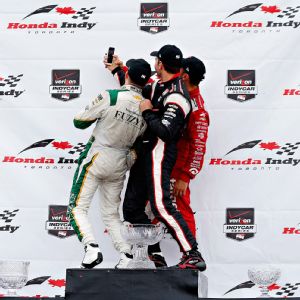 Chris Trotman/Getty ImagesRace 2 winner Mike Conway, from left, third-place Will Power and second-place Helio Castroneves had time for a selfie on the podium.
It was Mike Conway who called it best, calling for dry tires two laps earlier than the majority of the field. The gutsy move earned Conway and Ed Carpenter Racing their second race win of the year, matching their victorious performance at the Long Beach Grand Prix in April.
Conway had just returned to the track on slicks when Sebastian Saavedra nosed into the Turn 3 tire wall, prompting INDYCAR to throw a late-race red flag for the second time in less than a month. The Englishman then had to sweat out a restart and three more laps as he held off Tony Kanaan for his fourth career IndyCar race win.
"That's Mike," team owner Carpenter said in a television interview, giving Conway credit for making the call for slicks.
"He was out there on the track and said he was ready for dries. We thought it was a bit early, but this one is all down to him."
Despite the victory, Carpenter was not totally pleased with INDYCAR's decision to throw the red flag, a move similar to one made in Houston three weeks ago to allow the race to end under a green flag.
"It worked out for us today, but the question is how many times are you going to go red?" he said. "As competitors, we don't always know what's going on out there."
Conway said the call for dry tires was, well, cut and dried.
"It was really difficult conditions in the wet and we were kind of struggling a bit," he said. "As soon as I saw part of a dry line, I knew it was time to come in and it was a great call.
"From there we just took off and kind of controlled the race," he added. "I was kind of nervous about the red flag but we had Justin behind us [Wilson, one of the last drivers on rain tires] and we were able to close it out."
Kanaan enjoyed his best weekend of the 2014 season, finishing third and second in the two races. He passed Will Power for second with two laps to go and crossed the line 3.542 seconds behind Conway.
Power, meanwhile, executed some nifty damage control by finishing third in Race 2 after a ninth-place finish in Race 1 dropped him 30 points behind IndyCar Series championship leader (and Team Penske teammate) Helio Castroneves.
Castroneves increased his points lead from 9 to 30 by finishing second to Bourdais in Race 1, but he got dropped from eighth to 12th place in the frenetic final three laps after starting Race 2 from pole position.
It was a tough afternoon for the Brazilian, who looked in control of the proceedings until the rain jumbled things up for everyone.
Power's podium finish in Race 2 pulled him back to within 13 points of Castroneves with four races remaining in the season. The three other main championship contenders all suffered through a dismal afternoon in Race 2, with Ryan Hunter-Reay (-70), Simon Pagenaud (-71) and Juan Pablo Montoya (-92) all dropping points to Castroneves.
"I just wasn't willing after yesterday [when Power was lucky the race was delayed to Sunday after he crashed before the green flag] to take a big risk and get caught out again," Power said. "Typical IndyCar race. It throws everything at you and you just have to survive.
"Anytime you gain in the points it's a great day, and the championship is going to be a battle to the end."
June, 1, 2014
06/01/14
5:40
PM ET
DETROIT -- With the eyes of corporate Detroit watching and General Motors CEO Mary Barra on his timing stand, Roger Penske delivered on Sunday.
Again.
Penske, the driving force behind the Chevrolet Detroit Belle Isle Grand Prix, saw his drivers Helio Castroneves and Will Power score a 1-2 finish in Race 2 of the Dual in Detroit. Team Penske swept the Detroit weekend, as Power won the opening race on Saturday afternoon.
Penske, who was a key figure when Detroit hosted the Super Bowl a few years ago, is one of the city's most important corporate figures. His guests on Sunday included Barra and Michigan Gov. Rick Snyder.
[+] Enlarge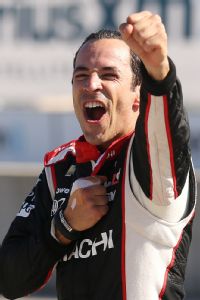 Nick Laham/Getty ImagesHelio Castroneves was untouchable Sunday at Belle Isle.
Penske Corporation, based in suburban Detroit, revived the Belle Isle race in 2007 and has grown it ever since. Blessed by spectacular sunny weather, the IndyCar twin bill (which also included the Pirelli World Challenge and the TUDOR United Sports Car Championship) drew healthy crowds each day.
"We had three great days and there's no question right now that people see what we have here at Belle Isle," Penske said. "At a race like this, people can come and bring their kids. Seeing all the kids here was the most important thing for me.
"From a racing standpoint, you dream of these kind of weekends -- we won both races and sat on the pole," he added. "I better get out of here in a hurry!"
Pit stop strategy wasn't as critical in Sunday's race as it was on Saturday, the biggest mover being Ganassi Racing's Scott Dixon, who finished fourth after starting from the back row.
Like most of the leaders, Castroneves pitted under yellow on Lap 11. Mike Conway seized the lead at that point, but Ed Carpenter Racing's strategy of making Conway the only driver to start the race on standard tires backfired as he dropped through the field during his stint on the alternate tires.
Castroneves seized control of the event by half distance, but he had to make two perfect restarts late in the race to hold off Power and third-place finisher Charlie Kimball.
"That was a great race for several reasons," Castroneves said. "One, we were racing hard to the very end. My car was so fast and I could do whatever I wanted. It's very rare you have that scenario.
"To be honest, fifth place [Saturday] was great points, but I was very disappointed because we had a dominant car. Today Roger had the strategy to put me in front. I don't want to sound cocky, but I was really confident. I knew exactly what my car was doing, and when you have a car like that, you just have to deliver."
Power found himself embroiled in controversy again after being involved in a first-lap incident that ended with Josef Newgarden and Graham Rahal in the Turn 3 wall. Power looked to have been in the wrong place at the wrong time, but INDYCAR called him in for a drive-through penalty on Lap 7 for instigating avoidable contact.
The Australian once again had one of the fastest cars and he was able to work his way back up to another podium finish.
"It was a bit of a surprise to end up second," Power said. "Fantastic weekend for Roger and for Chevy. I have a feeling we would have won without that penalty, but we've been on the right and wrong end of those calls.
"I wasn't going to attack [Helio] at the end," Power added. "A 1-2 for Roger is better than two cars in the wall. Second is good points instead."
Power was the big winner on the Detroit weekend, moving back into the championship lead with a 19-point advantage over teammate Castroneves.
Indianapolis 500 winner Ryan Hunter-Reay had a miserable weekend in Detroit, failing to finish either race. Hunter-Reay is now third in the standings, 27 points behind Power after arriving in Detroit with a 40-point cushion.
May, 31, 2014
05/31/14
6:55
PM ET
DETROIT -- Will Power didn't have the fastest car in qualifying for the first race of the Chevrolet Indy Dual in Detroit.
But he certainly did in the race itself -- which, combined with perfect pit stop strategy from Team Penske, allowed the Australian to score his second Verizon IndyCar Series win of the 2014 season and 23rd of his career.
Like so many Indy car races, this one was decided by fuel management and the timing of full-course cautions. Power started 16th after battling handling problems in qualifying, and his run to victory was keyed by an early pit stop under yellow on Lap 7 after Simon Pagenaud tapped the wall.
[+] Enlarge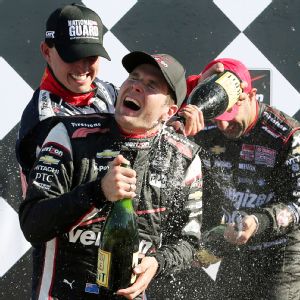 AP Photo/Dave FrechetteWill Power gets a champagne shower courtesy of Graham Rahal, left, and Tony Kanaan on Saturday.
Power made the second of his three pit stops under green on Lap 30, turning a series of quick laps that allowed him to take control of the race from pole winner Helio Castroneves and the other drivers who stuck to a standard two-stop strategy. Once the final round of stops cycled through, Power led, and he held off a charging Graham Rahal by 0.3008 seconds at the flag.
"Graham made it very difficult -- man, he never gave up," Power remarked. "I thought I could pull a gap, and every time I'd relax, he'd be straight back on me.
"What a tough race," he added. "No fuel saving, just run hard, and good strategy from the guys. I'm very happy."
Power still probably wasn't as happy as Rahal, who posted his first podium finish in 22 races dating to Long Beach 2013.
Rahal ran a stint in the lead and he and Power were the only drivers to lap in the 1-minute 17-second bracket.
"I thought I was going to finally get the monkey off my back today," said Rahal, whose last Indy car race win came at the 2008 St. Petersburg GP. "I knew I had a car that was as quick as him.
"I said after Indy that this team was made of champions and that it would come in time, and we're going to win one," he added. "We're going to do it -- I can promise you that, and it's coming soon."
Castroneves led 30 of the 70 laps, but the two-stop strategy doomed him to fifth place, behind three-stoppers Tony Kanaan and Justin Wilson.
"When you can put Will out front and get him some clear laps, he certainly puts them together," said Team Penske president Tim Cindric.
"Things kind of fell our way. We needed some of those breaks to break the race up a bit and we really took advantage of it. An awesome day for all of us."
It was a big day for Power in the IndyCar Series championship, as he cut Ryan Hunter-Reay's lead from 40 points to three. Castroneves is third in the standings, 44 points behind Hunter-Reay.
The Indy 500 winner had a terrible Saturday in Detroit, with a crash in qualifying forcing him to start from the back row. Pushing hard at the end of the race, Hunter-Reay again crashed on the last lap, costing him a potentially crucial five points as he dropped from 11th to 16th place.
Power looked somewhat knackered when he stepped from his car, but he said that his stamina will not be an issue for Sunday's 70-lap contest (ABC, 3:30 p.m.ET).
"I was thinking on the last stint, 'Man, I've got to do this again tomorrow!'" Power admitted. "I was absolutely puffing.
"But that's why we do fitness and I'll try to recover the best I can to come back and do it again."
INDIANAPOLIS -- Five years between Indianapolis 500 victories is an eternity for Roger Penske.
It's a drought the legendary businessman/racing team owner has had to endure only once since 1979, when Rick Mears claimed the first of his four Indy wins, the second of Penske's record 15 triumphs in the famous Memorial Day race.
The seven-year gap between 1994 and 2001 in Penske's Indy win resume comes with an asterisk. In 1995, his cars failed to make the race, unable to muster the speed to make Indy's field of 33 in an era when there were far more entries than starting berths.
From 1996 to 2000, embroiled in the politics of the era, Penske chose not to participate at Indianapolis. But he simply couldn't stay away from a race he first attended in 1951, and since his return to Indy in 2001, Penske has won five times.
[+] Enlarge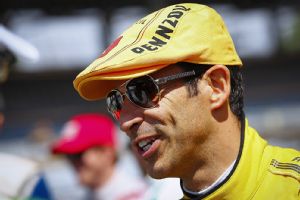 Michael Hickey/Getty ImagesHelio Castroneves is hoping to win his fourth Indy 500 and break Team Penske's Indy drought in one fell swoop.
Still, the last win came courtesy of Helio Castroneves in 2009, and there have been only two Indy victory lane celebrations since Gil de Ferran capped a run of three straight for Team Penske all the way back in 2003.
Taking that absence from the late '90s away, the current five-year winless skein is Penske's longest in 35 years. Three years without a Penske win at Indy is a rarity, and that fact doesn't slip past him.
"I've seen a lot go on here at Indianapolis, and obviously we've had the success to have cars in the winner's circle 15 times," Penske said. "But that doesn't really mean anything. It's, 'What are you going to do this year?'
"For me it's another journey, this year with three great drivers," Penske added. "Helio [Castroneves], looking for his fourth win; Will [Power], leading the championship; and Juan Pablo Montoya, coming back from NASCAR after having the opportunity to drink the milk the last time he was here.
"I think with these three drivers we have the right combination, no question. And potentially we've got the winner."
There's no doubt that the re-expansion of Team Penske's effort in the Verizon IndyCar Series to three full-time cars this year was based on the desire for a stronger showing at Indianapolis. After all, Montoya led 167 of 200 laps to dominate the Indianapolis 500 in his only attempt (in 2000, while driving for Chip Ganassi), and he also boasts a strong record in the NASCAR Brickyard 400 at Indianapolis.
Perhaps not surprisingly, it was recently announced that Montoya will drive a Team Penske Ford at the Brickyard in late July.
Team Penske president Tim Cindric has been saying all season long that Indianapolis was where Montoya would start to show the form that won 12 Indy car races and a CART-sanctioned championship in 1999-2000. Montoya admitted Thursday at Indianapolis 500 Media Day that the recent Grand Prix of Indianapolis was the first time in four races this year that he had his Dallara-Chevrolet tuned to his liking.
"It's a shame we got behind at the start, because I could really push the car and I thought we were one of the fastest cars out there," Montoya said.
"At St. Pete, the team said, 'Take it easy.' I was always a session behind those guys [Power and Castroneves]," he continued. "At Long Beach, I decided to just go for it, and it worked a lot better. I'm starting to understand what I want out of the car and how to get the most out of the red tires."
Just when Montoya was starting to get comfortable on road and street courses again after seven and a half years out of formula cars, he got pitched onto the famous Indianapolis oval. Like at St. Pete, he seemed to be one session behind his teammates; he was disappointed to miss out on the Fast Nine in Saturday qualifying, then came back to post the second fastest speed of the day Sunday (231.007 mph vs. pole winner Ed Carpenter's 231.067) to lead the drivers competing for 10th on the grid.
Power ran a slightly slower speed but landed on the outside of the front row.
"The biggest thing for me about being back here is the honor of being with Penske -- the tradition, the history," Montoya said.
"I came here once and I won it, so I have a little bit of pressure to make it 2-for-2," he added with a chuckle. "I know how important this race is for everybody, and this year it's so close that the smallest detail can make the difference between having the winning car and not."
Castroneves' bid to tie Penske icon Rick Mears' record of four Indianapolis wins will be easy to follow on the racetrack. His Dallara-Chevrolet is decked out in a vivid yellow retro look that mimics the Pennzoil-sponsored cars that Mears drove to Indy wins for Penske in 1984 and '88.
"The color yellow helped me before on 'Dancing With the Stars,' so I'm hoping for the same," joked Castroneves, who will start from the inside of Row 2 on Sunday.
Meanwhile, some observers believe Power is the Penske driver who will end "The Captain's" victory drought. Any questions about the Australian's oval speed or racecraft were put to rest when he conclusively won the 500-mile 2013 IndyCar Series season finale at Auto Club Speedway.
"The 500-mile race in California was a big breakthrough for me," said Power, who is acknowledged as the top road racer in the series. "I'd never been so excited at the end of a race.
"But this is a very different place and a very different style of racing," he went on. "I feel like this year we have a much better car. I feel much more comfortable in traffic and seem to be able to pass and run in traffic a lot better."
September, 28, 2011
09/28/11
12:51
PM ET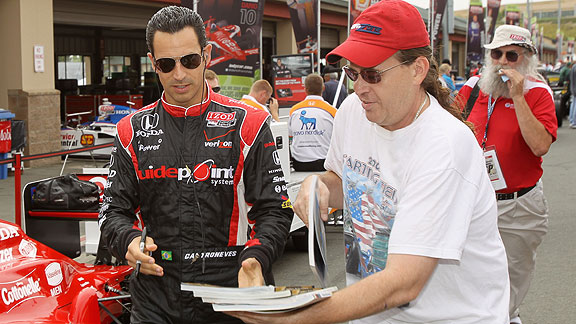 Ezra Shaw/Getty ImagesHelio Castroneves is his usual happy self at most times, but he's been more unhappy lately.
INDIANAPOLIS -- In the immediate aftermath of the recent IZOD IndyCar Series race in Japan, Helio Castroneves was his usual happy-go-lucky self.
He'd overcome an off-road excursion at the first turn and drove through the field to a seventh-place finish. When I talked to him in the Twin Ring Motegi pit lane for his driver column that appears here on ESPN.com, he was smiling, happy to have salvaged a top-10 finish from a tough day.
Helio wasn't quite as sunny when my colleague Bruce Martin caught up with him on the way to Narita Airport a little while later. Castroneves had just been informed he was dropped to 22nd place in the final order after being judged guilty of passing in a local caution zone.
When Martin asked for a quote, Castroneves exploded with an unflattering portrayal of INDYCAR race director Brian Barnhart. He didn't hold back in a series of Twitter posts, saying: "It is sad to see one person being responsible for bringing down an entire series. Brian Banhart is inconsistent and even changes the rule book when is convenient for him, and his own personal interests. Making the famous @paultracy's words mine: Brian Barnhart is a circus clown! Very disappointed for finishing 7th and being put to 22nd. This is just ABSURD !!! Just expressing my feelings right now!"
INDYCAR announced Tuesday that expressing his feelings cost Castroneves a $30,000 fine. But I wonder if Helio might have handled the situation a bit more calmly if he had been able to express his feelings in the first place.
When we were working on his last ESPN.com column, Castroneves told me he wanted to send a message to INDYCAR about his frustration over Barnhart's on-track management of the series. He said he wanted it to be constructive criticism with a positive message.
Castroneves was delighted with the copy I sent him. "I love it, this is exactly what they need to hear me out!!!" was his e-mailed response.
But the columns go through an approval process with Penske Racing PR, and Helio wasn't pleased with the version that was posted.
"Man, what happened to our story?" was how he greeted me at Motegi.
Penske Racing president Tim Cindric said the decision to soften Castroneves' ESPN column was his call. "You can blame me," he said. "It doesn't do any of us any good to trash INDYCAR."
Castroneves' offense occurred on the last lap of the Japanese race when he passed JR Hildebrand for seventh place. Drivers had been warned about the local yellow by radio.
Castroneves did not dispute making the pass in the restricted zone. His ire stemmed from being dropped to the last finisher on the lead lap rather than just being placed eighth behind Hildebrand.
Frustration about Barnhart's seemingly selective enforcement of a vague rulebook has been simmering within all of the drivers for quite some time and over the last three years Castroneves has been involved in several controversial decisions.
With his future at Team Penske in question for the first time in more than a decade, Castroneves is also under pressure to perform. He and Ryan Briscoe have both been consistently out-performed by Will Power over the last two years and the team may cut back to two cars in 2012.
His long history with the Penske organization and three Indianapolis 500 wins would make Castroneves the strong favorite to remain alongside Power. But many drivers begin to lose their skills in their late 30s, and Helio will turn 37 next May; Briscoe and Power are both 30.
His last win came exactly a year ago on the Twin Ring Motegi oval. This year he's notched a pair of second-place finishes -- both behind Power -- but only three other results of seventh place or better.
Castroneves obviously has a lot on his mind these days. He just needs to find a way to express it without getting edited, penalized or fined.
January, 14, 2010
01/14/10
5:51
PM ET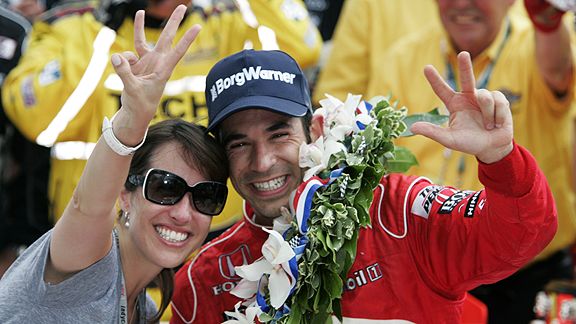 AP Photo/Michael ConroyHelio Castroneves has won the Indy 500 three times. His next goal is winning his first IndyCar Series title.
Every Izod IndyCar Series driver was at the Indianapolis Motor Speedway on Tuesday for physical exams and mandatory winter safety meetings. Helio Castroneves had an additional reason to come to town.
The 34-year-old Brazilian again celebrated his victory in last May's Indianapolis 500 by unveiling his most recent visage on the iconic Borg Warner Trophy and collecting his Herff Jones "Champion of Champions" ring in a ceremony at the IMS Hall of Fame Museum.
With three wins at Indianapolis, Castroneves is indeed a champion among champions when compared to other top IndyCar Series drivers. Although he has never corralled a series championship, Castroneves is the leading money winner in Indy Racing League history with $16,315,178. Nearly $6 million of that total was earned at the Indianapolis Motor Speedway.
Those Indy wins (not to mention a victorious effort on the ABC competition "Dancing With The Stars") also helped make Castroneves the most well known current IndyCar Series driver not named Danica Patrick.
He'll be back for his 11th campaign with Penske Racing, gunning for win No. 4 at Indianapolis and his first overall series title.
"It's just incredible," he said. "I guess I keep doing the right thing. I'm just honored to be in this organization. What I admire the most is the loyalty of Roger Penske and Tim Cindric and everyone.
"It's great just to be involved and race for that organization. You have a chance to win no matter what."
Castroneves was the first Indy winner since 2004 who didn't go on to become the IndyCar Series champion. Dan Wheldon (2005), Sam Hornish Jr. (2006), Dario Franchitti (2007) and Scott Dixon (2008) did the Indy/series championship double.
***
The IndyCar Series confirmed at the winter safety meeting that it will eliminate the cockpit fuel mixture switch from its cars for 2010. The change has allowed Honda to almost double the horsepower boost from its overtake assist system.
"It will allow the drivers more strategy during the event," said Indy Racing League senior technical director Les Mactaggart. "If they want to save fuel, they can by controlling the throttle and equally so the overtake assist will be more effective because they'll have more horsepower."
[+] Enlarge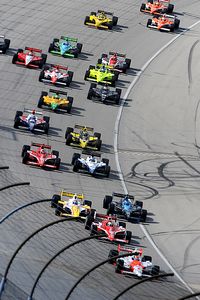 AP Photo/Paul Beaty, FileThe IndyCar Series has some difficult decisions to make regarding its engine and chassis package.
More significant questions involving the development of a new engine and chassis for the 2012 season remain unresolved, and it appears battle lines are being drawn.
Honda recently indicated it is planning to build a turbocharged V-6 engine for Indy car racing. That goes against the wishes of a group known as Delta Wing LLC, which is developing an envelope-pushing new chassis designed to accept a four-cylinder power plant.
The Delta Wing project is led by Ganassi Racing designer Ben Bowlby, and several IndyCar Series team owners have endorsed building a prototype for testing and analysis.
Honda has repeatedly stated its objection to building a four-cylinder engine, but all signs point to Honda's being the only major auto manufacturer that is interested in participating in Indy cars in the future. IndyCar Series officials had been courting the Volkswagen Group and its VW, Porsche and Audi brands, but VW Group motorsport chief Kris Nissen has all but ruled out their participation.
"I am not 100 percent sure of the latest status, but I think it is not realistic for the moment that the VW group will do it," Nissen told Autosport.com. "Also IndyCar needs to settle down, and it looks like it is getting better. America needs to settle down, the car market needs to be stable again."
Caught in the middle is IndyCar Series competition president Brian Barnhart, who is believed to favor an evolution of the current Dallara chassis. Barnhart is under fire from teams and manufacturers for dragging out the decision with regard to the future direction of the series, and a fan group recently started an online petition to encourage his removal.
Barnhart and IndyCar Series officials must decide who they can most afford to lose: Honda and/or Dallara, or Ganassi and the majority of team owners who seem to favor a more radical shakeup of the rulebook and parts-supply system.
October, 6, 2009
10/06/09
9:37
AM ET
Helio Castroneves is out of contention for the 2009 IndyCar Series championship, but the 34-year-old Brazilian could play a crucial supporting role to help his Team Penske teammate Ryan Briscoe win the crown this Saturday in the Firestone Indy 300 at Homestead-Miami Speedway.
[+] Enlarge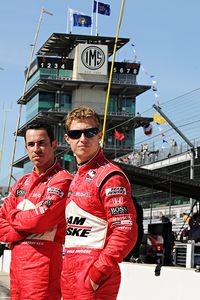 AP Photo/Tom StricklandHelio Castroneves, left, will be championship contender Ryan Briscoe's best friend Saturday at Homestead-Miami Speedway.
With eight points separating championship leader Scott Dixon and third-placed Briscoe -- and a 10-point difference between finishing first and second in the race -- Homestead is shaping up as a winner-take-all affair. Yet if Castroneves wins the race, it could still benefit Briscoe because every point he takes away from Target Chip Ganassi Racing teammates Dixon and Dario Franchitti (who trails Dixon by five points) will be critical.
Castroneves has two victories this season (at Texas and the Indianapolis 500), and the Miami resident knows how he would like to see Saturday's 300-miler play out.
"If I have the opportunity to win the race right in my backyard, it would be great," Helio remarked recently during a break from tire testing at Indianapolis Motor Speedway. "The perfect scenario would be for me to finish first and Ryan to be second so we can have a great celebration party at the end of the season.
"Certainly, I want to be in the mix," he continued. "The two Ganassi guys are going to fight each other to clinch the championship, and I'm sure each one is looking out for their own interest. The beauty for us is that I don't have to look in that direction. But you want to make sure everything is fair and square."
Castroneves could make things difficult for the Ganassi duo if he qualifies well and races at the front. Briscoe would like nothing more than to see his Penske teammate run interference on the Target cars so that he can drive away to win the race and the championship in one fell swoop.
Helio knows he can help out in that way, but he insists he'll play it clean, even if it means backing off like Vitor Meira did in the closing laps of the 2002 IndyCar Series finale when Castroneves and eventual champion Sam Hornish Jr. were disputing the title.
"There is a way of helping and there is a way of being stupid as well," Castroneves remarked. "You don't want to do anything stupid to anybody, including yourself. If you're going to take a chance, it's got to be a good risk and not an unnecessary one. If I can do anything, I will do it, obviously. But you have to think about the whole scenario."
Franchitti said he believes that Castroneves will behave in an appropriate manner if the championship hangs in the balance as the laps wind down at Homestead.
"You never know those things, but in Japan, when I was leading, we lapped Helio when he was having a bad day and he was great," Dario said. "He played absolutely fairly by all of us."
It's been a disappointing second half of the season for Castroneves in terms of results following his victory at Texas in early June. Now 10 years into his career with Team Penske and wrapping up his eighth IndyCar Series campaign, the three-time Indy 500 winner is still in search of his first overall championship. It's a goal he refuses to give up on, even if it won't happen in 2009.
"You always want to achieve your goals, and a championship has always been one of my goals," he said. "Along with that I want to win races, finish well in races and collect as many points as I can. But at the end of the day, you want to collect a championship.
"The good news is we keep ourselves hungry. When I come back next year I'm going to be as hungry as ever, because there will be more opportunities. There is an opportunity to be a four-time winner at Indy, and there is a championship as well. If it wasn't meant to be, it wasn't the right time. The Indy 500 this year is proof. We didn't finish three years in a row and now it happened. Now we know why."
Helio disputes the notion that he hit an emotional wall in the aftermath of his third Indianapolis triumph, which came on the heels of his acquittal from federal tax-evasion charges.
The previous year also was an emotional roller coaster for Castroneves. He gained a new legion of fans by winning ABC's "Dancing With the Stars" in late 2007, but went through most of 2008 riding out the longest winless streak of his IndyCar career before rallying with two late-season victories to nearly steal the IRL title from eventual winner Dixon. That's when the federal government came knocking with the tax-evasion indictment.
Since winning in Texas, Castroneves has racked up four DNFs and has achieved only one podium finish. He also crashed heavily in qualifying for the most recent IndyCar race, at Motegi, Japan.
But he insists he's ready to give his best for himself and his team Saturday near his adopted hometown.
"We're human beings, we always have ups and downs," Castroneves said. "Unfortunately we had some races where a lot of things happened outside of our control. Thank God it happened to my car, because if it happened to Ryan's car, it would have been goodbye to his challenge for the championship.
"It's one of those things. Sometimes we hit the right setup, sometimes we don't. Certainly, I'm ready for a nice race at Homestead, then I'll go home and recharge the batteries and have a great next year."
August, 6, 2009
08/06/09
1:34
PM ET
Last October,
Will Power
turned the biggest mistake of his racing career into his biggest break.
The 28-year-old native of Toowoomba, Australia, was running away at the front of an IndyCar Series exhibition race in Surfers Paradise, Australia, when he lost concentration and crashed.
Later that night, the crestfallen driver ran into Team Penske President Tim Cindric. It was a meeting that Cindric was unable to forget.
It also happened that Cindric was on the lookout for a driver to potentially substitute for Penske regular Helio Castroneves, who had just been indicted by the U.S. government for tax fraud.
[+] Enlarge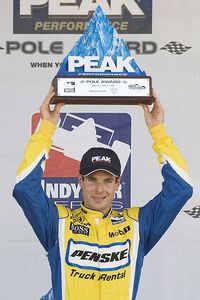 AP Photo/The Canadian Press, Jeff McIntoshWill Power won the pole for the IndyCar Series race July 25 in Edmonton, Alberta.
After briefly chatting with Power, Cindric knew he had found his man.
"I really didn't know him too well," Cindric recalled. "We were out that night and ran into him, and I asked him about [the crash]. He said, 'I made a mistake. I feel terrible, but that's what it was.' He was able to man up to the whole situation.
"I was impressed by the way he handled that. He's made that mistake now. You don't make those kind of mistakes more than once, usually."
As they talked further over the next few weeks, Cindric became even more convinced that Power had the right attitude for a job that offered plenty of potential, but little in the way of promises.
"It came down to his focus, determination, and you could tell that from an appreciation level and an opportunity level, this was a much bigger deal to him than it was for really anybody else we talked to," Cindric related. "We didn't know how the situation was going to play out, and there could have been a lot of gray areas.
"You didn't need a guy who was going to ask a lot of questions or put a lot of pressure on you, saying, 'When is it going to be my deal?' You didn't get the sense he was trying to steal Helio's program. You got the sense he was truly there to help with the situation, and whatever happens happens. That's what we needed. We needed something that would complement the situation, not complicate it."
Power made the most of his limited opportunity with IndyCar racing's most historic and successful team. He drove Penske's No. 3 car -- Castroneves' car -- to a solid sixth place in the IndyCar Series season opener at St. Petersburg. Then when Castroneves was cleared of his charges on the opening day of the Long Beach weekend, Penske rolled out another car, which Power promptly qualified on pole position.
Power's reward was a run for Penske in the Indianapolis 500, which in turn led to an additional five starts for the Aussie. He has made the most of the chance, never finishing lower than ninth and claiming two poles and scoring an impressive victory at Edmonton.
"In the position he was in, there was no clear-cut answer, but he's never missed a beat," observed John Erickson, who has managed Power's third Penske car, crewed by a group that usually prepares Penske's entry in the Rolex Grand Am sports car series. "At Long Beach, one day he was in the 3, the next day he was in the 12, and his attitude was like, 'No worries.' And he put it on the pole and drove a good race.
"He's just set the example for the way you would want anybody to handle it. He's a good racer, a good strategist during the races and a pleasure for everybody to work with. I've been impressed. Obviously the results are there, but his personality has fit right in. He's been a treat."
Now in his fourth full season on the American open-wheel scene, Power is indeed making his mark. He gained the reputation for being fast over one lap but sometimes inconsistent during his two-plus years in the Champ Car World Series (where he scored three race wins, including the IndyCar sanctioned 2008 Grand Prix of Long Beach). Thrust into the IndyCar Series when Champ Car folded, Power occasionally struggled to master oval racing.
Of course, now that he has aligned himself with the best team in the business, even if it is on a part-time basis, Power has proved to be a quick study. He has been smooth, fast and consistent every time he has taken to the track in a Penske-prepared machine.
"I didn't really contemplate much when I got the call from Roger," Power said. "I needed to be in a place exactly like this. You've always got a good car that never breaks down and I'm just finishing the races where it should finish. The first thing is to bring the car home, the next thing is to be fast and show that you can race well.
"I have driven differently this year, when I think about it. At Penske, you realize that sometimes you need to sit back and watch things unfold and sometimes you need to go. I definitely think about it more. We need to keep doing the job like that to have a better chance to be somewhere full time next year."
Cindric and Erickson definitely like what they have seen to date.
"On track he's probably exceeded our expectations, given the limited amount of seat time he's had with us," Cindric remarked. "Off track, it's really his approach to the thing that's given him the opportunity. It would have been pretty simple when Helio came back to just let Will go, basically, because we didn't have any commitments beyond that. With the way he handled that whole situation in Long Beach, we felt like if there was any way we could put something together for Indy for him, we really wanted to do that. But that was kind of where our loyalty card ended.
"Then it was a matter of trying to put together a proper program to run some limited races this year to see what we could do for a three-car program next year, whether it's limited or full time. The fact that he's still with us means that there is still hope."
For Power, the gamble of taking a part-time role this year with Team Penske rather than waiting on landing a full-time ride with another team has more than paid off. At this point, it would be a surprise if Penske didn't find a way to expand to three cars full time next year, which would mark the first time since 1994 that the team would run a three-car effort.
"I guess I showed I can run at the front week in and week out, especially on the road courses," Power said. "Even at the [Indianapolis] 500, I ran at the front and had a very good race there.
"I don't know if it's about showing people. Honestly, I just want a full-time ride, and I think I can win a championship if I'm given the opportunity. But I haven't been thinking too far ahead either. I've just been enjoying it and having fun."
August, 2, 2009
08/02/09
7:46
PM ET
SPARTA, Ky. -- Maybe the Indy Racing League should shake things up a bit more often.
While implementing new aerodynamic options and introducing a mild push-to-pass system -- and doing so with a minimum of track time for the drivers to practice with it -- the IndyCar Series put on a race at Kentucky Speedway every bit on par with the best contests in the 14-year history of the league.
Sure, the evil Team Penske empire won again, this time with Ryan Briscoe behind the wheel. But to do it, they had to overcome a breakout performance from Vision Racing and Ed Carpenter, who came within 0.0162 seconds of stealing the show after driving the race of his life.
In a formula renowned for photo finishes, this one was the 11th closest in series history, not to mention the second fastest event ever in any form of American open-wheel circuit racing, with a 200.893 mph average.
"The old IRL is back on the superspeedways," declared third-place finisher Tony Kanaan.
Without question, this was the IndyCar Series' most entertaining race of the season, one that had the crowd, estimated at 48,000, on its feet for the last 10 laps as Briscoe and Carpenter ran side by side.
Both drivers had done a masterful job of saving their limited number of push-to-pass opportunities, yet ultimately, Briscoe was able to make the longer high line work as he edged Carpenter by about five feet at the line.
"I don't know if I was imagining that Ed Carpenter was getting wider and wider every lap," Briscoe said. (He wasn't imagining it.) "It looked like every lap I'd get the edge on him across the start/finish line, but it was getting harder and harder as Ed was getting wider and wider.
"Unbelievable," he added. "That was a fun race. There was a lot of racing out there and it was pretty intense."
Amen to that, after an IndyCar season that had degenerated into a series of follow-the-leader parades, apparently no matter what kind of racetrack.
There's no way of determining whether it was the 5-horsepower overtake option, the selection of seemingly insignificant aero mods, the recently graded surface of the 1.5-mile Kentucky oval, or even the fluky cancellation of Friday practice and qualifications after the track wouldn't dry out on a perfect, sunny day.
But the excitement returned to Indy car racing Saturday night.
"I hope the fans enjoyed it, because there were definitely some races this year where we didn't deliver the goods," Carpenter said.
[+] Enlarge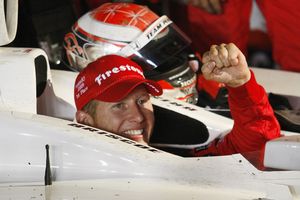 AP Photo/Ed ReinkeRyan Briscoe had to feel good about winning the closest race of the season.
Carpenter, the stepson of recently deposed Indy Racing League founder and Vision Racing co-owner Tony George, was a revelation in his Menards-sponsored car. One of the few drivers in the IndyCar Series who came through the oval short-track ranks was in his element as he led a career-high 34 laps.
After starting 14th based on entrant points, Carpenter moved up to fourth place by Lap 30, and press-box pundits figured he worked his way up there by burning through most of his 20 push-to-pass ration. But it turned out the bright yellow Vision car was simply hooked up.
"It's been a tough year, and I was hoping this was going to be a breakout race to try to get our season turned around," Carpenter said. "I was giving Ryan all I had, and the team did a great job in pits, keeping up with the Penske and Ganassi teams as it cycled through the stops under the green. I was trying to keep up my end of the bargain."
Carpenter and Briscoe ran the last 10 laps alongside each other, veering alarmingly close on occasion on the run out of Turn 4 to the line.
"It was fun on a mile-and-a-half to run that close to a Penske car," Carpenter said with grin. "We ran side-by-side for I don't know how many laps there at the end of the race. I actually used my last push-to-pass on the last lap, so I managed that fairly well. I was trying to run wide and make him go the long way around and just make it a little harder and he was trying to pinch me down. Neither of us were gonna lift. It was close."
Close, but no cigar. Still, Carpenter raved about the morale boost that he hopes the result will provide the Vision team.
"I've always known I can win one of these, and getting that close, now I absolutely, positively, know I can win one of these races," he said. "It's a little harder to swallow when you're that close. It's not every day that happens. That was definitely the most fun I've had in a long time. It's been a tough year for our team and a rough couple of months for our family.
"I think if we would have pushed each other any more, Tony [Kanaan] would have won," he added. "I'd rather finish second than crash someone trying to win a race. I tried to race Ryan as clean as possible. It doesn't do anybody any good to race somebody dirty."
Kanaan, who has suffered a series of crashes and a pair of pit-lane fires in 2009, was happy just to get his season back on track. But he was even more pleased that the IndyCar Series put on a good show.
"I think we were all concerned about the package," he said. "We worked with the league to have more downforce and with Honda to have push-to-pass. I still think we need a couple more changes to be the way it was in the past.
"But if we wanted a photo finish, we got it. We're moving in the right direction for sure on the superspeedways."
The win vaulted Briscoe into the IndyCar Series championship lead, 8 points ahead of defending series champion Scott Dixon (finished seventh at Kentucky) and 11 points up on Dixon's Ganassi Racing teammate Dario Franchitti, who was sixth Saturday night.
Five races remain in the 2009 campaign, beginning Sunday with the Honda 200 at Mid-Ohio Sports Car Course.
"This has been one of those years where no one can hang on to the points lead," Briscoe said. "So it's close. We're not going to get too content yet. I think we'll be strong at the upcoming road courses, but Dixon and Franchitti will be strong, too.
"We just have to keep finishing in front of those guys, keep our heads down, keep working hard and keep pushing forward."
Hopefully with some exciting racing, similar to what was on display Saturday night at Kentucky, along the way.
July, 12, 2009
07/12/09
5:33
PM ET
TORONTO -- The IndyCar Series' Summer of Irony continued, as the Toronto street course produced arguably the most exciting race of the season.
It's a sign of the times that most folks involved in a series created to preserve oval competition were looking forward to having a street race to spice up the show.
Dario Franchitti won the revived Honda Indy Toronto to re-take the IndyCar Series championship lead after an unpredictable afternoon of slam-bang racing in which Helio Castroneves temporarily turned into Canada's Public Enemy No. 1.
Team Penske's Ryan Briscoe and Will Power overcame first-lap delays to fill out the podium and a pair of Canadians starred, but ultimately didn't figure in the final reckoning. Alex Tagliani led 21 laps, but luck was not on his side in the end, while local favorite Paul Tracy was at the center of the excitement before he and Castroneves controversially crashed out on the 65th of 85 laps.
Tracy made a series of passes under braking for the Turn 3 hairpin at the end of the back straight, but Castroneves tried to maintain second place in the run out of the corner and stuck Tracy's KV Racing entry into the wall.
"I don't think he did it intentionally," Tracy said. "I think we got screwed in the pits and I was trying to keep up with Dario. We showed we can run with those guys. It's a sad way to end the day, but I guess that's why they call me 'The Thrill,' right?"
The Canadian crowd heartily booed Castroneves when he arrived back at the pits to the horror of team boss Roger Penske.
"[Tracy] would be the last guy I'd take out in Canada, obviously," Castroneves said. "I still love Canada, don't get me wrong. It's the way it is. People love you and people hate you, especially after what happened in 2002 [when Castroneves edged Tracy in the disputed finish of the Indianapolis 500]."
Franchitti was already in the pits when the yellow flag waved for Ed Carpenter's Lap 59 spin. Tagliani was set to stop a lap later, and was the latest driver to be adversely affected by the IndyCar Series' pit closure rule. The native of Quebec, who is running a part-time schedule for Conquest Racing, finished a disappointed ninth.
"For a part-time team it's very good," Tagliani said. "We showed we can dominate, and I thought we had it in our pocket today."
After winning the Toronto race ten years ago, when it was one of the top events in the CART-sanctioned IndyCar Series, Franchitti turned in a textbook performance to claim his third win of the 2009 season.
Castroneves' DNF turned the IndyCar championship into a three-man contest, with Franchitti, Scott Dixon and Briscoe separated by just 13 points.
Dixon finished fourth Sunday at Toronto behind the Penske cars driven by Briscoe and Power, both of which were forced to pit after suffering punctured tires on the opening lap.
The design of the Toronto street course allowed them to race back into contention.
[+] Enlarge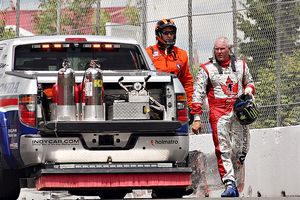 AP Photo/Graham JardinePaul Tracy had his day end early with a walk to the safety truck after his car made contact with Helio Castroneves'.
"It's one of the few street courses I've ever been at where you can actually pass cars and go racing, so it was fun," Briscoe observed.
"That was what I call a race," Power added. "I passed a lot of cars and had a lot of fun.
"Having a really long straight going into a hairpin type of turn with heaps of room, that's what you need at every track. If you're fast, you can get through the field without worrying about using fuel."
Even if Castroneves can't pull himself back into championship contention, it should be a good fight between Franchitti, Dixon and Briscoe.
Briscoe hasn't won since the season opener, but his series of second place finishes has left him in a solid position to make a run at the title.
"I'm trying to win, don't worry," he said. "In the last two races I think I've gained 10 or 13 points to the championship lead, so it's not all bad. I'm doing my best and hopefully we'll get some wins."
In Franchitti's last championship run (2007, when he drove for Andretti Green Racing), he built a big points lead and held on down the stretch. With seven races left and just a three-point lead over his teammate, he won't have that luxury this year.
"Everyone makes mistakes, and everybody also gets caught up in other people's problems," Franchitti said. "Last week [at Watkins Glen] I got caught in somebody else's spin, and it destroyed my race. It's all about how much risk you want to take. There were a couple times today where I felt if I took a risk I would end up with a bent race car.
"We've got to keep finishing races. One week Scott's going to be better than me or I'll be better than him, but we'll go out and race each other and have fun."