Category archive:

Scott Dixon
August, 3, 2014
08/03/14
7:12
PM ET
STEAM CORNERS, Ohio -- If there was any doubt that Scott Dixon is the man to beat at Mid-Ohio Sports Car Course, it was put to rest Sunday.
Dixon won the Verizon IndyCar Series Honda Indy 200 with relative ease after starting last on the 22-car grid. He had a little help: A multicar accident at the first corner eliminated his Ganassi Racing teammate Tony Kanaan and several other contenders, he needed a well-timed caution to make his fuel strategy work, and the driver who looked like Dixon's toughest challenger -- Josef Newgarden of Sarah Fisher Hartman Racing -- was set back by a mistake in the pits.
[+] Enlarge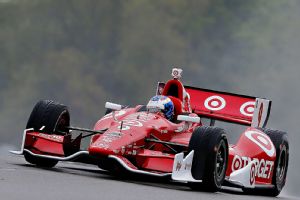 Chris Trotman/Getty ImagesScott Dixon qualified last for Sunday's Honda Indy 200 at Mid-Ohio Sports Car Course, but the defending series champ finished first.
"There was no miracle there," observed second-place finisher Sebastien Bourdais in a television interview. "They were the class of the field today.
"[Dixon] made an impossible mileage, holding the same pace we were, and he was even a little quicker. So hats off to the Target Chip Ganassi team."
Somehow, someway, from the back of the pack at an "impossible to pass" track, Dixon managed to take his fifth career victory at Mid-Ohio, and the sixth consecutive dating to 2009 at the venue for the Ganassi team.
The key to Dixon's 34th career race win was the decision by Target Ganassi managing director (and No. 9 race strategist) Mike Hull to stay on track during a Lap 39 caution when the majority of the field pitted.
It required Dixon to run almost two full stints in fuel-saving mode, all while dictating the pace of the race as the leader.
"Our race was going so poor from the start; we tried to switch strategies a couple times and the guys kept on it," Dixon said in Victory Lane. "I guess we got a little lucky with that caution, but the team had to call those shots. We were extremely close with the fuel number, but we still had the speed.
"Man, it feels good to be back in the winner's circle."
The Ganassi team cut it a little closer than expected. There was urgency in Hull's voice during a last-lap radio transmission to Dixon that instructed the driver to switch the Chevrolet engine's fuel mixture control to the maximum fuel-saving position. Dixon pulled over at the pit exit immediately after he took the checkered flag, concerned that he might not be able to complete another 2.25-mile lap under power.
"I think we came a little closer to running out of fuel than we thought," he admitted. "I was trying to be conservative, even with the lap times, to make sure that we were good with the competition. But the fuel light came on a little earlier than we expected.
"Luckily we had saved a little more than we needed to."
It looked like there was going to be a fight to the end between Dixon and Newgarden, who had several laps more fuel than his rival as well as fresher Firestone tires.
But Newgarden ran over an air hose entering the pits for his last stop, tripping his right-rear tire changer and incurring a drive-through penalty that took him out of contention after yet another competitive outing.
"One of those days, right?" he mused. "When it's not meant to be, it's not meant to be, I guess. We had a heck of a car, and really good strategy. It was falling perfect for us, but it just kind of unraveled."
That was typical of the help Dixon received on a day when the primary IndyCar Series championship contenders had a terrible day.
Incoming championship leader Helio Castroneves didn't make the start, the Brazilian's Team Penske Chevrolet suffering from an electronic problem that caused his engine to stick at full throttle on the parade laps. Castroneves eventually got going, but he was four laps down and classified 19th.
"As soon as they turned on the engine, I was like, 'Something is happening here,'" related Castroneves.
"It's just awful when you're running four laps behind and there is not much you can do."
Meanwhile, Ryan Hunter-Reay incurred a pit-lane speeding violation, then lost a lap with a spinout before rebounding to squeak into the top 10.
Will Power and Simon Pagenaud were in position to capitalize, but neither displayed the kind of speed at Mid-Ohio that they have at some other road racing venues this year. Power finished sixth, three places ahead of Pagenaud.
Thanks to his teammate's misfortune, Power did assume the championship lead, by four points over Castroneves. Hunter-Reay (minus-63) and Pagenaud (-64) made small gains, but the big mover was Dixon. He's still sixth in the standings behind Juan Pablo Montoya, but on Sunday he cut the gap to the leader from 146 to 108 points.
With the season finale at Auto Club Speedway paying 100 points to the winner, don't make the mistake of counting Dixon out yet.
Need proof? Just look at what he accomplished at Mid-Ohio.
June, 14, 2011
06/14/11
1:17
PM ET
There was plenty of hot air blowing Saturday night at Texas Motor Speedway, and it wasn't all atmospheric pressure.
Most of it was coming from the direction of Target Chip Ganassi Racing. After winning the first of the night's twin 275-kilometer races, Dario Franchitti, who is rarely known for making controversial public statements, was not shy about expressing his displeasure over the bad luck of drawing the 28th (out of 30) starting position for the nightcap.
Scott Dixon wasn't much happier after pulling the 18th grid spot, and you have to wonder whether the Ganassi drivers would have sung a different tune had their chief IndyCar Series championship rival Will Power not chosen the No. 3 starting spot.
Team boss Ganassi's grapes weren't any less sour as he called any driver who had the nerve to have drawn a starting spot ahead of Franchitti a "backmarker."
[+] Enlarge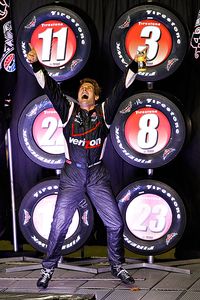 Todd Warshaw/Getty ImagesWill Power was elated after drawing the third starting position for Race No. 2 of the Firestone Twins 275s at Texas Motor Speedway.
After Power ran strongly on the way to third place in Race 1, the second sprint was clearly his race to lose. And he didn't, claiming a relatively easy victory over Dixon -- who charged from 18th to second after he got done complaining about his draw.
Franchitti drove a masterful race, too, passing 21 "backmarkers" on the way to seventh place and minimizing the damage to his championship hopes. When the Texas twins were over and done with, Dario lost only five points to Power in the championship chase, probably far fewer than the Ganassi team's mismanagement of the final 40 laps of the Indianapolis 500 cost him.
But his image took a hit by what many fans perceived as excessive moaning. The blind draw for the second race may not have created a level playing field, but the rules were the same for everyone. And the estimated 50,000 fans present at TMS seemed to enjoy the halftime spectacle every bit as much as they did the 550 kilometers of clean, fast Indy car action.
On Monday, while at a joint appearance in Boston that named MoveThatBlock.com as the title sponsor for the upcoming IndyCar Series race at New Hampshire Motor Speedway, Franchitti and IndyCar CEO Randy Bernard had a chance to discuss the controversial Texas format. Bernard indicated that changes are already being considered.
"I took a lot of heat for my comments, but people don't understand, in my opinion, the big picture," Franchitti said. "Had they inverted [the Race 1 finishing order] I would have started worse, but it would have been fair for everyone. I would have started last, Scott would have started second-last and Will [Power] would have started 28th. It would have been some performance parameter, and that's all I was asking for."
"We have to evaluate everything we do this year and make sure that we are providing the best competition, entertainment and value to give that great fan experience," Bernard responded. "It was a little bit gimmicky, and I take the blame for it. I think it's important to make sure we sustain credibility, and I'm not convinced that what we did Saturday night does that. A draw takes away from that, especially if somebody loses the championship by five points to a draw."
It's fair to say that the Texas twin races created every bit as much controversy as TMS president Eddie Gossage could have hoped for. With that in mind, here's who emerged as winners and losers after the smoke cleared ...
• Winner -- Will Power. Not only did the Team Penske driver claim his first oval track victory and increase his championship lead to 21 points over Franchitti, he gained positive PR points for basically agreeing that the Ganassi drivers got screwed by the gimmick format. He also was extremely lucky to get away with bumping his left front wing endplate on Takuma Sato's rear tire without damage to either car.
• Winner/sore loser -- Dario Franchitti. The Scotsman dominated Race 1 for an easy victory but could uncharacteristically barely contain his anger after being left with the 28th starting spot in the reverse order blind draw for Race 2. He was right to say that simply inverting the field for Race 2 would have been much more fair -- as well as potentially more exciting for the fans. But he probably could have expressed his feelings more diplomatically.
• Winner -- Scott Dixon. Dixon drove beautifully all night and finished second in both races. He also came up with perhaps the best solution to the Race 2 starting order quandary: award bonus points for the number of cars passed. Maybe next year?
• Winners -- Ryan Briscoe and Helio Castroneves. Power's Team Penske colleagues both kept their cool and notched solid finishes at Texas -- sixth and third for Briscoe, 10th and fourth for Castroneves. Helio in particular needed a decent result to stabilize his season and put himself back in the frame of mind needed to again challenge for race wins after a horrible start to his 2011 campaign.
• Winner -- Marco Andretti. By finishing sixth in the second race, Andretti matched Franchitti as the biggest position gainer of the night with 21 cars passed. He was Andretti Autosport's top finisher in both races, albeit a lowly 13th place in Race 1.
• Winner -- KV Racing Technology. Before the races, almost no one would have guessed that KVRT would pack up after the Texas twin bill with three intact race cars. But not only did the cars emerge unscathed, Takuma Sato matched a career best with a fifth-place finish in Race 1 and improved 13 places to 12th in Race 2, making him seventh on aggregate for the night. Crash-prone EJ Viso notched a pair of top-10s, and team leader Tony Kanaan claimed finishes of 11th and fifth, helping him maintain fifth place in the IndyCar Series standings.
• Loser -- Oriol Servia. Servia dropped from third to fourth in the points chase after a best finish of 15th place on Saturday night. Servia and Newman/Haas Racing weren't terribly confident about their Texas setup, and the Spaniard was called out by Franchitti for dangerous driving during the first race.
• Loser -- Danica Patrick. On a track where she normally runs well, Danica was not remotely competitive on Saturday night, and eighth place in the second race was a result that flattered to deceive. She also got into a war of words with rookie Jay Howard. Wonder how she'll like TMS in a stock car next year?
• Loser -- Justin Wilson. One of the best road racers in the IndyCar Series had a bad night on the Texas oval, as he was lapped in both races on the way to 17th and 21st places.
• Loser -- Graham Rahal. He suffered the only mechanical gremlin of the night when his Service Central/Ganassi entry had fuel feed problems. Given what happened in qualifying and the race at Indianapolis, did the Ganassi guys simply fail to put enough fuel in the car?
• Losers -- Wade Cunningham and Charlie Kimball. The rookies caused the only full-course caution of the night with their crash late in the first race.
• Winners -- IndyCar Series fans. Whether they were at the track or home watching on TV, they got a heck of a show. A pair of them, in fact.
May, 27, 2011
05/27/11
1:16
PM ET
INDIANAPOLIS -- For the 33 drivers in the Indianapolis 500 field, Carb Day 2011 lacked drama.
And that's just the way they like it.
In ideal cool, cloudy conditions, the field completed an incident-free hour of practice. Now everyone gets to recalibrate for race day, when temperatures are expected to approach 90 degrees for the second year in a row.
Last year, a hot race played into the hands of Target Ganassi Racing -- specifically Dario Franchitti, who dominated the 500 on the way to victory.
The Target team certainly looked good this year on Carb Day, as Scott Dixon and Franchitti ran first and third.
"I love Carb Day," Franchitti said. "You can have the best car all month, then show up on Carb Day and the thing is just terrible. I've had one smooth Carb Day in however many years I've done this race, and that was last year, when I parked the thing and went to my bus happy.
"We were 1-2 on Carb Day and the race was hot too, and it just put our cars in the sweet spot," he added. "Had it been the same temperature as before, we might not have had the same advantage or any advantage at all. We may have had to change the setup completely. That's one of the tough things about Indy -- you practice, practice, practice at the same temperature, and if it changes for the race you have to start over again. That's where the experience comes in, from the team or from the driver."
[+] Enlarge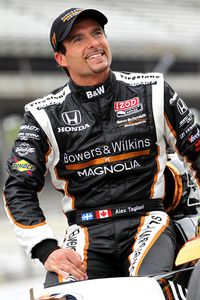 Jamie Squire/Getty ImagesAlex Tagliani starts from the pole on Sunday, and he was second in Friday's Carb Day practice.
Dixon has been a tick quicker than Franchitti all week and that trend continued on Carb Day. The 2008 Indy winner's quick lap of 225.474 mph was a full 0.7 mph faster than pole qualifier Alex Tagliani and Franchitti.
"It felt good, but we'll see what the weather brings," Dixon said. "It's always more difficult in the race. If you're in traffic it's a lot more difficult to stay close to the car, because you get less grip from the tires and less grip from the wings."
AJ Foyt Racing enjoyed a productive Carb Day, placing Vitor Meira fourth and controversial addition Ryan Hunter-Reay seventh. Meanwhile Team Penske's fastest representative was three-time Indianapolis 500 winner Helio Castroneves in ninth. Will Power was 12th fastest and Ryan Briscoe was 15th, all in the 223 mph bracket.
Dixon tabbed Tagliani as the dark horse to watch on Sunday.
"Obviously Tag has done a hell of a job this month and it's good to see their team [Sam Schmidt Motorsports] working so well," Dixon said. "You never know until you get to the race, but he's a good friend and I'm glad to see what he's achieved. He's put together a team that can mix it up with the big boys."
The unquestioned feel-good story of the month, Tagliani vowed to create a happy ending.
"It's been an amazing week," Tagliani said. "Fortunately we rolled the car out of the trailer fast and every day we were strong. It's a pleasure to drive a very competitive car.
"Seems to me it's just unreal. It's too good to be true, but I'd like to think we deserve it. Maybe we did everything better than everything else and hopefully it will continue."
The history of the Indianapolis 500 includes countless episodes of David triumphing over Goliath. Can Tagliani add to that legacy on the 100th anniversary of the great race?
April, 13, 2011
04/13/11
9:55
PM ET
LONG BEACH, Calif. -- Two rounds into the 2011 IZOD IndyCar Series season, the jury has delivered a split verdict on INDYCAR's newly implemented double-file restarts.
Fans seem to have enjoyed the wheel-banging action, rising to their feet for every restart in the season-opening Honda Grand Prix of St. Petersburg and tuning in on television for INDYCAR's best TV rating for a race other than the Indianapolis 500 in more than three years.
On the other hand, even after modifications for last weekend's event at Barber Motorsport Park, some competitors have grumbled about the restart procedures and team owners can't be especially happy about the bills they are paying for wrecked cars.
But looking back at St. Petersburg and Barber, the double-wide restarts have been mostly positive for the series. Both races featured first-lap accidents, but they occurred on the actual start of the events, not a restart. Some drivers have taken advantage, while others have fallen asleep at the wheel and fallen victim.
INDYCAR chief steward Brian Barnhart convened a driver's meeting at Barber that, in a series first, was opened up to the media. In the meeting, Barnhart revealed that the drivers would be allowed to start accelerating earlier when approaching a restart (325 yards instead of 200 at St. Pete) and that the restart speed would be increased.
Reaction to the changes from the drivers was generally upbeat.
"We probably got a better exchange of ideas and information, and a better understanding of what the needs are from both points of view than we ever have," said 2008 IndyCar Series champion Scott Dixon, who was crashed out during the chaotic race start at St. Petersburg. "But the drivers need to actually listen to the changes.
"The problem is, when the green flag drops, we all get a bit stupid."
"It's a learning process for everyone involved," Barnhart said. "We've made a pretty radical change from how things have been done for over a decade. They're going to have to adapt and improvise."
Both races were marred by a series of full-course cautions following accidents on restarts, lending credibility to the old adage "cautions breed cautions." But some drivers were keeping all four wheels on their cars and made considerable progress through the field as a result of their aggression and the misfortune of others.
At Barber, Tony Kanaan gained 10 places on the race start and the first restart after a poor qualifying performance left the Brazilian starting from the back of the 26-car field.
"We stayed out of trouble, and especially nowadays with the double-file restarts, that's what you've got to do," Kanaan said. "For the fans and the racing, the restarts looked more exciting.
"I still believe we need to try to take care of each other a little more. I mean, every restart had a crash, so it's not a coincidence. But every one had a lot of passing too, so it's a trade there. It's 50-50 right now."
Championship leader Will Power has run at the front of the field in both races, leading at Barber from start to finish. He was therefore not involved in the fracas breaking out behind him, but he's still not a fan of the new restarts.
"Talking to the majority of the drivers, we don't like it because of the encounters it causes, but at the end of the day we can make it work by giving each other respect and room," Power said. "Maybe if we go a little earlier it will spread things out. The more you spread them out, the safer it is."
One thing everyone is in agreement about: double-file restarts could produce mass destruction at this weekend's Toyota Grand Prix of Long Beach, thanks to the long Shoreline Drive straight leading into a very tight first-gear first corner.
Rumors persist that INDYCAR officials will shelve the two-wide restarts this weekend because of the layout of the first turn on the Long Beach street course.
"The restarts are my biggest worry at that track, into Turn 1," Power said. "It's going to be worse than St. Pete."
"I agree with that," added Dixon. "I think the style of the Barber track lends itself to a cleaner style. I think Long Beach is going to be a different story."
October, 23, 2009
10/23/09
5:12
PM ET
By luck or design, the Indy Racing League's scoring system has created remarkably close championship battles, and for the fourth year in a row, the IndyCar Series title was not settled until the final lap of the season. Dario Franchitti edged his Target Chip Ganassi Racing teammate Scott Dixon, with Team Penske's Ryan Briscoe right in the mix as well.
At about this time a year ago, I wrote a column in which I used point-scoring systems from several other forms of motorsport to determine whether the results of the IndyCar Series championship hypothetically would have changed. I calculated that the IndyCar Series would have had a different champion in eight of the 15 scenarios I created, with the biggest shakeup coming to the 2006 standings, where Sam Hornish Jr. tied Dan Wheldon on points but won on a tiebreaker using the IRL points distribution.
Four drivers went into the final championship round that year with a shot at the title, and had either the CART or current Formula 1 scoring system been in use, Helio Castroneves would have won the title rather than finishing third. Castroneves would have won another crown in 2008 if either CART or Champ Car World Series points had been awarded.
Castroneves was out of championship contention this year, but once again, an alternate scoring system would have crowned a different champion. Let's crunch the numbers …
Formula One
The classic F1 points distribution rewarded excellence, and until 2002, only the top 6 finishers in a Grand Prix were awarded points. Expanding the points to the top 8 did little to slow down the Michael Schumacher express, but it did create more interesting F1 title races about half the time since then.
Prior to establishing himself as an IndyCar Series star, Briscoe had F1 aspirations, and the Australian would today find himself as the 2009 IndyCar champion if points were awarded F1 style. Despite scoring fewer race wins than either of the Target/Ganassi drivers, Briscoe's eight second-place finishes would have benefited him handsomely this year and he would have emerged as champion had the classic or current F1 system been in use. That's despite the fact that he suffered four finishes outside the top 12, compared to three for Dixon and just two for Franchitti.
It was feast or famine for Briscoe, who never finished lower than fourth except in his four bad events. He would have scored 81 points using the old F1 system, compared to 76 for Franchitti and 73 for Dixon. Using the current F1 points, Briscoe would have racked up 104 markers, with Franchitti second on 101 and Dixon third with 96.
CART
CART paid out points to the top 12 finishers, and also awarded single bonus points for pole position and leading the most laps.
Franchitti would have triumphed as this year's IndyCar Series champion using the CART system, with 226 points, but Briscoe would have beaten Dixon into second place with 221 points to the New Zealander's tally of 215.
With four poles and five races in which he led the most laps, Briscoe was the bonus point leader (Dixon had one pole and led the most laps six times, while Franchitti started the most races from the pole with five and topped the laps led chart only three times), but it wasn't enough for him to overcome the extra points Franchitti gained by winning five races to Briscoe's three.
Champ Car
Champ Car spread the points down to 20th place, and was also more generous with the bonus points, awarding them for pole position, laps led, most positions gained and fastest race lap.
Briscoe yet again dominated the bonus points, racking up 22 to Dixon's 18 and Franchitti's 17, but once more it was not enough to deliver him a championship. In fact, using the Champ Car system, he remained third in the final reckoning, scoring 396 points compared to 399 for Dixon and 409 for series champion Franchitti.
NASCAR
Dixon matched Briscoe with 90 NASCAR-style bonus points, which are dispensed in five-point increments for any driver who leads a lap and to the driver who leads the most laps in a race. Franchitti racked up 70 NASCAR bonus points but still came out on top of the mythical championship standings, with 2,818 points, plus-5 on Dixon and plus-36 on Briscoe.
Ultimately, the fact that Briscoe scored more poor finishes than the Target Ganassi drivers proved to be his undoing. Dixon and Franchitti salvaged bad days by finishing anywhere from third to seventh, and Franchitti was particularly effective in terms of damage control.
In fact, had Dario not suffered a brake failure leading to a crash at Kansas Speedway (where he probably would have finished second to Dixon) and an off-course excursion at Watkins Glen while avoiding another driver's accident, he would have put together an almost perfect season and won the championship by a landslide.
No matter what scoring system was in use.
October, 16, 2009
10/16/09
3:20
PM ET
The top spot in ESPN.com's IndyCar Series Power Rankings got passed around as often as the lead of the series championship this year.
We started the practice in the lead-up to the Indianapolis 500, and since then, Scott Dixon has topped the charts five times, including the final ranking for the 2009 season. Dario Franchitti was No. 1 on four occasions, Ryan Briscoe twice, and Helio Castroneves once.
After midseason, Castroneves was firmly planted at No. 4, while Briscoe, Dixon and Franchitti swapped the first three places almost on a weekly basis.
In the end, even though he didn't win the 2009 championship, I placed Dixon at No. 1, mainly on the basis that I believe the rankings represent a driver's potential going into the next race. In other words, if whatever race that kicks off the 2010 IndyCar Series season were next week (it could be St. Petersburg, because things have gone awfully quiet on the Brazil front), I'd put my money on Dixon to win it.
I agonized about ranking series champion Franchitti second and wrote, "I'll probably hear from Dario after ranking him No. 2, yet he probably won't argue that Dixon deserves to be No. 1."
Indeed I did hear from the Scotsman, who made a credible case for why he should be ranked No. 1 over his Target Chip Ganassi Racing teammate. There was no animosity or ego involved, just the well-crafted thoughts of a passionate racer who takes every part of his craft seriously -- right down to media relations.
To wit, Franchitti felt he deserved to be ranked No. 1 for several reasons:
• He led the IndyCar Series in pole positions with five, plus the one taken away at Kansas Speedway because of a minor infringement. That's proof that over one lap, at least, he was the fastest driver in Indy car racing, and the poles came on all types of tracks -- short ovals, speedways, road courses and street courses. His five wins were also thoroughly diverse, from his strategy-driven victory in the finale to his dominant flag-to-flag run on the Infineon Raceway road course.
• His fuel-strategy win at Homestead was countered by losing the Richmond race to Dixon on fuel mileage.
• His only real mistake was getting crossed up while avoiding an incident between Ed Carpenter and Mario Moraes at Watkins Glen.
"For the first year at a team and first year back, I'd say it was pretty good," he said. "I'm not normally one to sound my own trumpet, but … anyway, the case for the defense rests."
To restate: Franchitti was the better qualifier, with five-plus poles to Dixon's two; matched Dixon on race wins with five; had one more top-10 finish than his teammate (15 versus 14 in a 17-race season); and made fewer mistakes -- Dario's only DNF was a crash at Kansas caused by a brake problem.
Is he right? I'm not sure. I probably would have been happiest listing the Ganassi teammates as co-No. 1s, but that would have been a cop-out.
You certainly can't diminish what Franchitti achieved this year -- my own words were: "Returned to Indy cars motivated and refreshed after his NASCAR sabbatical, matched Ganassi teammate Dixon with five wins and thoroughly deserved to emerge as series champion."
But I'm going to stand by my choice of Dixon as the No. 1 driver in the IndyCar Series Power Rankings. And I hope Franchitti and his fans don't take being listed as an oh-so-close No. 2 as an insult. If you happen to read this rebuttal, Dario, we will have to continue this argument over a couple of beers. And maybe include Dixie to hear what he has to say about the matter.
Besides, had there been just one timely caution in that Homestead race, Briscoe could have emerged as IndyCar Series champion, and there would have been a different name at the top of the Power Rankings.
October, 9, 2009
10/09/09
7:05
PM ET
HOMESTEAD, Fla. -- Danica Patrick leads the IndyCar Series in terms of column inches and television time.
But Scott Dixon tops the charts in all the important statistics that matter to racers. Like laps led, races won and championship points.
The 29-year-old New Zealander can notch another statistical hallmark Saturday afternoon at Homestead-Miami Speedway if he emerges from the Firestone Indy 300 as a three-time IndyCar Series champion. Dixon leads the points standings heading into the season finale, and he has the opportunity to match Sam Hornish Jr.'s if he wraps up title No. 3, to accompany the crowns he earned in 2003 and 2008.
[+] Enlarge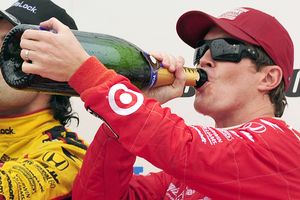 AP Photo/Shuji KajiyamaScott Dixon set himself up for a third IndyCar Series title with a clutch victory at Motegi last month.
It won't be easy. Dixon has a slim five-point lead over his Target Chip Ganassi Racing teammate Dario Franchitti, and eight points in hand over Ryan Briscoe of Team Penske. But at the same time, the math is pretty simple: If Dixon finishes ahead of Franchitti and Briscoe on the track, the championship is his.
The odds are stacked in his favor. Dixon is a two-time winner at Homestead, and both victories came during his championship seasons. Already established as the most successful driver during the IndyCar Series-sanctioned era with 21 victories, Dixon's mission now is to put his marks out of reach. But he knows that Franchitti and Briscoe have goals of their own to shoot for.
"For me, trying to go for records and going for three [championships] would be fantastic," he said. "Obviously that's the reason I'm pushing. Dario's [reason] would be from winning the championship in '07 and trying to come back and do the same thing once he has a full season in IndyCar again, and obviously, with Ryan, it would be his first. So I think all of us have the motivation.
"For me it's more about records," he added. "I think agendas from all of us are a little different. But ultimately I think the goal is by all means the same. I think the motivation is the same from all of us."
Back in April, it would have been difficult to envision Dixon being in this position. His season started badly with a pair of poor finishes on street courses, which are usually his bread and butter. But five race wins, culminating in a dominant run three weeks ago at Motegi, Japan, have put the Kiwi on the brink of a third series triumph.
He's happy that the title decider will be held at Homestead, which is unique among the six 1.5-mile speedways the IndyCar Series visits.
"I've been in the IndyCar Series for seven or eight years and it's always been the kickoff event, the first race of the season," he said. "It's in a lot of ways quite fundamental in how the championship rolls out, because the person who has won the first race at Homestead has a lot of the time gone on to win the championship.
"But I think it's a perfect scenario. It's Florida, it's Miami in October, and it's hot. It's going to be a twilight race, which is even better. I tend to like the scenario of being at Homestead a little more than being at Chicago, because Chicago's almost pretty much just straight-out speed, whereas Miami-Homestead, is definitely a little more technical. There's a little more grip reliance, to make sure you have a car mechanically that's quite good and the driver can manipulate that quite a bit. It's more of a team effort for whoever wins at Homestead."
The teaming of Franchitti and Dixon has produced one of the most successful seasons in the history of Target Chip Ganassi Racing. Although the team boasts six CART and IndyCar Series championships since 1996, TCGR has never finished 1-2 in the standings, which is a distinct possibility this year.
Dixon has found Franchitti to be a much more team-oriented running mate compared to his past partners, who include Dan Wheldon and Tomas Scheckter.
"I think Dario and I understand in racing that you have the same equipment as someone else -- your friends and your teammates and things like that," he observed. "Some days you've just got to understand that your teammate's having a better day. It might be hard to swallow, but that's the way it goes. I don't think it changes anything. That's what racing is all about.
"First you've got to work together with your teammate, and then see what plays out. But both of our teams have done a lot of preparation and are looking forward to it. Obviously, the winner picks up the bar tab."
Despite all that is on the line -- the record-tying third consecutive championship and the $1 million bonus that goes with it -- Dixon insists he's treating Homestead as he would a typical race weekend.
"I think if you try to change your strategy or the way you approach the race, it might affect how quick you go over the outcome of the race, and ultimately the outcome of the championship," Dixon said. "So I think you try to keep it simple, and not put too much pressure on yourself and let it all play out. It's pretty much whoever beats who is going to walk away with the championship. So it's definitely good for all the fans and one of the toughest days for the drivers.
"But I'm definitely looking forward to it. It should be a great show, and a happy time for one of us. It's been a great shootout so far as the whole championship's gone, and I think everybody's definitely put in a lot of hard work this season -- teams and drivers and everybody else.
"We'll all find out probably by 7 o'clock Saturday night."
August, 30, 2009
08/30/09
2:14
PM ET
JOLIET, Ill. -- Ryan Briscoe said last week that he would need to win more races this year if he was to secure his first IndyCar Series championship.
He was good to his word.
The 27-year-old Australian obviously is peaking at the right time, because he won the Peak Indy 300 at Chicagoland Speedway on Saturday night to open up the largest championship lead any driver has enjoyed during the 2009 campaign.
[+] Enlarge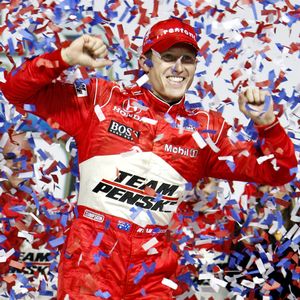 AP Photo/Nam Y. HuhRyan Briscoe will take a 25-point lead into the IndyCar Series' penultimate event Sept. 18 in Motegi, Japan.
With two races remaining, Briscoe is 25 points ahead of Dario Franchitti and 33 points up on Scott Dixon. The Ganassi drivers finished second and fourth at Chicagoland, with Dixon the runner-up to Briscoe by 0.0077 of a second in the fourth-closest finish in IndyCar Series history.
"That's the best I've ever seen you run!" victorious team owner Roger Penske exclaimed to his driver in Victory Circle.
Penske had just watched Briscoe drive back through the field after dropping to 15th place following a slow midrace pit stop. Saving his final power boost until the final lap, the Penske car was able to stay ahead of the Ganassi-prepared Dallara by 28½ inches on the run to the line.
Three of the four closest finishes in IndyCar Series history have occurred at the 1.5-mile oval near Joliet.
"I didn't think I was going to have enough for him, but once I got beside him, it slowed both of our cars down," Briscoe said. "The side draft evened things out and allowed me to beat him across the line. I didn't even know that we had won."
Dixon knew, and he knew it would happen long before the nine-lap green-flag run that ended the 200-lap contest.
"We came out about 30 car lengths ahead from the last pit stop, but we just didn't have the speed," Dixon lamented. "I could tell. I knew if we were going to come down to a shootout, we were going to lose. The last eight laps, I pushed [the power-to-pass boost] every lap. But I didn't have quite enough at the end. Credit to Ryan and Team Penske for obviously doing a great job.
"We need to push hard the last couple of races and try to lead as many laps as possible and go for wins," he added. "But I think we need to redefine what we are doing on our 1.5-mile aero program, whether it's drag or [how the] body fits or whatever. We clearly didn't have the speed the Penske cars did in qualifying or the race."
Dropping to near the back of the pack didn't appear to harm Briscoe, although he was worried because it forced him to burn most of his power-to-pass boost.
After being stuck at midfield for the better part of 50 laps, he suddenly emerged in third place, hunting down the Ganassi cars.
Briscoe had been mired back there because he'd missed his marks during his second pit stop and the fueler had difficulty fitting the hose to the car.
"It [was] not as smooth as I would have liked," Briscoe said. "The car was fast and consistent, but when I got stuck in the pack, it was like a wall in front of me with cars going everywhere. It was really hectic, and after 40 laps when my spotter said, 'Clear all 'round!' it was the best thing I'd heard in a long time."
Briscoe has been the only driver to maintain the IndyCar Series championship lead for two races in a row this year, and he's done it twice now. He'll have nearly three weeks until the next race is staged in Motegi, Japan, to think about it.
"It's no different, really," he said. "We've seen how quickly that can turn around, and we've got to stay focused and try to beat these guys. I sort of got myself into a little bit of trouble tonight, and we need to avoid those instances."
Briscoe's teammate Helio Castroneves crashed out at Chicagoland to officially eliminate himself from championship contention. But one Penske entry was stout enough to take on and beat two cars from the Ganassi stable.
"Ryan did a good job again tonight," Franchitti said. "We're going to have to make something happen these next two races. Scott and I are racing each other and competing for points; Ryan's got the luxury of Helio being out of it, so he can help him a little bit. If we end up having to back one horse for the championship, Chip will make that decision."
Of course, the way Briscoe is running, Ganassi may not have to make that choice. Briscoe has scored two of his three 2009 race wins in the past four weeks.
The Aussie has reached the point where he runs as strong on ovals as he does on road courses, and that's what it takes to win the IndyCar Series title. He'll have to travel to Japan and back to Florida to clinch it, but Briscoe has one hand on the championship cup.
August, 27, 2009
08/27/09
3:02
PM ET
In each of the past three years, the IndyCar Series championship was decided at Chicagoland Speedway. The 1.5-mile oval, an hour west of The Loop in Joliet, does not host the IndyCar finale this year (that honor, for the first time, goes to Homestead-Miami Speedway on Oct. 10), but Saturday night's PEAK Indy 300 could have major implications for the three title protagonists.
It's Team Penske's Ryan Briscoe up against Target Chip Ganassi Racing's Dario Franchitti and Scott Dixon, separated by just 20 points with three races remaining. Franchitti and Dixon have four wins apiece compared to Briscoe's two, but seven second-place finishes have the Australian atop the points standings.
Briscoe is astute enough to know that second-place finishes in the remaining races might not be enough to hold off one of the Ganassi duo.
"Looking at how this championship has gone so far, no one can hang on to the lead," Briscoe said. "I think we're seeing that wins reward greatly, and I think whoever's going to win this championship needs to go out and win races. Obviously, you need to finish and collect points. But getting those 50 points is always really important."
Dixon suffered a 40-point swing compared to Franchitti this past weekend at Infineon Raceway, and the driver of Ganassi's No. 9 car can't afford another bad weekend if he wants to repeat as series champion.
The New Zealander finished second the past two years at Chicagoland, losing the championship to Franchitti in 2007 but prevailing over race winner Helio Castroneves in 2008.
Castroneves, who has dropped from championship contention with an inconsistent season, is somewhat the X-factor in the remaining races. If he runs up front, he can help steal points from the Ganassi drivers.
Franchitti, who is just three points behind Briscoe in this year's title chase, won his last Chicagoland start while driving for Andretti Green Racing in 2007. He passed Dixon on the last lap to win the race and the championship when the Target car ran out of fuel.
The Ganassi team was surprisingly off form at the most recent IndyCar race on a 1.5-mile speedway. That event, at Kentucky Speedway on July 31, was the first using the IRL's revised aerodynamic rules.
Ganassi did not use the newly optional sidepod extensions, and when the recently resurfaced track didn't grip up as much as expected in the cool night conditions, Dixon and Franchitti found they were lacking downforce.
"In retrospect, I guess you could say we perhaps got it wrong at Kentucky," Ganassi aerodynamicist Andy Brown said. "In the past, we've run less drag than everybody else, and it's been an approach that worked well for us where we walked away from the front. The way the championship is now, you have to go for wins. As close as the top of the points table has been, it's difficult to play the percentage game. You really have to go for wins right now. We went for it and didn't quite pull it off that time."
The Chicagoland race is expected to be reminiscent of closely packed Indy car races from the past. The availability of additional aero options turned the Kentucky race into a barn burner, decided in a photo finish in Briscoe's favor over Vision Racing's Ed Carpenter.
Briscoe believes the racing could be even better this weekend.
"Lots of two- and three-wide," he said. "You can find yourself between first and 10th in a heartbeat. It's going to be tough racing. Especially with the aero changes we saw come onboard in Kentucky, it's going to allow everybody to be very aggressive and run nose-to-tail very closely. It was already like that last year, so even more so this year, I'm predicting."
This will be the IndyCar Series' final event on U.S. soil prior to the season finale in Florida in October. The Indy Japan 300 will run at Twin Ring Motegi on Sept. 19.
No matter how close the championship battle is coming out of Chicagoland, it will be a challenge for the series to maintain a place in the minds of American sports fans, especially with football season starting.
An amazing finish Saturday night -- especially if media magnet Danica Patrick is involved -- certainly would help.
August, 24, 2009
08/24/09
12:15
PM ET
The margin of victory was a lot smaller than last week at Mid-Ohio, but the level of dominance that one of the Target Chip Ganassi Racing cars had over the IndyCar Series field at the Grand Prix of Sonoma on Sunday was just as great.
But this week, Dario Franchitti was the victorious Ganassi driver, shaking up the IndyCar Series point standings once again with just three races remaining in the 2009 campaign. Franchitti led the 75-lapper at Infineon Raceway from start to finish, Team Penske's Ryan Briscoe finished second for the seventh time this season but regained the points lead, and perhaps most importantly, Scott Dixon endured a difficult day that finally ended in 13th place after a last-lap spin.
"[Dario] got max points here this weekend and that's what he needed," said victorious team owner Chip Ganassi. "Pole, led the most laps, wins the race … both guys [Franchitti and Dixon] now have won four races. That's a big accomplishment for Team Target. We're pretty happy with that and we'll see where we end up in the points."
Right now, both Ganassi drivers trail Briscoe: Franchitti by four points, and Dixon by 20, though that number could change if Marco Andretti is penalized for the clumsy move that punted Dixon from 10th to 14th at the final corner.
Although he won the 2007 event at Infineon, Dixon admitted he is not at ease on the undulating California road course and a 10th-place qualifying performance may have proven to be a critical element of the New Zealander's IndyCar Series title defense. Stuck in the midfield, he got swept into a multicar accident on the first lap and had to fight all afternoon just to claw back into the top 10.
"Kudos to Dario, obviously," Dixon said. "He did a fantastic job, especially with so many Target supporters here today. It was a tough race. We tried to catch a yellow; we pitted early to see if it could vault us up. We just kept kind of coming out in the same position, racing with TK [Tony Kanaan] and Marco and we got into a bit of a mix-up there right at the end. [Andretti] just kind of got into the back of me and spun me around. He came up and apologized. He definitely didn't do it on purpose.
[+] Enlarge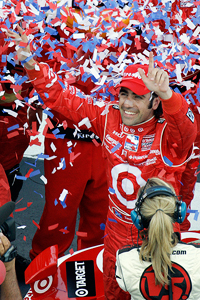 AP Photo/Ben MargotDario Franchitti hit all the right marks to score the most points possible at Sonoma.
"It's just one of those days. That's racing. I'm glad to move on and get out of here."
Franchitti had no such problems and the Scotsman pretty much controlled the race from the front to earn his 22nd combined Indy racing victory.
"Track position was critical today and getting the Target car on the pole was absolutely critical to our strategy," Franchitti said. "It probably wasn't the most interesting race for the fans, but I did what I had to do today. We kept the Target car out front. We kept to our strategy and I kept a good, consistent pace.
"This is critical and crucial for the championship," he added. "It was definitely a fun race -- for me -- and a great day."
Briscoe basically had one chance to make a run at Franchitti when the leaders were balked by slow backmarker Milka Duno. But thinking of the points situation, he backed off and settled again for second.
"We've just got to keep getting these points," Briscoe said. "Coming in second gets old a little bit, but we know we're up there and the wins are gonna come. If we're going to win this championship I'm going to have to win at least one of the last three. It's that close, it's tough. Scott had a tough weekend which helps us out a little bit, but Dario got maximum points and he's right there."
For the fourth consecutive year, the IndyCar Series championship battle is a good one. The last three events will be staged on three tracks that are about as different as 1.5-mile ovals can be: Chicagoland Speedway, Twin Ring Motegi and Homestead-Miami Speedway.
"Right now we have three oval races to focus on," said Franchitti. "It's going to be a challenge. Scott is the reigning champion, I know how good he is and he's got the same equipment as me. Ryan and the Penske team are going to be tough as well."
Dixon has maintained all summer that he only cares about the points standings after Homestead. After being on the short end of a 40-point swing at Sonoma, he's sticking by that story.
"It can switch big-time and that's what we've got to look at," said the two-time series champion. "We've got to make sure that we're consistent in the last three [races] and hopefully they can have a little bit of a blunder.
"I think between the two of us we've got cars in the Target team that can win all those last three races. That's the attitude. We have to go out there and try and dominate and hopefully I'll win another championship."