Category archive:

Sebastien Bourdais
July, 20, 2014
07/20/14
8:43
PM ET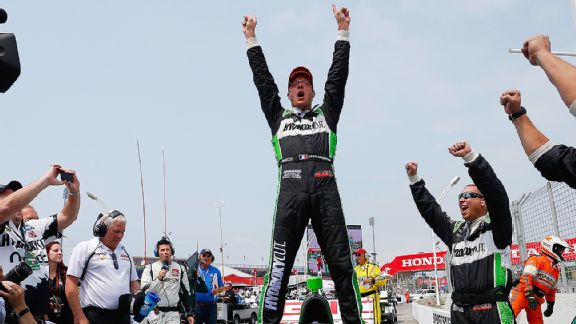 Chris Trotman/Getty ImagesSebastian Bourdais was excited to finally break a winless streak that went back to 2007.
TORONTO -- Rain pushed Race 1 of the Honda Indy Toronto "2 in TO" doubleheader back from Saturday afternoon to Sunday morning, and it returned later Sunday in the afternoon to significantly shake up the second Verizon IndyCar Series contest of the day.
A very long day of racing was prolonged by multi-car accidents that blocked the narrow 1.755-mile street course at the start of Race 1 and the end of Race 2, the latter prompting INDYCAR officials to red-flag the event with 4-½ minutes remaining.
Sebastien Bourdais' victory in the dry in Race 1 was a straightforward affair, with the Frenchman leading 58 of the 65 laps to secure his first Indy car victory since November 2007, when he won the swansong race of a five-year tenure in the Champ Car-sanctioned series.
Meanwhile, Race 2 started dry, but a midrace shower caused a series of incidents that brought the action to an end after a predetermined 80-minute time limit, rather than the scheduled 65 laps. It also introduced the element of tire strategy, as drivers and teams tried to determine the perfect time to switch from Firestone rain tires to slicks on a drying track.
[+] Enlarge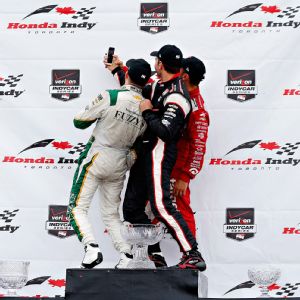 Chris Trotman/Getty ImagesRace 2 winner Mike Conway, from left, third-place Will Power and second-place Helio Castroneves had time for a selfie on the podium.
It was Mike Conway who called it best, calling for dry tires two laps earlier than the majority of the field. The gutsy move earned Conway and Ed Carpenter Racing their second race win of the year, matching their victorious performance at the Long Beach Grand Prix in April.
Conway had just returned to the track on slicks when Sebastian Saavedra nosed into the Turn 3 tire wall, prompting INDYCAR to throw a late-race red flag for the second time in less than a month. The Englishman then had to sweat out a restart and three more laps as he held off Tony Kanaan for his fourth career IndyCar race win.
"That's Mike," team owner Carpenter said in a television interview, giving Conway credit for making the call for slicks.
"He was out there on the track and said he was ready for dries. We thought it was a bit early, but this one is all down to him."
Despite the victory, Carpenter was not totally pleased with INDYCAR's decision to throw the red flag, a move similar to one made in Houston three weeks ago to allow the race to end under a green flag.
"It worked out for us today, but the question is how many times are you going to go red?" he said. "As competitors, we don't always know what's going on out there."
Conway said the call for dry tires was, well, cut and dried.
"It was really difficult conditions in the wet and we were kind of struggling a bit," he said. "As soon as I saw part of a dry line, I knew it was time to come in and it was a great call.
"From there we just took off and kind of controlled the race," he added. "I was kind of nervous about the red flag but we had Justin behind us [Wilson, one of the last drivers on rain tires] and we were able to close it out."
Kanaan enjoyed his best weekend of the 2014 season, finishing third and second in the two races. He passed Will Power for second with two laps to go and crossed the line 3.542 seconds behind Conway.
Power, meanwhile, executed some nifty damage control by finishing third in Race 2 after a ninth-place finish in Race 1 dropped him 30 points behind IndyCar Series championship leader (and Team Penske teammate) Helio Castroneves.
Castroneves increased his points lead from 9 to 30 by finishing second to Bourdais in Race 1, but he got dropped from eighth to 12th place in the frenetic final three laps after starting Race 2 from pole position.
It was a tough afternoon for the Brazilian, who looked in control of the proceedings until the rain jumbled things up for everyone.
Power's podium finish in Race 2 pulled him back to within 13 points of Castroneves with four races remaining in the season. The three other main championship contenders all suffered through a dismal afternoon in Race 2, with Ryan Hunter-Reay (-70), Simon Pagenaud (-71) and Juan Pablo Montoya (-92) all dropping points to Castroneves.
"I just wasn't willing after yesterday [when Power was lucky the race was delayed to Sunday after he crashed before the green flag] to take a big risk and get caught out again," Power said. "Typical IndyCar race. It throws everything at you and you just have to survive.
"Anytime you gain in the points it's a great day, and the championship is going to be a battle to the end."
March, 1, 2014
03/01/14
12:33
PM ET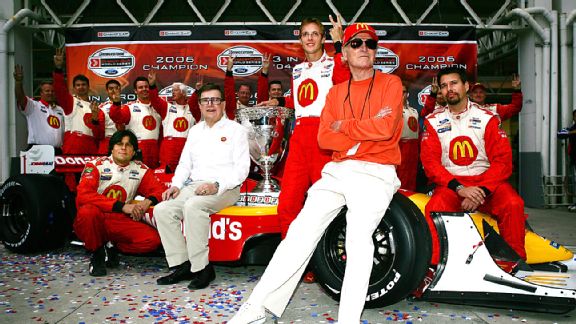 Darrell Ingham/Getty ImagesSebastien Bourdais, center, was the last in a long line of Newman/Haas Racing championship drivers. He is flanked by team owners, Carl Haas, left, and Paul Newman.
INDIANAPOLIS -- It still seems strange -- not to mention inaccurate -- to talk about Newman/Haas Racing in the past tense.
After all, NHR is still in operation at the team's longtime base in Lincolnshire, Ill., with Brian Lisles leading a small crew. However, Newman/Haas hasn't fielded a car in the IndyCar Series (or any other series) since the end of the 2011 season, and most of the team that won 107 open-wheel races and eight CART- and Champ Car-sanctioned Indy car championships has moved on to new opportunities.
Of course co-owner Paul Newman passed away in 2008, and Carl Haas is in declining health and retired from public life. But last weekend in Indianapolis, about 70 Newman/Haas team members, along with friends and families, came together to celebrate the team's long and successful run at the top.
[+] Enlarge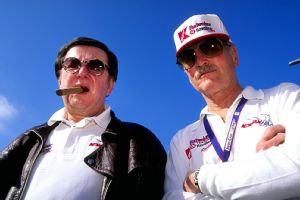 Jamie Squire/Allsport/Getty ImagesTeam owners Carl Haas, left, and Paul Newman might have seemed like an odd pairing, but together they ran one of the most successful teams in the history of Indy car racing.
Formed by former Can-Am competitors Newman and Haas in 1983 to field cars in the CART/PPG Indy Car World Series for Mario Andretti, Newman/Haas was a stalwart Indy car team for nearly 30 years.
From 1983 to 2011, Penske Racing was the only team that won more races; Chip Ganassi Racing, which began fielding Indy cars in 1990, won fewer races but boasts one more championship than NHR.
"You couldn't find two more opposite people [Newman and Haas] to work together, but they created one of the best race teams in America," said Sebastien Bourdais, who won four Champ Car-sanctioned titles for NHR between 2004 and '07. "I had a really enjoyable time driving for Carl and Paul, and obviously a lot of other people have really fond memories, too."
Bourdais, Cristiano da Matta and Michael Andretti -- representing 70 of Newman/Haas' 107 wins and six of the team's eight Indy car championships -- all attended the NHR reunion.
Guillaume "Rocky" Rocquelin, who engineered da Matta and Bourdais to four series championships in his five-year tenure with Newman/Haas, sent a video greeting. Rocquelin is now Sebastian Vettel's race engineer for Red Bull Racing in Formula One.
Now retired from racing, da Matta flew from Brazil to Indianapolis just to see his old teammates.
"I wouldn't have missed it for anything," he said. "The most favorite time of my career is the two years I was with Newman/Haas. Everyone, from Carl and Berni [Haas, Carl's wife] to all the guys that worked on the cars to the people who worked in hospitality, we are all a family."
People often think of Newman/Haas as "Mario's team," but Michael Andretti was actually the lead NHR flag-bearer for many years. Michael earned 30 of his 41 Indy car race wins while driving for Newman/Haas, as well as the 1991 CART-sanctioned championship.
Michael revealed that, as a 20-year-old aspiring racer, he had a hand in the creation of Newman/Haas Racing.
"Carl was smart," Michael said with a laugh. "He hired me first to drive his Formula Ford car as a way of getting closer to dad. Then he got dad to drive his Indy car. So I helped start it all."
[+] Enlarge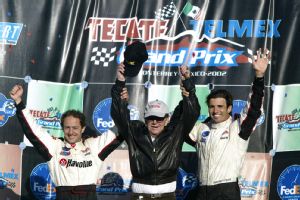 Jonathan Ferrey Allsport/Getty ImagesCristiano da Matta, left, said he wouldn't have missed the reunion for anything. Here he is celebrating winning the opening CART race of the 2002 season with team owner Carl Haas and teammate and third-place finisher Christian Fittipaldi.
Michael graduated to Indy cars at the end of Newman/Haas' first season in the CART series, but it wasn't until 1989 that Michael joined NHR for four memorable years teamed with his father.
"It was the most special time in my career, no question," Michael said. "We were a family there. It was everything you wanted in a race team. Carl and Paul would give you the equipment and support, and you wanted to do it for them. Great times, and it's so cool to see so many people here."
Andretti actually drove two stints for Newman/Haas; 1989-1992, the four years he lined up alongside his father in what Mario called "a dream scenario." Then, after a year of Formula One and a year with Ganassi's Indy car team -- in which he scored Chip Ganassi's first two race wins as a sole team owner -- Michael returned to Newman/Haas from 1995 to 2000.
Michael then drove for Team Green in 2001 and 2002, eventually acquiring ownership in the team now known as Andretti Autosport. In many ways, Michael's team has taken on the role Newman/Haas used to play as the main competitor for Penske and Ganassi.
It's not a surprise that, when NHR ceased racing operations, several team members found work with Andretti Autosport, and Michael said his time with Newman/Haas shaped his vision of how to operate a race team.
"There were times when Carl would do things and you'd think 'Why are you doing it that way?'" Andretti said. "Now, being on this side of the fence, I understand things that he would do and why he would do things. It's a different world being on the other side, for sure. But I definitely learned a lot from Carl and Paul."
July, 16, 2009
07/16/09
7:56
PM ET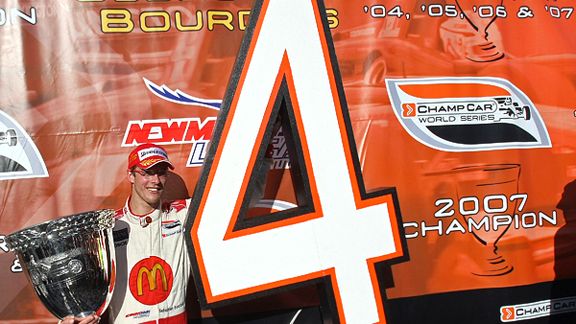 Torsten Blackwood/Getty ImagesSebastien Bourdais was on top of his world as recently as 2007.
Confirmation that Sebastien Bourdais has been dropped midseason by the Scuderia Toro Rosso Formula One team is another punch in the gut for aficionados of American open-wheel racing.
The latest failure of a star from the American scene to consistently produce in the harsher environment of F1 destroys what little remaining credibility U.S. open-wheel racing had left on the worldwide stage.
It's not a glorious list. Michael Andretti, Jacques Villeneuve, Alex Zanardi, Juan Pablo Montoya, Cristiano da Matta and now Bourdais all arguably underachieved in F1 given the championship-winning form they displayed in America.
"In Sebastien's second year with us, the partnership has not met our expectations and therefore we have decided to replace him as from the next round of the world championship, the Hungarian Grand Prix," stated Toro Rosso team director Franz Tost.
The 30-year-old Bourdais is likely to be replaced by Jaime Alguersuari, a Spaniard who at age 19 would become the youngest driver to start an F1 Grand Prix.
Bourdais was a hot prospect coming up through the European ranks, winning the 2002 FIA Formula 3000 championship. But early in his career, he got into a dispute with the Renault F1 team and its autocratic boss, Flavio Briatore. That negated the most logical destination in F1 for the native of Le Mans, France.
Instead, Bourdais came to America for what turned out to be a remarkably successful five-year run in the CART and Champ Car series. He claimed pole position for his first two CART events, won seven races as a rookie and then claimed a record four consecutive series championships.
Of course it's no secret that the competition Bourdais faced in CART and Champ Car from 2003 to '07 hardly resembled the fields from Indy car racing's best years in the modern era in the 1980s and '90s. But the man who became known to U.S. fans as "SeaBass" was so superior to his rivals that most observers gave him a decent shot at succeeding in F1, even with the small Toro Rosso outfit.
Instead, Toro Rosso produced a surprisingly effective car that allowed Sebastian Vettel to score the team's first Grand Prix victory. Although Bourdais had the bad luck to be teamed with the man assumed to be F1's next major star, he looked good on occasion and did well enough to be retained for a second season.
But this year has been a disaster for Bourdais. He was outqualified seven times in nine races by his lightly regarded rookie teammate, Sebastien Buemi, and he has generally looked ill at ease in the redesigned 2009 Toro Rosso car. That's in stark contrast to the often-brilliant form he's displayed during his rare outings in Peugeot sports cars, including back-to-back second-place finishes the last two years in his hometown race, the 24 Hours of Le Mans.
One has to wonder why this disturbing trend of U.S. racing stars flopping in F1 continues, and the prospect of a current IndyCar Series star attracting any kind of attention from the F1 community is remote at best. Marco Andretti, Graham Rahal and even Danica Patrick may have dreamed of racing F1 when they were growing up, but now more than ever, no matter what their nationality, the odds of products of the American scene making it in Europe are slimmer than ever.
In the 1990s, when a driver made the transition from CART to F1, he was moving to a much lighter, more nimble car, albeit with considerably less horsepower. Since then, the differences between an F1 machine and an IRL car have grown. F1 cars are now more powerful than the cars that race in the IndyCar Series, and as F1 cars got far more technologically advanced, IRL cars regressed to a level of technology from almost 20 years ago.
A number of the failed CART drivers, including Villeneuve and Montoya, complained about the engineering mentality in F1. They claimed that instead of a team trying to engineer a car to suit a driver's style, the team insisted on setting up the car and forcing the driver to adapt to that setup. More than ever that's the F1 M.O., and coming from a close-knit team like Newman/Haas/Lanigan Racing where the car setup was developed around him, Bourdais must have found this contrasting approach incredibly difficult to accept.
Inevitably there will soon be talk of Bourdais returning to America to race in the IndyCar Series, but I think it's unlikely. For one thing, he was always quite outspoken about his dislike of oval racing and its inherent dangers. And who would sign him? The only logical destination is Andretti Green Racing, which is in desperate need of a fresh approach, starting with a shakeup in its driver lineup.
A better fit might be NASCAR. Bourdais won a round of the International Race of Champions a few years ago, prompting Mark Martin to make some very complimentary remarks.
Besides, doesn't NASCAR need to add a Frenchman to bring some elements of the movie "Talladega Nights" into real life?