Category archive:

Ed Carpenter
June, 8, 2014
06/08/14
12:21
AM ET
FORT WORTH, Texas -- Will Power didn't win the Firestone Indy 600 Saturday night at Texas Motor Speedway.
But he sure had fun trying.
[+] Enlarge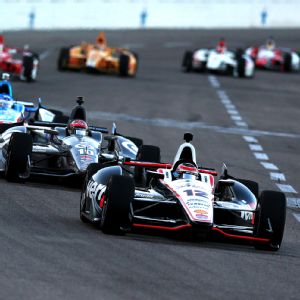 Todd Warshaw/Getty Images for Texas Motor SpeedwayWill Power led the most laps Saturday night, but couldn't catch Ed Carpenter at the end.
The Team Penske driver dominated the first half of the race and led nearly two-thirds of the 248-lap contest, but Power lost the lead to Ed Carpenter on the 182nd lap, then made the costly error of speeding in the pits as he entered for his final stop.
A late caution flag gave Power the opportunity to pit for fresh tires, and he used them to carve from sixth to second over the course of the last couple laps. But he was unable to catch owner/driver Carpenter, who scored the third Verizon IndyCar Series race win of his career and the second for his team this year to go along with Mike Conway's victory at Long Beach.
For Power, there was no shame in finishing second to Carpenter, the only driver in the IndyCar Series who came up through a traditional oval racing path of midgets and sprint cars.
Power had started to cut into Carpenter's two-second lead in traffic prior to both drivers making their final stop on Lap 213. That's when Power got popped, the subsequent drive-through penalty dropping him to sixth place, nearly a lap down.
The break that nearly won him the race came on Lap 241, when Takuma Sato suffered the third Honda engine failure of the race.
"Obviously, the penalty hurt, but I was trying to close the gap to Ed so I could try to go for the win," the championship leader said. "The team made a great call to get tires at the end.
"I had so much fun," he added. "That was even more fun than Fontana [where Power won the 2013 IndyCar season finale] -- I just didn't get the bloody win."
That honor went to Carpenter, who simply got stronger and stronger as the race progressed.
"I knew we had a good car," Carpenter said. "We had a good test here back a couple of weeks ago, or a couple of months ago. Whenever it was. I just felt like we left some on the table in qualifying, but it made me extra motivated for tonight.
"We had one bad stint, but the guys just made great adjustments all night," he continued. "The Fuzzy's car was hooked up, and I think we were for sure the car to beat at the end."
Carpenter admitted that the final yellow flag caused him some concern. "I was a little worried," he said. "I knew guys were going to come in. We talked about what we would do in that situation, and we were kind of undecided, but Tim [team manager Broyles] and the boys made the right call.
"Awesome night," he concluded. "I have loved this racetrack for a long time and had a lot of bad luck here. I've really always wanted to win here, so I'm super excited."
Juan Pablo Montoya had the best race of his return to Indy cars in taking third place. The Colombian made an early, out-of-sequence pit stop when Marco Andretti brought out the first of three cautions on the night with a blown engine on just the fifth lap. Montoya was often the fastest car on the track, but he lost a lot of ground on the next-to-last stint.
However, he had moved back into second place before the final yellow. Montoya was bitterly unhappy after the race, claiming Carpenter jumped the last restart for the green-white-checkered finish.
"When you let people jump starts and you let them get away with it, it's impossible," Montoya fumed. "The first thing he did was slow down, which you're not supposed to, and then he went. It was like 200 yards before we're supposed to go.
"I was sure they were going to make a call, and they didn't," added Montoya. "So I was kind of disappointed, and I'm going to go talk to IndyCar now and see what they say."
This year's Texas race was closer to the 2012 contest than last year's strung-out affair, the addition of approximately 300 extra pounds of downforce making the cars able to run closer together but still a handful for the drivers.
"A bit of a struggle. Really loose all night," fifth-place finisher Scott Dixon said.
"I'm proud that we actually held the car on the track instead of putting it in the fence."
August, 2, 2009
08/02/09
7:46
PM ET
SPARTA, Ky. -- Maybe the Indy Racing League should shake things up a bit more often.
While implementing new aerodynamic options and introducing a mild push-to-pass system -- and doing so with a minimum of track time for the drivers to practice with it -- the IndyCar Series put on a race at Kentucky Speedway every bit on par with the best contests in the 14-year history of the league.
Sure, the evil Team Penske empire won again, this time with Ryan Briscoe behind the wheel. But to do it, they had to overcome a breakout performance from Vision Racing and Ed Carpenter, who came within 0.0162 seconds of stealing the show after driving the race of his life.
In a formula renowned for photo finishes, this one was the 11th closest in series history, not to mention the second fastest event ever in any form of American open-wheel circuit racing, with a 200.893 mph average.
"The old IRL is back on the superspeedways," declared third-place finisher Tony Kanaan.
Without question, this was the IndyCar Series' most entertaining race of the season, one that had the crowd, estimated at 48,000, on its feet for the last 10 laps as Briscoe and Carpenter ran side by side.
Both drivers had done a masterful job of saving their limited number of push-to-pass opportunities, yet ultimately, Briscoe was able to make the longer high line work as he edged Carpenter by about five feet at the line.
"I don't know if I was imagining that Ed Carpenter was getting wider and wider every lap," Briscoe said. (He wasn't imagining it.) "It looked like every lap I'd get the edge on him across the start/finish line, but it was getting harder and harder as Ed was getting wider and wider.
"Unbelievable," he added. "That was a fun race. There was a lot of racing out there and it was pretty intense."
Amen to that, after an IndyCar season that had degenerated into a series of follow-the-leader parades, apparently no matter what kind of racetrack.
There's no way of determining whether it was the 5-horsepower overtake option, the selection of seemingly insignificant aero mods, the recently graded surface of the 1.5-mile Kentucky oval, or even the fluky cancellation of Friday practice and qualifications after the track wouldn't dry out on a perfect, sunny day.
But the excitement returned to Indy car racing Saturday night.
"I hope the fans enjoyed it, because there were definitely some races this year where we didn't deliver the goods," Carpenter said.
[+] Enlarge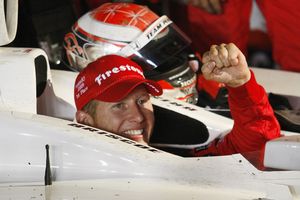 AP Photo/Ed ReinkeRyan Briscoe had to feel good about winning the closest race of the season.
Carpenter, the stepson of recently deposed Indy Racing League founder and Vision Racing co-owner Tony George, was a revelation in his Menards-sponsored car. One of the few drivers in the IndyCar Series who came through the oval short-track ranks was in his element as he led a career-high 34 laps.
After starting 14th based on entrant points, Carpenter moved up to fourth place by Lap 30, and press-box pundits figured he worked his way up there by burning through most of his 20 push-to-pass ration. But it turned out the bright yellow Vision car was simply hooked up.
"It's been a tough year, and I was hoping this was going to be a breakout race to try to get our season turned around," Carpenter said. "I was giving Ryan all I had, and the team did a great job in pits, keeping up with the Penske and Ganassi teams as it cycled through the stops under the green. I was trying to keep up my end of the bargain."
Carpenter and Briscoe ran the last 10 laps alongside each other, veering alarmingly close on occasion on the run out of Turn 4 to the line.
"It was fun on a mile-and-a-half to run that close to a Penske car," Carpenter said with grin. "We ran side-by-side for I don't know how many laps there at the end of the race. I actually used my last push-to-pass on the last lap, so I managed that fairly well. I was trying to run wide and make him go the long way around and just make it a little harder and he was trying to pinch me down. Neither of us were gonna lift. It was close."
Close, but no cigar. Still, Carpenter raved about the morale boost that he hopes the result will provide the Vision team.
"I've always known I can win one of these, and getting that close, now I absolutely, positively, know I can win one of these races," he said. "It's a little harder to swallow when you're that close. It's not every day that happens. That was definitely the most fun I've had in a long time. It's been a tough year for our team and a rough couple of months for our family.
"I think if we would have pushed each other any more, Tony [Kanaan] would have won," he added. "I'd rather finish second than crash someone trying to win a race. I tried to race Ryan as clean as possible. It doesn't do anybody any good to race somebody dirty."
Kanaan, who has suffered a series of crashes and a pair of pit-lane fires in 2009, was happy just to get his season back on track. But he was even more pleased that the IndyCar Series put on a good show.
"I think we were all concerned about the package," he said. "We worked with the league to have more downforce and with Honda to have push-to-pass. I still think we need a couple more changes to be the way it was in the past.
"But if we wanted a photo finish, we got it. We're moving in the right direction for sure on the superspeedways."
The win vaulted Briscoe into the IndyCar Series championship lead, 8 points ahead of defending series champion Scott Dixon (finished seventh at Kentucky) and 11 points up on Dixon's Ganassi Racing teammate Dario Franchitti, who was sixth Saturday night.
Five races remain in the 2009 campaign, beginning Sunday with the Honda 200 at Mid-Ohio Sports Car Course.
"This has been one of those years where no one can hang on to the points lead," Briscoe said. "So it's close. We're not going to get too content yet. I think we'll be strong at the upcoming road courses, but Dixon and Franchitti will be strong, too.
"We just have to keep finishing in front of those guys, keep our heads down, keep working hard and keep pushing forward."
Hopefully with some exciting racing, similar to what was on display Saturday night at Kentucky, along the way.