Category archive:

Ryan Briscoe
October, 23, 2009
10/23/09
5:12
PM ET
By luck or design, the Indy Racing League's scoring system has created remarkably close championship battles, and for the fourth year in a row, the IndyCar Series title was not settled until the final lap of the season. Dario Franchitti edged his Target Chip Ganassi Racing teammate Scott Dixon, with Team Penske's Ryan Briscoe right in the mix as well.
At about this time a year ago, I wrote a column in which I used point-scoring systems from several other forms of motorsport to determine whether the results of the IndyCar Series championship hypothetically would have changed. I calculated that the IndyCar Series would have had a different champion in eight of the 15 scenarios I created, with the biggest shakeup coming to the 2006 standings, where Sam Hornish Jr. tied Dan Wheldon on points but won on a tiebreaker using the IRL points distribution.
Four drivers went into the final championship round that year with a shot at the title, and had either the CART or current Formula 1 scoring system been in use, Helio Castroneves would have won the title rather than finishing third. Castroneves would have won another crown in 2008 if either CART or Champ Car World Series points had been awarded.
Castroneves was out of championship contention this year, but once again, an alternate scoring system would have crowned a different champion. Let's crunch the numbers …
Formula One
The classic F1 points distribution rewarded excellence, and until 2002, only the top 6 finishers in a Grand Prix were awarded points. Expanding the points to the top 8 did little to slow down the Michael Schumacher express, but it did create more interesting F1 title races about half the time since then.
Prior to establishing himself as an IndyCar Series star, Briscoe had F1 aspirations, and the Australian would today find himself as the 2009 IndyCar champion if points were awarded F1 style. Despite scoring fewer race wins than either of the Target/Ganassi drivers, Briscoe's eight second-place finishes would have benefited him handsomely this year and he would have emerged as champion had the classic or current F1 system been in use. That's despite the fact that he suffered four finishes outside the top 12, compared to three for Dixon and just two for Franchitti.
It was feast or famine for Briscoe, who never finished lower than fourth except in his four bad events. He would have scored 81 points using the old F1 system, compared to 76 for Franchitti and 73 for Dixon. Using the current F1 points, Briscoe would have racked up 104 markers, with Franchitti second on 101 and Dixon third with 96.
CART
CART paid out points to the top 12 finishers, and also awarded single bonus points for pole position and leading the most laps.
Franchitti would have triumphed as this year's IndyCar Series champion using the CART system, with 226 points, but Briscoe would have beaten Dixon into second place with 221 points to the New Zealander's tally of 215.
With four poles and five races in which he led the most laps, Briscoe was the bonus point leader (Dixon had one pole and led the most laps six times, while Franchitti started the most races from the pole with five and topped the laps led chart only three times), but it wasn't enough for him to overcome the extra points Franchitti gained by winning five races to Briscoe's three.
Champ Car
Champ Car spread the points down to 20th place, and was also more generous with the bonus points, awarding them for pole position, laps led, most positions gained and fastest race lap.
Briscoe yet again dominated the bonus points, racking up 22 to Dixon's 18 and Franchitti's 17, but once more it was not enough to deliver him a championship. In fact, using the Champ Car system, he remained third in the final reckoning, scoring 396 points compared to 399 for Dixon and 409 for series champion Franchitti.
NASCAR
Dixon matched Briscoe with 90 NASCAR-style bonus points, which are dispensed in five-point increments for any driver who leads a lap and to the driver who leads the most laps in a race. Franchitti racked up 70 NASCAR bonus points but still came out on top of the mythical championship standings, with 2,818 points, plus-5 on Dixon and plus-36 on Briscoe.
Ultimately, the fact that Briscoe scored more poor finishes than the Target Ganassi drivers proved to be his undoing. Dixon and Franchitti salvaged bad days by finishing anywhere from third to seventh, and Franchitti was particularly effective in terms of damage control.
In fact, had Dario not suffered a brake failure leading to a crash at Kansas Speedway (where he probably would have finished second to Dixon) and an off-course excursion at Watkins Glen while avoiding another driver's accident, he would have put together an almost perfect season and won the championship by a landslide.
No matter what scoring system was in use.
October, 6, 2009
10/06/09
9:37
AM ET
Helio Castroneves is out of contention for the 2009 IndyCar Series championship, but the 34-year-old Brazilian could play a crucial supporting role to help his Team Penske teammate Ryan Briscoe win the crown this Saturday in the Firestone Indy 300 at Homestead-Miami Speedway.
[+] Enlarge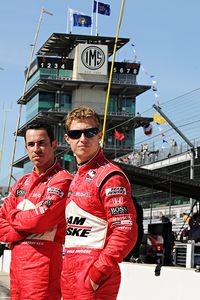 AP Photo/Tom StricklandHelio Castroneves, left, will be championship contender Ryan Briscoe's best friend Saturday at Homestead-Miami Speedway.
With eight points separating championship leader Scott Dixon and third-placed Briscoe -- and a 10-point difference between finishing first and second in the race -- Homestead is shaping up as a winner-take-all affair. Yet if Castroneves wins the race, it could still benefit Briscoe because every point he takes away from Target Chip Ganassi Racing teammates Dixon and Dario Franchitti (who trails Dixon by five points) will be critical.
Castroneves has two victories this season (at Texas and the Indianapolis 500), and the Miami resident knows how he would like to see Saturday's 300-miler play out.
"If I have the opportunity to win the race right in my backyard, it would be great," Helio remarked recently during a break from tire testing at Indianapolis Motor Speedway. "The perfect scenario would be for me to finish first and Ryan to be second so we can have a great celebration party at the end of the season.
"Certainly, I want to be in the mix," he continued. "The two Ganassi guys are going to fight each other to clinch the championship, and I'm sure each one is looking out for their own interest. The beauty for us is that I don't have to look in that direction. But you want to make sure everything is fair and square."
Castroneves could make things difficult for the Ganassi duo if he qualifies well and races at the front. Briscoe would like nothing more than to see his Penske teammate run interference on the Target cars so that he can drive away to win the race and the championship in one fell swoop.
Helio knows he can help out in that way, but he insists he'll play it clean, even if it means backing off like Vitor Meira did in the closing laps of the 2002 IndyCar Series finale when Castroneves and eventual champion Sam Hornish Jr. were disputing the title.
"There is a way of helping and there is a way of being stupid as well," Castroneves remarked. "You don't want to do anything stupid to anybody, including yourself. If you're going to take a chance, it's got to be a good risk and not an unnecessary one. If I can do anything, I will do it, obviously. But you have to think about the whole scenario."
Franchitti said he believes that Castroneves will behave in an appropriate manner if the championship hangs in the balance as the laps wind down at Homestead.
"You never know those things, but in Japan, when I was leading, we lapped Helio when he was having a bad day and he was great," Dario said. "He played absolutely fairly by all of us."
It's been a disappointing second half of the season for Castroneves in terms of results following his victory at Texas in early June. Now 10 years into his career with Team Penske and wrapping up his eighth IndyCar Series campaign, the three-time Indy 500 winner is still in search of his first overall championship. It's a goal he refuses to give up on, even if it won't happen in 2009.
"You always want to achieve your goals, and a championship has always been one of my goals," he said. "Along with that I want to win races, finish well in races and collect as many points as I can. But at the end of the day, you want to collect a championship.
"The good news is we keep ourselves hungry. When I come back next year I'm going to be as hungry as ever, because there will be more opportunities. There is an opportunity to be a four-time winner at Indy, and there is a championship as well. If it wasn't meant to be, it wasn't the right time. The Indy 500 this year is proof. We didn't finish three years in a row and now it happened. Now we know why."
Helio disputes the notion that he hit an emotional wall in the aftermath of his third Indianapolis triumph, which came on the heels of his acquittal from federal tax-evasion charges.
The previous year also was an emotional roller coaster for Castroneves. He gained a new legion of fans by winning ABC's "Dancing With the Stars" in late 2007, but went through most of 2008 riding out the longest winless streak of his IndyCar career before rallying with two late-season victories to nearly steal the IRL title from eventual winner Dixon. That's when the federal government came knocking with the tax-evasion indictment.
Since winning in Texas, Castroneves has racked up four DNFs and has achieved only one podium finish. He also crashed heavily in qualifying for the most recent IndyCar race, at Motegi, Japan.
But he insists he's ready to give his best for himself and his team Saturday near his adopted hometown.
"We're human beings, we always have ups and downs," Castroneves said. "Unfortunately we had some races where a lot of things happened outside of our control. Thank God it happened to my car, because if it happened to Ryan's car, it would have been goodbye to his challenge for the championship.
"It's one of those things. Sometimes we hit the right setup, sometimes we don't. Certainly, I'm ready for a nice race at Homestead, then I'll go home and recharge the batteries and have a great next year."
August, 30, 2009
08/30/09
2:14
PM ET
JOLIET, Ill. -- Ryan Briscoe said last week that he would need to win more races this year if he was to secure his first IndyCar Series championship.
He was good to his word.
The 27-year-old Australian obviously is peaking at the right time, because he won the Peak Indy 300 at Chicagoland Speedway on Saturday night to open up the largest championship lead any driver has enjoyed during the 2009 campaign.
[+] Enlarge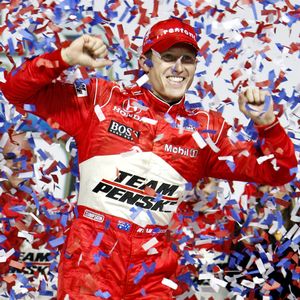 AP Photo/Nam Y. HuhRyan Briscoe will take a 25-point lead into the IndyCar Series' penultimate event Sept. 18 in Motegi, Japan.
With two races remaining, Briscoe is 25 points ahead of Dario Franchitti and 33 points up on Scott Dixon. The Ganassi drivers finished second and fourth at Chicagoland, with Dixon the runner-up to Briscoe by 0.0077 of a second in the fourth-closest finish in IndyCar Series history.
"That's the best I've ever seen you run!" victorious team owner Roger Penske exclaimed to his driver in Victory Circle.
Penske had just watched Briscoe drive back through the field after dropping to 15th place following a slow midrace pit stop. Saving his final power boost until the final lap, the Penske car was able to stay ahead of the Ganassi-prepared Dallara by 28½ inches on the run to the line.
Three of the four closest finishes in IndyCar Series history have occurred at the 1.5-mile oval near Joliet.
"I didn't think I was going to have enough for him, but once I got beside him, it slowed both of our cars down," Briscoe said. "The side draft evened things out and allowed me to beat him across the line. I didn't even know that we had won."
Dixon knew, and he knew it would happen long before the nine-lap green-flag run that ended the 200-lap contest.
"We came out about 30 car lengths ahead from the last pit stop, but we just didn't have the speed," Dixon lamented. "I could tell. I knew if we were going to come down to a shootout, we were going to lose. The last eight laps, I pushed [the power-to-pass boost] every lap. But I didn't have quite enough at the end. Credit to Ryan and Team Penske for obviously doing a great job.
"We need to push hard the last couple of races and try to lead as many laps as possible and go for wins," he added. "But I think we need to redefine what we are doing on our 1.5-mile aero program, whether it's drag or [how the] body fits or whatever. We clearly didn't have the speed the Penske cars did in qualifying or the race."
Dropping to near the back of the pack didn't appear to harm Briscoe, although he was worried because it forced him to burn most of his power-to-pass boost.
After being stuck at midfield for the better part of 50 laps, he suddenly emerged in third place, hunting down the Ganassi cars.
Briscoe had been mired back there because he'd missed his marks during his second pit stop and the fueler had difficulty fitting the hose to the car.
"It [was] not as smooth as I would have liked," Briscoe said. "The car was fast and consistent, but when I got stuck in the pack, it was like a wall in front of me with cars going everywhere. It was really hectic, and after 40 laps when my spotter said, 'Clear all 'round!' it was the best thing I'd heard in a long time."
Briscoe has been the only driver to maintain the IndyCar Series championship lead for two races in a row this year, and he's done it twice now. He'll have nearly three weeks until the next race is staged in Motegi, Japan, to think about it.
"It's no different, really," he said. "We've seen how quickly that can turn around, and we've got to stay focused and try to beat these guys. I sort of got myself into a little bit of trouble tonight, and we need to avoid those instances."
Briscoe's teammate Helio Castroneves crashed out at Chicagoland to officially eliminate himself from championship contention. But one Penske entry was stout enough to take on and beat two cars from the Ganassi stable.
"Ryan did a good job again tonight," Franchitti said. "We're going to have to make something happen these next two races. Scott and I are racing each other and competing for points; Ryan's got the luxury of Helio being out of it, so he can help him a little bit. If we end up having to back one horse for the championship, Chip will make that decision."
Of course, the way Briscoe is running, Ganassi may not have to make that choice. Briscoe has scored two of his three 2009 race wins in the past four weeks.
The Aussie has reached the point where he runs as strong on ovals as he does on road courses, and that's what it takes to win the IndyCar Series title. He'll have to travel to Japan and back to Florida to clinch it, but Briscoe has one hand on the championship cup.
August, 27, 2009
08/27/09
3:02
PM ET
In each of the past three years, the IndyCar Series championship was decided at Chicagoland Speedway. The 1.5-mile oval, an hour west of The Loop in Joliet, does not host the IndyCar finale this year (that honor, for the first time, goes to Homestead-Miami Speedway on Oct. 10), but Saturday night's PEAK Indy 300 could have major implications for the three title protagonists.
It's Team Penske's Ryan Briscoe up against Target Chip Ganassi Racing's Dario Franchitti and Scott Dixon, separated by just 20 points with three races remaining. Franchitti and Dixon have four wins apiece compared to Briscoe's two, but seven second-place finishes have the Australian atop the points standings.
Briscoe is astute enough to know that second-place finishes in the remaining races might not be enough to hold off one of the Ganassi duo.
"Looking at how this championship has gone so far, no one can hang on to the lead," Briscoe said. "I think we're seeing that wins reward greatly, and I think whoever's going to win this championship needs to go out and win races. Obviously, you need to finish and collect points. But getting those 50 points is always really important."
Dixon suffered a 40-point swing compared to Franchitti this past weekend at Infineon Raceway, and the driver of Ganassi's No. 9 car can't afford another bad weekend if he wants to repeat as series champion.
The New Zealander finished second the past two years at Chicagoland, losing the championship to Franchitti in 2007 but prevailing over race winner Helio Castroneves in 2008.
Castroneves, who has dropped from championship contention with an inconsistent season, is somewhat the X-factor in the remaining races. If he runs up front, he can help steal points from the Ganassi drivers.
Franchitti, who is just three points behind Briscoe in this year's title chase, won his last Chicagoland start while driving for Andretti Green Racing in 2007. He passed Dixon on the last lap to win the race and the championship when the Target car ran out of fuel.
The Ganassi team was surprisingly off form at the most recent IndyCar race on a 1.5-mile speedway. That event, at Kentucky Speedway on July 31, was the first using the IRL's revised aerodynamic rules.
Ganassi did not use the newly optional sidepod extensions, and when the recently resurfaced track didn't grip up as much as expected in the cool night conditions, Dixon and Franchitti found they were lacking downforce.
"In retrospect, I guess you could say we perhaps got it wrong at Kentucky," Ganassi aerodynamicist Andy Brown said. "In the past, we've run less drag than everybody else, and it's been an approach that worked well for us where we walked away from the front. The way the championship is now, you have to go for wins. As close as the top of the points table has been, it's difficult to play the percentage game. You really have to go for wins right now. We went for it and didn't quite pull it off that time."
The Chicagoland race is expected to be reminiscent of closely packed Indy car races from the past. The availability of additional aero options turned the Kentucky race into a barn burner, decided in a photo finish in Briscoe's favor over Vision Racing's Ed Carpenter.
Briscoe believes the racing could be even better this weekend.
"Lots of two- and three-wide," he said. "You can find yourself between first and 10th in a heartbeat. It's going to be tough racing. Especially with the aero changes we saw come onboard in Kentucky, it's going to allow everybody to be very aggressive and run nose-to-tail very closely. It was already like that last year, so even more so this year, I'm predicting."
This will be the IndyCar Series' final event on U.S. soil prior to the season finale in Florida in October. The Indy Japan 300 will run at Twin Ring Motegi on Sept. 19.
No matter how close the championship battle is coming out of Chicagoland, it will be a challenge for the series to maintain a place in the minds of American sports fans, especially with football season starting.
An amazing finish Saturday night -- especially if media magnet Danica Patrick is involved -- certainly would help.
August, 24, 2009
08/24/09
12:15
PM ET
The margin of victory was a lot smaller than last week at Mid-Ohio, but the level of dominance that one of the Target Chip Ganassi Racing cars had over the IndyCar Series field at the Grand Prix of Sonoma on Sunday was just as great.
But this week, Dario Franchitti was the victorious Ganassi driver, shaking up the IndyCar Series point standings once again with just three races remaining in the 2009 campaign. Franchitti led the 75-lapper at Infineon Raceway from start to finish, Team Penske's Ryan Briscoe finished second for the seventh time this season but regained the points lead, and perhaps most importantly, Scott Dixon endured a difficult day that finally ended in 13th place after a last-lap spin.
"[Dario] got max points here this weekend and that's what he needed," said victorious team owner Chip Ganassi. "Pole, led the most laps, wins the race … both guys [Franchitti and Dixon] now have won four races. That's a big accomplishment for Team Target. We're pretty happy with that and we'll see where we end up in the points."
Right now, both Ganassi drivers trail Briscoe: Franchitti by four points, and Dixon by 20, though that number could change if Marco Andretti is penalized for the clumsy move that punted Dixon from 10th to 14th at the final corner.
Although he won the 2007 event at Infineon, Dixon admitted he is not at ease on the undulating California road course and a 10th-place qualifying performance may have proven to be a critical element of the New Zealander's IndyCar Series title defense. Stuck in the midfield, he got swept into a multicar accident on the first lap and had to fight all afternoon just to claw back into the top 10.
"Kudos to Dario, obviously," Dixon said. "He did a fantastic job, especially with so many Target supporters here today. It was a tough race. We tried to catch a yellow; we pitted early to see if it could vault us up. We just kept kind of coming out in the same position, racing with TK [Tony Kanaan] and Marco and we got into a bit of a mix-up there right at the end. [Andretti] just kind of got into the back of me and spun me around. He came up and apologized. He definitely didn't do it on purpose.
[+] Enlarge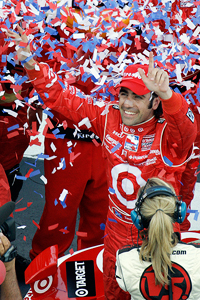 AP Photo/Ben MargotDario Franchitti hit all the right marks to score the most points possible at Sonoma.
"It's just one of those days. That's racing. I'm glad to move on and get out of here."
Franchitti had no such problems and the Scotsman pretty much controlled the race from the front to earn his 22nd combined Indy racing victory.
"Track position was critical today and getting the Target car on the pole was absolutely critical to our strategy," Franchitti said. "It probably wasn't the most interesting race for the fans, but I did what I had to do today. We kept the Target car out front. We kept to our strategy and I kept a good, consistent pace.
"This is critical and crucial for the championship," he added. "It was definitely a fun race -- for me -- and a great day."
Briscoe basically had one chance to make a run at Franchitti when the leaders were balked by slow backmarker Milka Duno. But thinking of the points situation, he backed off and settled again for second.
"We've just got to keep getting these points," Briscoe said. "Coming in second gets old a little bit, but we know we're up there and the wins are gonna come. If we're going to win this championship I'm going to have to win at least one of the last three. It's that close, it's tough. Scott had a tough weekend which helps us out a little bit, but Dario got maximum points and he's right there."
For the fourth consecutive year, the IndyCar Series championship battle is a good one. The last three events will be staged on three tracks that are about as different as 1.5-mile ovals can be: Chicagoland Speedway, Twin Ring Motegi and Homestead-Miami Speedway.
"Right now we have three oval races to focus on," said Franchitti. "It's going to be a challenge. Scott is the reigning champion, I know how good he is and he's got the same equipment as me. Ryan and the Penske team are going to be tough as well."
Dixon has maintained all summer that he only cares about the points standings after Homestead. After being on the short end of a 40-point swing at Sonoma, he's sticking by that story.
"It can switch big-time and that's what we've got to look at," said the two-time series champion. "We've got to make sure that we're consistent in the last three [races] and hopefully they can have a little bit of a blunder.
"I think between the two of us we've got cars in the Target team that can win all those last three races. That's the attitude. We have to go out there and try and dominate and hopefully I'll win another championship."
August, 21, 2009
08/21/09
8:12
PM ET
The Infineon Indy Grand Prix may prove to be the wild-card race of the three-man battle for the IndyCar Series championship. Scott Dixon, Ryan Briscoe and Dario Franchitti have all experienced heartbreak at the physically demanding California road course, and the last road racing event of the IndyCar season could make or break their title hopes.
A year ago heading to Sonoma, Dixon enjoyed a 78-point lead over Helio Castroneves but barely hung on over the final three races to secure his second IndyCar Series championship. HCN is 101 points back this year, but including Infineon, four races remain for him to make up that deficit.
Meanwhile, Dixon has his hands full with Briscoe, Castroneves' Penske Racing teammate, who stands only three points out of the championship lead. Within 20 points lies Dixon's 2007 championship sparring partner -- and current Target Chip Ganassi Racing teammate -- Franchitti, who probably has the most to gain or lose this weekend.
While Franchitti has been superb in 2009 on street courses, winning at Long Beach and Toronto, he has struggled to match his teammate on natural road courses.
"We just need to figure out these road courses with the Target team for my driving style and that will definitely give us a leg up, I think," Franchitti said. "Obviously Scott has it figured out but his driving style is almost 180 degrees from mine. Scott likes a bit of oversteer; he doesn't mind the back of the car sliding around quite a lot. The more oversteer, the better for him, I think.
"We have to start finishing in front of Ryan and Scott, otherwise it's getting more and more difficult every week."
Franchitti appeared to be headed to victory at Infineon in 2007, but was crashed back to third place by his then-teammate Marco Andretti. That handed the victory to a surprised Dixon.
But New Zealander Dixon and the Ganassi team took a conservative approach last year at Infineon and it bit them, as he finished the race in 12th place and lost almost half of his comfortable championship lead.
This year, he vows they will be racing to win instead of racing for points.
[+] Enlarge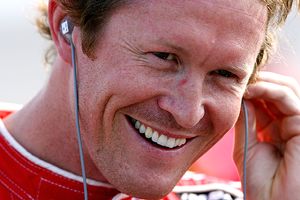 Darrell Ingham/Getty ImagesScott Dixon was not all smiles after Sonoma last season, when he and his team blew the car setup.
"It's going to come down to the wire," Dixon said. "Penske definitely aren't going to let up. My teammate Dario isn't going to let up either. He's in the same equipment, so that makes it even tougher. Whether we see a runaway start the next couple races, who knows? Penske is going to be extremely tough to beat at Sonoma."
Team Penske has dominated qualifying during the IndyCar Series' summer road racing swing and Briscoe probably rates as the outright favorite this weekend. Penske will again run three cars this weekend, and Will Power will be right at the front in the yellow No. 12 car.
Briscoe claimed his first IndyCar Series pole position at Sonoma in 2005 while driving for the Ganassi team and led 16 laps before crashing out while he and Castroneves were trying to lap Danica Patrick.
Last year at Infineon, Briscoe finished second to Castroneves in a Penske 1-2. The team will shoot for its first 1-2-3 finish since 1994 on Sunday.
"I've earned poles at both permanent road courses this season and finished second twice," said Briscoe. "Hopefully this weekend, we'll be able to move up just one finishing spot. The championship battle is coming down to the wire, so we have to make sure we maintain our focus from here on out."
Despite the addition of a mild push-to-pass system, on-track passing is virtually impossible for the IndyCars at Infineon. Qualifying position and race pit-stop strategy and execution are the keys to finishing well.
It promises to be an entertaining setup for the final three races of the season, all of which will be staged on the fast, intermediate ovals that generally produce the IndyCar Series' most competitive and thrilling racing. If Castroneves can prevail at Infineon while the championship leaders falter, the title chase will get even more exciting.
August, 2, 2009
08/02/09
7:46
PM ET
SPARTA, Ky. -- Maybe the Indy Racing League should shake things up a bit more often.
While implementing new aerodynamic options and introducing a mild push-to-pass system -- and doing so with a minimum of track time for the drivers to practice with it -- the IndyCar Series put on a race at Kentucky Speedway every bit on par with the best contests in the 14-year history of the league.
Sure, the evil Team Penske empire won again, this time with Ryan Briscoe behind the wheel. But to do it, they had to overcome a breakout performance from Vision Racing and Ed Carpenter, who came within 0.0162 seconds of stealing the show after driving the race of his life.
In a formula renowned for photo finishes, this one was the 11th closest in series history, not to mention the second fastest event ever in any form of American open-wheel circuit racing, with a 200.893 mph average.
"The old IRL is back on the superspeedways," declared third-place finisher Tony Kanaan.
Without question, this was the IndyCar Series' most entertaining race of the season, one that had the crowd, estimated at 48,000, on its feet for the last 10 laps as Briscoe and Carpenter ran side by side.
Both drivers had done a masterful job of saving their limited number of push-to-pass opportunities, yet ultimately, Briscoe was able to make the longer high line work as he edged Carpenter by about five feet at the line.
"I don't know if I was imagining that Ed Carpenter was getting wider and wider every lap," Briscoe said. (He wasn't imagining it.) "It looked like every lap I'd get the edge on him across the start/finish line, but it was getting harder and harder as Ed was getting wider and wider.
"Unbelievable," he added. "That was a fun race. There was a lot of racing out there and it was pretty intense."
Amen to that, after an IndyCar season that had degenerated into a series of follow-the-leader parades, apparently no matter what kind of racetrack.
There's no way of determining whether it was the 5-horsepower overtake option, the selection of seemingly insignificant aero mods, the recently graded surface of the 1.5-mile Kentucky oval, or even the fluky cancellation of Friday practice and qualifications after the track wouldn't dry out on a perfect, sunny day.
But the excitement returned to Indy car racing Saturday night.
"I hope the fans enjoyed it, because there were definitely some races this year where we didn't deliver the goods," Carpenter said.
[+] Enlarge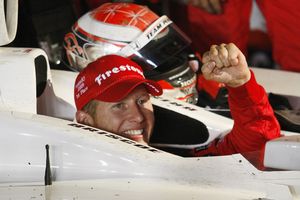 AP Photo/Ed ReinkeRyan Briscoe had to feel good about winning the closest race of the season.
Carpenter, the stepson of recently deposed Indy Racing League founder and Vision Racing co-owner Tony George, was a revelation in his Menards-sponsored car. One of the few drivers in the IndyCar Series who came through the oval short-track ranks was in his element as he led a career-high 34 laps.
After starting 14th based on entrant points, Carpenter moved up to fourth place by Lap 30, and press-box pundits figured he worked his way up there by burning through most of his 20 push-to-pass ration. But it turned out the bright yellow Vision car was simply hooked up.
"It's been a tough year, and I was hoping this was going to be a breakout race to try to get our season turned around," Carpenter said. "I was giving Ryan all I had, and the team did a great job in pits, keeping up with the Penske and Ganassi teams as it cycled through the stops under the green. I was trying to keep up my end of the bargain."
Carpenter and Briscoe ran the last 10 laps alongside each other, veering alarmingly close on occasion on the run out of Turn 4 to the line.
"It was fun on a mile-and-a-half to run that close to a Penske car," Carpenter said with grin. "We ran side-by-side for I don't know how many laps there at the end of the race. I actually used my last push-to-pass on the last lap, so I managed that fairly well. I was trying to run wide and make him go the long way around and just make it a little harder and he was trying to pinch me down. Neither of us were gonna lift. It was close."
Close, but no cigar. Still, Carpenter raved about the morale boost that he hopes the result will provide the Vision team.
"I've always known I can win one of these, and getting that close, now I absolutely, positively, know I can win one of these races," he said. "It's a little harder to swallow when you're that close. It's not every day that happens. That was definitely the most fun I've had in a long time. It's been a tough year for our team and a rough couple of months for our family.
"I think if we would have pushed each other any more, Tony [Kanaan] would have won," he added. "I'd rather finish second than crash someone trying to win a race. I tried to race Ryan as clean as possible. It doesn't do anybody any good to race somebody dirty."
Kanaan, who has suffered a series of crashes and a pair of pit-lane fires in 2009, was happy just to get his season back on track. But he was even more pleased that the IndyCar Series put on a good show.
"I think we were all concerned about the package," he said. "We worked with the league to have more downforce and with Honda to have push-to-pass. I still think we need a couple more changes to be the way it was in the past.
"But if we wanted a photo finish, we got it. We're moving in the right direction for sure on the superspeedways."
The win vaulted Briscoe into the IndyCar Series championship lead, 8 points ahead of defending series champion Scott Dixon (finished seventh at Kentucky) and 11 points up on Dixon's Ganassi Racing teammate Dario Franchitti, who was sixth Saturday night.
Five races remain in the 2009 campaign, beginning Sunday with the Honda 200 at Mid-Ohio Sports Car Course.
"This has been one of those years where no one can hang on to the points lead," Briscoe said. "So it's close. We're not going to get too content yet. I think we'll be strong at the upcoming road courses, but Dixon and Franchitti will be strong, too.
"We just have to keep finishing in front of those guys, keep our heads down, keep working hard and keep pushing forward."
Hopefully with some exciting racing, similar to what was on display Saturday night at Kentucky, along the way.
July, 12, 2009
07/12/09
5:33
PM ET
TORONTO -- The IndyCar Series' Summer of Irony continued, as the Toronto street course produced arguably the most exciting race of the season.
It's a sign of the times that most folks involved in a series created to preserve oval competition were looking forward to having a street race to spice up the show.
Dario Franchitti won the revived Honda Indy Toronto to re-take the IndyCar Series championship lead after an unpredictable afternoon of slam-bang racing in which Helio Castroneves temporarily turned into Canada's Public Enemy No. 1.
Team Penske's Ryan Briscoe and Will Power overcame first-lap delays to fill out the podium and a pair of Canadians starred, but ultimately didn't figure in the final reckoning. Alex Tagliani led 21 laps, but luck was not on his side in the end, while local favorite Paul Tracy was at the center of the excitement before he and Castroneves controversially crashed out on the 65th of 85 laps.
Tracy made a series of passes under braking for the Turn 3 hairpin at the end of the back straight, but Castroneves tried to maintain second place in the run out of the corner and stuck Tracy's KV Racing entry into the wall.
"I don't think he did it intentionally," Tracy said. "I think we got screwed in the pits and I was trying to keep up with Dario. We showed we can run with those guys. It's a sad way to end the day, but I guess that's why they call me 'The Thrill,' right?"
The Canadian crowd heartily booed Castroneves when he arrived back at the pits to the horror of team boss Roger Penske.
"[Tracy] would be the last guy I'd take out in Canada, obviously," Castroneves said. "I still love Canada, don't get me wrong. It's the way it is. People love you and people hate you, especially after what happened in 2002 [when Castroneves edged Tracy in the disputed finish of the Indianapolis 500]."
Franchitti was already in the pits when the yellow flag waved for Ed Carpenter's Lap 59 spin. Tagliani was set to stop a lap later, and was the latest driver to be adversely affected by the IndyCar Series' pit closure rule. The native of Quebec, who is running a part-time schedule for Conquest Racing, finished a disappointed ninth.
"For a part-time team it's very good," Tagliani said. "We showed we can dominate, and I thought we had it in our pocket today."
After winning the Toronto race ten years ago, when it was one of the top events in the CART-sanctioned IndyCar Series, Franchitti turned in a textbook performance to claim his third win of the 2009 season.
Castroneves' DNF turned the IndyCar championship into a three-man contest, with Franchitti, Scott Dixon and Briscoe separated by just 13 points.
Dixon finished fourth Sunday at Toronto behind the Penske cars driven by Briscoe and Power, both of which were forced to pit after suffering punctured tires on the opening lap.
The design of the Toronto street course allowed them to race back into contention.
[+] Enlarge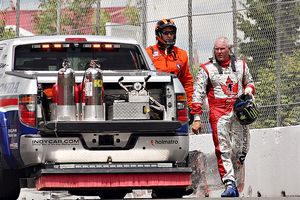 AP Photo/Graham JardinePaul Tracy had his day end early with a walk to the safety truck after his car made contact with Helio Castroneves'.
"It's one of the few street courses I've ever been at where you can actually pass cars and go racing, so it was fun," Briscoe observed.
"That was what I call a race," Power added. "I passed a lot of cars and had a lot of fun.
"Having a really long straight going into a hairpin type of turn with heaps of room, that's what you need at every track. If you're fast, you can get through the field without worrying about using fuel."
Even if Castroneves can't pull himself back into championship contention, it should be a good fight between Franchitti, Dixon and Briscoe.
Briscoe hasn't won since the season opener, but his series of second place finishes has left him in a solid position to make a run at the title.
"I'm trying to win, don't worry," he said. "In the last two races I think I've gained 10 or 13 points to the championship lead, so it's not all bad. I'm doing my best and hopefully we'll get some wins."
In Franchitti's last championship run (2007, when he drove for Andretti Green Racing), he built a big points lead and held on down the stretch. With seven races left and just a three-point lead over his teammate, he won't have that luxury this year.
"Everyone makes mistakes, and everybody also gets caught up in other people's problems," Franchitti said. "Last week [at Watkins Glen] I got caught in somebody else's spin, and it destroyed my race. It's all about how much risk you want to take. There were a couple times today where I felt if I took a risk I would end up with a bent race car.
"We've got to keep finishing races. One week Scott's going to be better than me or I'll be better than him, but we'll go out and race each other and have fun."
July, 4, 2009
07/04/09
7:05
PM ET
WATKINS GLEN, N.Y. -- The overall vibe is certainly interesting at Watkins Glen International for the Camping World GP at the Glen.
Starting with the reason we're all here: The drivers, with rare exception, are delighted to be back on a road course after a series of six consecutive ovals. For someone like Justin Wilson, who qualified on the front row for Dale Coyne Racing after struggling through the oval stretch, never finishing better than 14th, it was pretty much a new lease on life.
For the second time this year, Indy car racing's favorite underdog team went head to head against the might of the traditional giants -- Team Penske and Target Chip Ganassi Racing -- and almost pulled off a major upset. Penske's Ryan Briscoe ultimately claimed pole position, but Wilson outqualified Ganassi's Scott Dixon (third) and Dario Franchitti, who will start sixth after crashing during the Firestone Fast Six session.
Wilson also has the potential advantage of two sticker sets of the red-sidewall alternate Firestone tires for Sunday's 60-lap race (1 p.m. ET, ABC).
The drivers raved about the grip of the alternate tires at Watkins Glen. Briscoe set a track record of 1 minute, 28.597 seconds using the "reds." It's the Australian driver's second consecutive pole at The Glen.
"The Firestone red tires made things tricky with strategy during qualifying, but for me, the reds were a lot of fun today," observed Briscoe.
Mario Moraes (KV Racing) and Graham Rahal (Newman/Haas/Lanigan Racing) also infiltrated the top six, while Helio Castroneves failed to advance out of his group qualifying session and will start 14th.
Andretti Green Racing was down the order again, led by Danica Patrick in eighth place. But rising American star JR Hildebrand gave the beleaguered team something to celebrate by winning the Firestone Indy Lights race.
The mood among the team owners was uncertain. They met Saturday evening in the Watkins Glen paddock for an informal briefing from Indy Racing League management in the wake of Tony George's departure as IRL CEO.
"Almost nothing has changed" was the message communicated by commercial president Terry Angstadt to the owners, and again a few minutes later to the media.
"We received direct assurance from the board that they are pretty pleased with the direction and the management of the company," Angstadt said. "We have taken on the challenge started three years ago to make this a very viable and sustainable entity on its own and we are well on the way to achieving that. We are going to exceed the plan that was signed off on by our parent organization, and I think you'll see a continually improving financial picture from this year forward.
"I want to erase from anyone's minds concerns about not having an Indy Racing League. That's what we do."
If the Watkins Glen crowd knew about the management shake-up at the IRL, they didn't seem to care. There appear to be more campers on site than a year ago, possibly due to unseasonably cool weather and a more fan-friendly 1:30 race starting time on Sunday.
George appeared to be in escapist mode at The Glen. Vision Racing announced that the IRL founder will not address the media in the near future, and instead plans to issue a statement on the Vision Web site later next week.
At the track, George traded in his trademark Segway in favor of a shiny black scooter, which he rode briskly through the paddock.
IRL racing division president Brian Barnhart talked about George's surprise departure as the figurehead of the league he founded.
"I guess I am wishing the best for Tony," Barnhart said. "He met with Terry and Charlie [Morgan, IMS Productions president] and I on Wednesday night before we went to Richmond and left us with good indications.
"The best thing that I got out of it was that Tony had a good peace of mind. He seemed very comfortable with his decisions and very excited about the challenge he faces with Vision Racing.
"Tony has been in this position for nearly 20 years," Barnhart added. "I think he's done a great job and enjoyed it to that point. While he's no longer CEO in the positions that he held before, the fact that he signed on to be a steward of open-wheel racing in the future is a lifetime commitment for him. It's going to be ongoing, no doubt."
June, 24, 2009
06/24/09
4:39
PM ET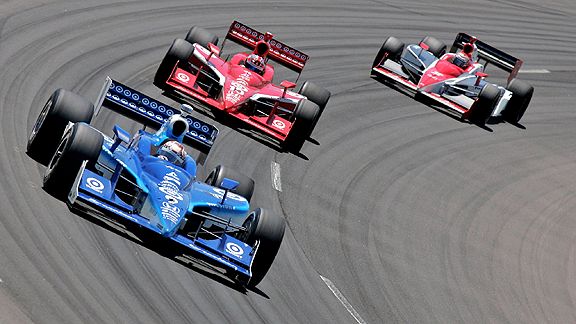 Guy Rhodes/US PresswireThe close-quarters action IndyCar is famous for is happening more often these days on the short tracks in the series.
With races at Milwaukee, Iowa and Richmond occurring within the space of four weeks, this is definitely the "short track" portion of the IndyCar Series schedule.
So far in 2009, the races at Milwaukee and Iowa featured better racing than superspeedways like Kansas and Texas that used to be the trademark of the Indy Racing League. Now the IndyCar Series heads to Richmond International Raceway which, at 0.75 miles in length, is the shortest track in the IndyCar Series.
I'm increasingly becoming convinced that the short ovals are the best places to witness an IndyCar Series race in person. Obviously the view of the track is unbeatable, which makes it easy to follow the leaders and what is happening in the race.
The short ovals are also inspiring for the drivers. Road racing, with its variety of corners and terrain changes, may require more overt skill than oval racing. But a short oval requires a driver -- and his team -- to operate at their peak in terms of race craft. Drivers need to make split-second reactions to traffic, and teams need to be nearly perfect in determining their pit stop strategy -- especially in a race with long periods of green flag racing, like the Iowa Corn 250.
Dario Franchitti's Target Chip Ganassi Racing pit crew gained him positions during a round of yellow-flag pit stops in the Iowa race, and their perfectly timed and executed final stop under green-flag conditions vaulted Franchitti ahead of Team Penske's Ryan Briscoe and into the lead. From there, Dario cut through traffic with precision and won by a comfortable five seconds.
"I guess I'm lucky enough to be in good cars, and I've got kind of maybe a different way of setting the car up here [in Iowa] than normal," Franchitti said. "It seems to work very well, and that was the case again. With the team having fast cars and great pit stops, it's a team effort. You cannot do it on your own."
The IndyCars lapped Iowa Speedway in less than 18 seconds, and lap times at the even shorter Richmond oval are two seconds faster. Seemingly always turning left, the bullrings place enormous physical demands on the drivers.
Even after the Victory Lane celebrations, Franchitti had to catch his breath to analyze his latest IndyCar Series triumph.
"It's all a blur at the moment," he said. "It was a very, very physical race with the massive G loads we pull here, and the heat or the humidity. I'm pretty tired, actually. I was a little bit dizzy when I got out of the car, and it's been a while since I felt that."
With a third-place finish at Milwaukee and a win at Iowa, Franchitti will head to Richmond as one of a trio of clear favorites. His teammate Scott Dixon was placed first and fifth in those races, while Penske's Briscoe came second at both venues.
Franchitti, who led 242 of 250 laps to triumph at Richmond in 2007, expects a close event.
"Milwaukee was a good race," he said. "Texas wasn't up to the standard we definitely expect from that place. But today I thought [Iowa] was a good race. We got a good green-flag run at the end and the traffic was very tough. That kind of dictated the race a little bit, as it did in Milwaukee.
"I think one of the keys is to make sure we keep the track swept during the yellows to make sure we have a two-lane track," he added. "[At Iowa] towards the end it kind of went almost to one lane or one-and-a-half lanes. When you went down underneath someone it made the exit pretty interesting."