Carlos Huertas takes surprise Houston win
June, 28, 2014
06/28/14
7:19
PM ET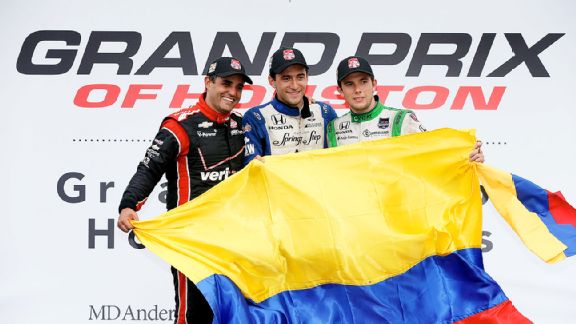 Scott Halleran/Getty ImagesThe all-Colombia podium: winner Carlos Huertas, center, Juan Pablo Montoya and Carlos Munoz.
HOUSTON -- The only predictable thing about the first race of the Shell-Pennzoil Grand Prix of Houston weekend was A.J. Foyt swearing on live television.
I didn't check the Las Vegas odds on rookie Carlos Huertas claiming his first Verizon IndyCar Series victory before the race, but the 23-year-old Colombian surely went off at more than 100 to 1. Yet Huertas took the checkered flag first Saturday afternoon, leading his countryman and hero Juan Pablo Montoya and Carlos Munoz across the line in a 1-2-3 finish for Colombia as rain played havoc with the usual IndyCar front-runners.
More than half the entries in the 23-car field were involved in some kind of contact on the wet track as what was supposed to be a 90-lap race was quickly changed to a timed race of 1 hour and 50 minutes. Dale Coyne Racing played the strategy perfectly, timing Huertas' final pit stop to perfection to give him track position and enough fuel to make the moving target of the finish.
Huertas eventually completed 80 laps for the win, stretching his final tank of fuel over 39 of those laps.
It almost ended up a DCR 1-2, because Huertas' teammate, Justin Wilson, led until he had to pit for a splash of fuel with less than five minutes remaining.
"Timed races are tricky," observed winning team owner Dale Coyne. "People sometimes forget how to run timed races, and we did it well.
[+] Enlarge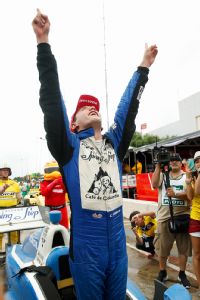 Scott Halleran/Getty ImagesIndyCar Series rookie Carlos Huertas after his Houston win: "The team called it perfectly with the fuel, and it's a great day."
"The kid has been improving all year," he added. "We showed when we put a guy in front, he can stay in front."
Did they ever. Any one of a dozen drivers could honestly say he had a shot at the victory Saturday, but Huertas, making just his ninth Indy car start, was the man who triumphed.
He's a product of the European open-wheel ladder system, a former race winner in Formula 3 and Formula Renault 3.5 -- and now IndyCar, as surely the most unexpected victor in the series in at least 10 years.
"For sure, this was always possible," Huertas said in a postrace television interview. "The team did a great job with the strategy. These races are so long here, you always have a chance to win if you do the right things at the right time.
"Today was really tough; I was really struggling," he added. "I had no pace in the first half of the race. But I reminded myself just to stay calm and do what you have to do and I did that. The team called it perfectly with the fuel, and it's a great day."
Montoya looked in position to score the first win of his Indy car comeback, but he didn't have the pace to beat his young countryman.
"I really thought I was only racing Tony [Kanaan] for the win," Montoya said. "There were a couple times I thought I could have passed Huertas, but I decided to save the car and not take chances. And here we are second and he took the win.
"I never thought he could make it to the end and I was only worried about protecting from behind," Montoya added. "They said, 'You better think about passing Huertas,' but by then, the tires were gone."
This race was crazy enough that championship leader Will Power lost just six points of his series lead despite missing the strategy and spinning out on his way to 14th place. His closest challenger, Team Penske teammate Helio Castroneves, finished ninth and is now 33 points back at the halfway point of the season.
Pole man Simon Pagenaud lost six laps to the leaders when he got swept into three-time series champion Scott Dixon's crash; early leader Takuma Sato was punted off by rookie Mikhail Aleshin; and Graham Rahal and Kanaan looked as though they would be in the fight for the win at the end after Wilson peeled off from the lead in the dying minutes.
But Ryan Briscoe nudged Sebastian Saavedra into a spin, and after a brief full-course caution to restart the KVSH Racing car, fourth-placed Rahal punted third-place runner Kanaan into the wall on the approach to the green flag for what would have been a one-lap sprint to the finish.
After Kanaan's crash, Rahal and Briscoe finished third and fifth on the track under caution, but were handed 30-second time penalties for avoidable contact, dropping them to 11th and 12th place, respectively.
Rahal had the fastest car on the track in the closing laps, but his error on the final restart proved costly.
"Everybody saw there was nobody quicker than us on that racetrack," Rahal said. "I think if it would have ended under green, I would have won that race for sure, and I feel confident saying that. I was getting by a lot of those guys in a hurry. Shoulda, coulda, woulda -- I made a mistake."
Kanaan looked to be on the verge of tears after missing out on a podium finish or a potential victory.
"I gotta be professional, and I'm representing a team and sponsors so I can't do what I really want to do," he said. "What a shame. We fought all the way, all day long. To be taken out like that is stupid. He came to apologize but that still doesn't take the frustration out of me."
The good news for Kanaan and all the other drivers thinking that Saturday's race was one that got away from them: They get to do the same thing all over again on Sunday afternoon.