Bourdais, Conway take Toronto wins
July, 20, 2014
07/20/14
8:43
PM ET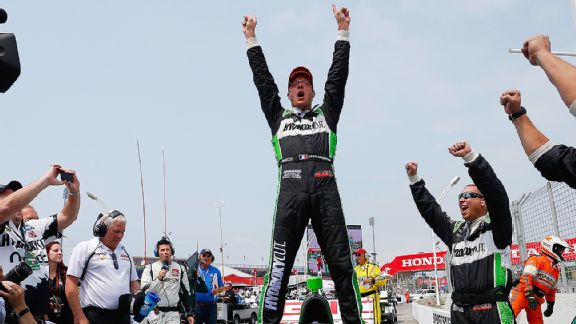 Chris Trotman/Getty ImagesSebastian Bourdais was excited to finally break a winless streak that went back to 2007.
TORONTO -- Rain pushed Race 1 of the Honda Indy Toronto "2 in TO" doubleheader back from Saturday afternoon to Sunday morning, and it returned later Sunday in the afternoon to significantly shake up the second Verizon IndyCar Series contest of the day.
A very long day of racing was prolonged by multi-car accidents that blocked the narrow 1.755-mile street course at the start of Race 1 and the end of Race 2, the latter prompting INDYCAR officials to red-flag the event with 4-½ minutes remaining.
Sebastien Bourdais' victory in the dry in Race 1 was a straightforward affair, with the Frenchman leading 58 of the 65 laps to secure his first Indy car victory since November 2007, when he won the swansong race of a five-year tenure in the Champ Car-sanctioned series.
Meanwhile, Race 2 started dry, but a midrace shower caused a series of incidents that brought the action to an end after a predetermined 80-minute time limit, rather than the scheduled 65 laps. It also introduced the element of tire strategy, as drivers and teams tried to determine the perfect time to switch from Firestone rain tires to slicks on a drying track.
[+] Enlarge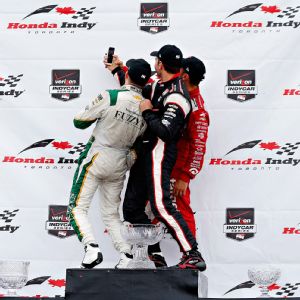 Chris Trotman/Getty ImagesRace 2 winner Mike Conway, from left, third-place Will Power and second-place Helio Castroneves had time for a selfie on the podium.
It was Mike Conway who called it best, calling for dry tires two laps earlier than the majority of the field. The gutsy move earned Conway and Ed Carpenter Racing their second race win of the year, matching their victorious performance at the Long Beach Grand Prix in April.
Conway had just returned to the track on slicks when Sebastian Saavedra nosed into the Turn 3 tire wall, prompting INDYCAR to throw a late-race red flag for the second time in less than a month. The Englishman then had to sweat out a restart and three more laps as he held off Tony Kanaan for his fourth career IndyCar race win.
"That's Mike," team owner Carpenter said in a television interview, giving Conway credit for making the call for slicks.
"He was out there on the track and said he was ready for dries. We thought it was a bit early, but this one is all down to him."
Despite the victory, Carpenter was not totally pleased with INDYCAR's decision to throw the red flag, a move similar to one made in Houston three weeks ago to allow the race to end under a green flag.
"It worked out for us today, but the question is how many times are you going to go red?" he said. "As competitors, we don't always know what's going on out there."
Conway said the call for dry tires was, well, cut and dried.
"It was really difficult conditions in the wet and we were kind of struggling a bit," he said. "As soon as I saw part of a dry line, I knew it was time to come in and it was a great call.
"From there we just took off and kind of controlled the race," he added. "I was kind of nervous about the red flag but we had Justin behind us [Wilson, one of the last drivers on rain tires] and we were able to close it out."
Kanaan enjoyed his best weekend of the 2014 season, finishing third and second in the two races. He passed Will Power for second with two laps to go and crossed the line 3.542 seconds behind Conway.
Power, meanwhile, executed some nifty damage control by finishing third in Race 2 after a ninth-place finish in Race 1 dropped him 30 points behind IndyCar Series championship leader (and Team Penske teammate) Helio Castroneves.
Castroneves increased his points lead from 9 to 30 by finishing second to Bourdais in Race 1, but he got dropped from eighth to 12th place in the frenetic final three laps after starting Race 2 from pole position.
It was a tough afternoon for the Brazilian, who looked in control of the proceedings until the rain jumbled things up for everyone.
Power's podium finish in Race 2 pulled him back to within 13 points of Castroneves with four races remaining in the season. The three other main championship contenders all suffered through a dismal afternoon in Race 2, with Ryan Hunter-Reay (-70), Simon Pagenaud (-71) and Juan Pablo Montoya (-92) all dropping points to Castroneves.
"I just wasn't willing after yesterday [when Power was lucky the race was delayed to Sunday after he crashed before the green flag] to take a big risk and get caught out again," Power said. "Typical IndyCar race. It throws everything at you and you just have to survive.
"Anytime you gain in the points it's a great day, and the championship is going to be a battle to the end."