Some friendly advice for Castroneves
June, 15, 2009
06/15/09
3:41
PM ET
Maybe I just got out of the wrong side of the bed, but I feel a bit grumpy today. So forgive me if I come off as a curmudgeon with a few observations …
• Is anyone else out there tired of Helio Castroneves' over-the-top -- some might say forced or fake -- enthusiasm?
I enjoy the fence climbing. Back in 2000 when Helio did it for the first time, it was an original and spontaneous victory celebration, similar to the way Alex Zanardi pioneered the art of spinning post-win donuts. But it's kind of like how NFL players dump a cooler of Gatorade on their coach after a big triumph. It's gotten a bit old and tired and repetitive, especially now that the less-than-graceful Tony Stewart copied the act.
[+] Enlarge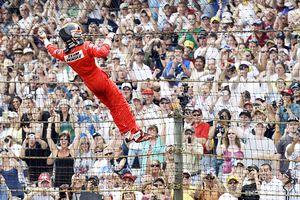 AP Photo/Darron CummingsHelio Castroneves last climbed the fence after winning the 2009 Indianapolis 500 on May 24.
The fence climb is obviously still popular with the fans, but maybe it's time for Helio to come up with some new and different material to add some sizzle to his existing routine.
I've known HCN since 1997, back when he was driving in the original Indy Lights series and was known as Helio Castro-Neves (he dropped the hyphen midway through the 2000 season). His exuberant personality hasn't changed since then, and people who are close to him say that's the way he has always been.
In fact, a few years ago, Helio's longtime friend Tony Kanaan jokingly (I think) even listed Castroneves as his "Favorite Actor" in a press-kit bio.
But that's no excuse for the way Helio makes the EXACT same speech after every win -- bouncing off the walls like a kid who downed a 12-pack of Red Bull, spouting clichés like "pedal to the metal," "drove it like I stole it" and "keep working hard." You don't have to attend a press conference to obtain postrace quotes from Castroneves because they never change.
• Speaking of postrace quotes, I had to laugh out loud when I got Andretti Green Racing's press release after the recent IndyCar Series race at Texas Motor Speedway. Marco Andretti was highly critical of the way his teammate Danica Patrick defended her position late in the contest, costing the clearly much-faster Andretti a chance to go after the leaders and potentially compete for a podium finish or the win.
In his televised postrace remarks, an obviously unhappy Marco lit up Danica.
"The toughest [person] to pass was my teammate there at the end," Marco said. "I don't mind racing wheel-to-wheel, but that got a little crazy out there. … I told her we're going to have to talk. I'm a little bit disappointed; I think three out of the four of us get the camaraderie of Andretti Green Racing so we're going to have to have a sit-down."
Here's the AGR version: "I (sic) happy to get the No. 26 car a top-5 finish -- we have been working really hard this season and our efforts finally paid off for the Venom (sic). We struggled on the restarts but seemed to get stronger on the longer stints, but unfortunately we were fighting traffic at the end and didn't have enough time to get a higher finish."
The quotes AGR attributed to Patrick and Tony Kanaan were similarly sanitized and bore little or no resemblance to what they actually said on television or to reporters on hand.
I was an Indy car team PR representative with PacWest Racing for a couple of years in the late '90s, and I always thought my main role was to help the press get what they need. Part of that responsibility is to portray the team in the best possible light, but not to the point where you are attempting to deceive the media or distort the truth.
There has always been an uneasy relationship between public relations representatives and members of the media. People in the press often refer to PR as the "Dark Side" -- and vice versa; Andretti Green's clumsy attempt to sweep a legitimate story under the rug (AGR Drivers Fighting Again!) is a perfect example of why.
One top IndyCar team has not issued its postrace quotes on the actual day of the event yet this year. After a race, I head to the pit lane and try to talk to as many people as I can, but it's not always possible to get to everyone you need to speak to. It's pretty difficult to write a deadline story on Saturday night or Sunday evening when you don't get quotes until 1 p.m. Monday.
But the same PR rep guards his drivers with the ferocity of a pit bull and gets very upset if you contact them directly, even if you have maintained a professional relationship with them over the last 10 to 12 years.
That's not to tar and feather the PR effort of every team; the IndyCar Series itself does a nice job of distributing information in a timely fashion, and Newman/Haas/Lanigan Racing, KV Racing and Panther Racing come to mind as teams that go the extra mile to make sure journalists get what they need -- even if they are lowly print or Internet writers in a video-dominated world.
It would just be nice if some of the rest would stop treating the media with such contempt and help us do our jobs. We need to cooperate, not compete.