Is Iowa ready to be a two-groove track?
June, 19, 2009
06/19/09
6:28
PM ET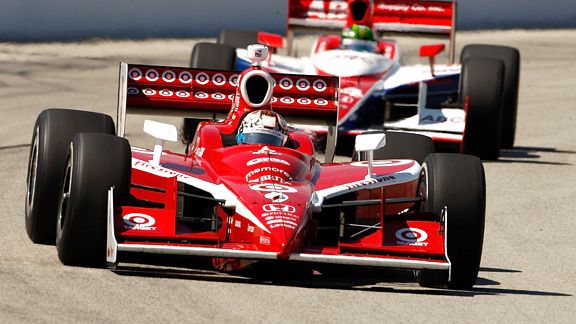 Streeter Lecka/Getty ImagesScott Dixon took a late lead and made it stick at Milwaukee. He's a favorite at Iowa on Sunday.
If the soul of stock car racing is in the Southeast, then the heart of Indy car racing is the Midwest.
Maybe that's part of why the aptly named Iowa Corn 250 Presented by Pioneer has caught on so quickly in the Hawkeye State. Modern Indy cars are about as different as a race car can be compared to the brutal sprint cars that compete half an hour away in the famous annual Knoxville Nationals. But that hasn't stopped local fans from filling Iowa Speedway to its capacity of 40,000 to see those funny rear-engine machines for the last couple of years, a trend expected to continue for Sunday's 250-lap contest (1 p.m. ET, ABC).
An audience of 40,000 certainly looks a lot better on television and creates a better vibe in person when every seat in the house is occupied, rather then when a 75,000-seat venue is half-full. And the Iowa fans go above and beyond to ensure that the IndyCar community receives a warm welcome.
The racing at Iowa Speedway was considerably better in 2008 than it was for the inaugural event a year earlier, when there was no passing to speak of and enough crashes on restarts to classify as comical.
Modifications to the aerodynamic rules and tires created more of a second groove last year, and it will be interesting to see whether the track, with an additional year of seasoning, will finally develop into a true two-groove track.
That was the intention when Rusty Wallace & Co. designed and built Iowa Speedway. It was created with the desire to create a turbocharged version of Richmond International Raceway, supersized from 3/4 to 7/8 of a mile.
The intentions were good, but in the first couple of years, Iowa Speedway was more reminiscent of the short-lived Chicago Motor Speedway, the 1-mile oval that Chip Gananssi built on the grounds of Sportsman's Park that was intended to be an upgrade on the venerable Milwaukee Mile.
CART raced at CMS for three years, and the shows were pretty dreadful, mainly because of the unsuitable low-downforce aero package that was mandated. The IndyCars, with their huge wings and considerably less horsepower, don't have that problem at Iowa; in fact, the issue is exactly the opposite, because the cars have so much grip that the drivers are easily able to negotiate the 0.875-mile bullring flat out.
A big factor in what produces more competitive racing at Milwaukee is that the drivers actually have to drive the cars, lifting for Turns 1 and 3 and setting the car up. At Iowa, and to a lesser extent at Richmond, where the IndyCars will race under the lights on June 27, the problem is that the drivers are flat on the throttle most -- if not all -- of the time.
The Milwaukee race last month produced five lead changes between four drivers, and the result was in question until Scott Dixon took the lead in traffic with 25 laps to go and drove away to a relatively uncontested victory. It was also the most exciting IndyCar oval race of the season so far after surprisingly processional affairs at Kansas, Indianapolis and Texas.
Target Chip Ganasi Racing's Dixon is a former pole winner at Iowa, and I wouldn't be surprised to see him score his third win of the season this weekend. Team Penske's Helio Castroneves is having a charmed season and will also be a front-runner, as will their teammates, Dario Franchitti (TCGR) and Ryan Briscoe (Penske). Dan Wheldon, who switched from Ganassi to Panther Racing this year, is the defending champion; Franchitti won the inaugural race driving for Andretti Green Racing.
It will be interesting to watch the Andretti Green Racing camp this week, to see whether Tony Kanaan picks up the pace in general, whether Danica Patrick and Marco Andretti are getting along, and whether Hideki Mutoh can match the career-best second-place finish he achieved at Iowa last year.
I have a hunch that Graham Rahal of Newman/Haas/Lanigan Racing will also run strongly, and it can only be a matter of time before this talented 20-year-old is mentioned in the same breath as the Penske and Ganassi drivers as a favorite every weekend. The kid is that good.