Franchitti toughest on Toronto streets
July, 12, 2009
07/12/09
5:33
PM ET
TORONTO -- The IndyCar Series' Summer of Irony continued, as the Toronto street course produced arguably the most exciting race of the season.
It's a sign of the times that most folks involved in a series created to preserve oval competition were looking forward to having a street race to spice up the show.
Dario Franchitti won the revived Honda Indy Toronto to re-take the IndyCar Series championship lead after an unpredictable afternoon of slam-bang racing in which Helio Castroneves temporarily turned into Canada's Public Enemy No. 1.
Team Penske's Ryan Briscoe and Will Power overcame first-lap delays to fill out the podium and a pair of Canadians starred, but ultimately didn't figure in the final reckoning. Alex Tagliani led 21 laps, but luck was not on his side in the end, while local favorite Paul Tracy was at the center of the excitement before he and Castroneves controversially crashed out on the 65th of 85 laps.
Tracy made a series of passes under braking for the Turn 3 hairpin at the end of the back straight, but Castroneves tried to maintain second place in the run out of the corner and stuck Tracy's KV Racing entry into the wall.
"I don't think he did it intentionally," Tracy said. "I think we got screwed in the pits and I was trying to keep up with Dario. We showed we can run with those guys. It's a sad way to end the day, but I guess that's why they call me 'The Thrill,' right?"
The Canadian crowd heartily booed Castroneves when he arrived back at the pits to the horror of team boss Roger Penske.
"[Tracy] would be the last guy I'd take out in Canada, obviously," Castroneves said. "I still love Canada, don't get me wrong. It's the way it is. People love you and people hate you, especially after what happened in 2002 [when Castroneves edged Tracy in the disputed finish of the Indianapolis 500]."
Franchitti was already in the pits when the yellow flag waved for Ed Carpenter's Lap 59 spin. Tagliani was set to stop a lap later, and was the latest driver to be adversely affected by the IndyCar Series' pit closure rule. The native of Quebec, who is running a part-time schedule for Conquest Racing, finished a disappointed ninth.
"For a part-time team it's very good," Tagliani said. "We showed we can dominate, and I thought we had it in our pocket today."
After winning the Toronto race ten years ago, when it was one of the top events in the CART-sanctioned IndyCar Series, Franchitti turned in a textbook performance to claim his third win of the 2009 season.
Castroneves' DNF turned the IndyCar championship into a three-man contest, with Franchitti, Scott Dixon and Briscoe separated by just 13 points.
Dixon finished fourth Sunday at Toronto behind the Penske cars driven by Briscoe and Power, both of which were forced to pit after suffering punctured tires on the opening lap.
The design of the Toronto street course allowed them to race back into contention.
[+] Enlarge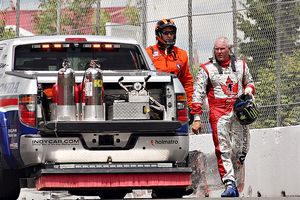 AP Photo/Graham JardinePaul Tracy had his day end early with a walk to the safety truck after his car made contact with Helio Castroneves'.
"It's one of the few street courses I've ever been at where you can actually pass cars and go racing, so it was fun," Briscoe observed.
"That was what I call a race," Power added. "I passed a lot of cars and had a lot of fun.
"Having a really long straight going into a hairpin type of turn with heaps of room, that's what you need at every track. If you're fast, you can get through the field without worrying about using fuel."
Even if Castroneves can't pull himself back into championship contention, it should be a good fight between Franchitti, Dixon and Briscoe.
Briscoe hasn't won since the season opener, but his series of second place finishes has left him in a solid position to make a run at the title.
"I'm trying to win, don't worry," he said. "In the last two races I think I've gained 10 or 13 points to the championship lead, so it's not all bad. I'm doing my best and hopefully we'll get some wins."
In Franchitti's last championship run (2007, when he drove for Andretti Green Racing), he built a big points lead and held on down the stretch. With seven races left and just a three-point lead over his teammate, he won't have that luxury this year.
"Everyone makes mistakes, and everybody also gets caught up in other people's problems," Franchitti said. "Last week [at Watkins Glen] I got caught in somebody else's spin, and it destroyed my race. It's all about how much risk you want to take. There were a couple times today where I felt if I took a risk I would end up with a bent race car.
"We've got to keep finishing races. One week Scott's going to be better than me or I'll be better than him, but we'll go out and race each other and have fun."