Bourdais' F1 ouster another punch to U.S. gut
July, 16, 2009
07/16/09
7:56
PM ET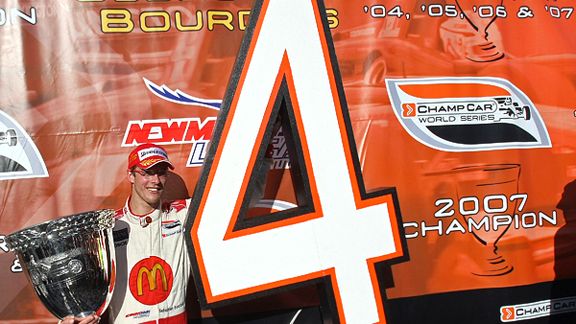 Torsten Blackwood/Getty ImagesSebastien Bourdais was on top of his world as recently as 2007.
Confirmation that Sebastien Bourdais has been dropped midseason by the Scuderia Toro Rosso Formula One team is another punch in the gut for aficionados of American open-wheel racing.
The latest failure of a star from the American scene to consistently produce in the harsher environment of F1 destroys what little remaining credibility U.S. open-wheel racing had left on the worldwide stage.
It's not a glorious list. Michael Andretti, Jacques Villeneuve, Alex Zanardi, Juan Pablo Montoya, Cristiano da Matta and now Bourdais all arguably underachieved in F1 given the championship-winning form they displayed in America.
"In Sebastien's second year with us, the partnership has not met our expectations and therefore we have decided to replace him as from the next round of the world championship, the Hungarian Grand Prix," stated Toro Rosso team director Franz Tost.
The 30-year-old Bourdais is likely to be replaced by Jaime Alguersuari, a Spaniard who at age 19 would become the youngest driver to start an F1 Grand Prix.
Bourdais was a hot prospect coming up through the European ranks, winning the 2002 FIA Formula 3000 championship. But early in his career, he got into a dispute with the Renault F1 team and its autocratic boss, Flavio Briatore. That negated the most logical destination in F1 for the native of Le Mans, France.
Instead, Bourdais came to America for what turned out to be a remarkably successful five-year run in the CART and Champ Car series. He claimed pole position for his first two CART events, won seven races as a rookie and then claimed a record four consecutive series championships.
Of course it's no secret that the competition Bourdais faced in CART and Champ Car from 2003 to '07 hardly resembled the fields from Indy car racing's best years in the modern era in the 1980s and '90s. But the man who became known to U.S. fans as "SeaBass" was so superior to his rivals that most observers gave him a decent shot at succeeding in F1, even with the small Toro Rosso outfit.
Instead, Toro Rosso produced a surprisingly effective car that allowed Sebastian Vettel to score the team's first Grand Prix victory. Although Bourdais had the bad luck to be teamed with the man assumed to be F1's next major star, he looked good on occasion and did well enough to be retained for a second season.
But this year has been a disaster for Bourdais. He was outqualified seven times in nine races by his lightly regarded rookie teammate, Sebastien Buemi, and he has generally looked ill at ease in the redesigned 2009 Toro Rosso car. That's in stark contrast to the often-brilliant form he's displayed during his rare outings in Peugeot sports cars, including back-to-back second-place finishes the last two years in his hometown race, the 24 Hours of Le Mans.
One has to wonder why this disturbing trend of U.S. racing stars flopping in F1 continues, and the prospect of a current IndyCar Series star attracting any kind of attention from the F1 community is remote at best. Marco Andretti, Graham Rahal and even Danica Patrick may have dreamed of racing F1 when they were growing up, but now more than ever, no matter what their nationality, the odds of products of the American scene making it in Europe are slimmer than ever.
In the 1990s, when a driver made the transition from CART to F1, he was moving to a much lighter, more nimble car, albeit with considerably less horsepower. Since then, the differences between an F1 machine and an IRL car have grown. F1 cars are now more powerful than the cars that race in the IndyCar Series, and as F1 cars got far more technologically advanced, IRL cars regressed to a level of technology from almost 20 years ago.
A number of the failed CART drivers, including Villeneuve and Montoya, complained about the engineering mentality in F1. They claimed that instead of a team trying to engineer a car to suit a driver's style, the team insisted on setting up the car and forcing the driver to adapt to that setup. More than ever that's the F1 M.O., and coming from a close-knit team like Newman/Haas/Lanigan Racing where the car setup was developed around him, Bourdais must have found this contrasting approach incredibly difficult to accept.
Inevitably there will soon be talk of Bourdais returning to America to race in the IndyCar Series, but I think it's unlikely. For one thing, he was always quite outspoken about his dislike of oval racing and its inherent dangers. And who would sign him? The only logical destination is Andretti Green Racing, which is in desperate need of a fresh approach, starting with a shakeup in its driver lineup.
A better fit might be NASCAR. Bourdais won a round of the International Race of Champions a few years ago, prompting Mark Martin to make some very complimentary remarks.
Besides, doesn't NASCAR need to add a Frenchman to bring some elements of the movie "Talladega Nights" into real life?