New engines, chassis, may wait until 2012
July, 22, 2009
07/22/09
4:56
PM ET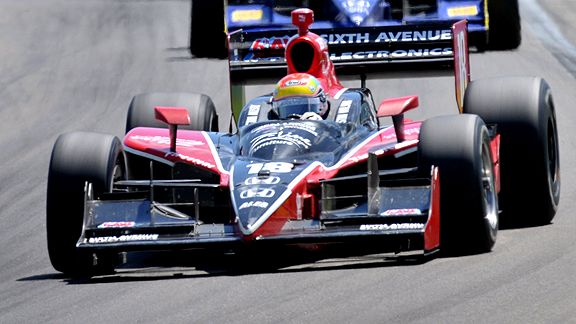 AP Photo/Tom RyderThe racing has been pretty good on road and street courses this season, but the cars haven't been as exciting on the ovals as in years past.
The clock is ticking on the IndyCar Series and its efforts to create a new formula for the future. Although series officials still say that new cars and engines could be introduced for the 2011 season, Honda Performance Development president Erik Berkman disputed that notion in an interview at the recent Honda Indy Toronto.
In fact, Berkman claimed that time is running out in terms of plotting a new direction for American open-wheel racing for 2012 and beyond.
"To do it right, we need two years," Berkman said of Honda's preferred timetable for creating and executing a new engine formula. "To do it [in a less than optimum manner], we need 18 months. I know some people believe we can do it quicker than that, but if there needs to be some tooling made … we're not going to do it twice.
"We need to know by Christmas so we can put a plan in place and budget for it," he added. "If we get into the first quarter of next year and it continues to draw out, we won't be able to do it for 2012."
The IndyCar Series has used the same basic engine/chassis architecture since 2003, and the current formula has clearly run its course. When it was introduced, teams could select from two chassis and three brands of engines, but since 2006, the IndyCar Series has been a Dallara-Honda spec formula. And with some teams having as much as seven years of experience with that package, the cars are as developed as they are going to get and the racing -- at least on ovals, the original rationale for the creation of the IRL -- has gotten stale.
It's a classic Catch-22 for the IRL: To reinvigorate interest from fans, teams, manufacturers and sponsors, the series can't afford not to implement a new technical package. Yet with the economy in the tank for the foreseeable future, the key constituents can't really afford to make major changes.
There is even dispute among the teams themselves. Target Chip Ganassi Racing managing director Mike Hull is a proponent of shaking things up as soon as possible. But Roger Penske, the most influential team owner in the series, argues that things must be kept the same for as long as possible to maintain stability and keep competitor costs low.
Over the past two years, the IndyCar Series held a series of roundtable meetings with major auto manufacturers to solicit input for the future engine formula and identified five companies interested in possibly entering the series in the future. But things have gone ominously quiet, and Honda's Berkman believes that action needs to be taken immediately.
"None of the five manufacturers that were previously identified in the roundtable process have opted out or made noise that they are going to," Berkman said. "But our last meeting was a long time ago. There has been some communication between companies and between the league and companies. The comments coming from other companies besides Honda, as I understand it, are that they are still interested. One of these companies has come forward and indicated to the league an increased level of interest than what we understood before. That was a surprise to me and that gives me encouragement.
"My suggestion to the league is to try to get everybody together in one place again -- we seem to do better when we do that," he added. "Everyone gets to hear all the questions and all the answers and we all get to know the status. As I said a year ago, if we can get to a meeting of the minds by the end of the year, like a letter-of-intent level of commitment -- let's make it more formal than a handshake, let's make it a one-page document with the five bullet points we are in agreement on -- let's make a commitment to go forward and run hard to go get our budgets and all that kind of stuff, because then we can make it happen for 2012. For 2011, there is just no way. Not only for a new design, but even for digging something out of the closet to be re-engineered. You're not going to lower anybody's costs that way."
That last comment could be perceived as a reaction to the notion of reviving the 2.6-liter turbo V-8 formula used through 2007 by the Champ Car World Series. Honda built engines to that specification from 1994 to 2002, and theoretically that package could be updated to create the levels of performance and engine life that the IRL is seeking.
It is believed that a fallback to the 2.6-liter V-8 turbo formula is on the table as a contingency plan for the IRL. Aside from Honda, Toyota, Cosworth and Ilmor built engines to that specification and theoretically could resuscitate such a program on short notice. From 2003 to '07, Cosworth provided the Champ Car series with a spec power plant that teams could lease for less than $1 million a year.
Brian Barnhart, the IRL's president of competition, provided an update from the IndyCar Series' perspective.
"We have previously confirmed five engine manufacturers have expressed continued interest in participating in the IndyCar Series in the future, including Honda, Audi, Fiat, Porsche and Volkswagen, and they continue to show great interest," Barnhart said. "Plans for introducing a new engine spec, while remaining and maintaining the series' position as a leader in the use of ethanol biofuels, remains an ongoing process with considerable OEM [original manufacturer equipment] input. We are expecting to finalize the engine specifications in the next few months."
Barnhart hinted that the type of chassis that will be used is a bigger issue, and he hinted that radical changes might be in store. He also suggested that the IRL may open up chassis competition again, rather than requiring teams to use a Dallara-produced spec chassis.
"We are down to two designs, but one of the biggest challenges we face seems to be the direction we are leaning towards," Barnhart said. "They are significantly different from each other and they are also significantly different from what we currently have. It's hard for me to say without getting into too much detail about it, but just the database that's been created from a safety aspect over the evolution of the current type of car, a significant portion of that doesn't apply, because the potential new cars are so radically different. It would involve a vastly different engine as well, because the concepts are so radically different.
"With the importance and priority on safety, I'm just not sure time will allow for the prototype to be built, tested, and then all of the work done for it to be in place. We are 17 or 18 months from January of 2011, so I'm not sure that's a comfortable time frame to be able to do what we feel needs to be done with it. If it can, we are not ruling out 2011. Our focus is on 2012 and if we can do it quicker, then we will get it in place for 2011. And if not, it will be 2012."
Berkman stressed that any delays in the progress toward the next technical formula for the IndyCar Series will not be pinned on Honda. He believes his company is open-minded about how Indy car racing should proceed into the future, though it would prefer to see the series utilize a new turbocharged V-6 design.
"I want to support the IndyCar Series and I want to do what we can to make it better and stronger," he said. "I'm not the only guy out there with any ideas, though. We think competition is a good way to go. We think equivalency is OK; it's possible. It may not be ideal, but it's not the end of the world.
"We understand the league has some resistance to equivalency. We understand that the German companies have some resistance to 100 percent alcohol [fuel]. We understand that Honda has some resistance to going to a four-cylinder. Does that mean we can't get together and broker a deal, get together in one room, turn up the heat and vow not to leave until we arm-wrestle until we come up with a deal? I don't see us that far off, but I do see the economy has thrown a huge wrench into things."