Power took a gamble -- and it's paying off
August, 6, 2009
08/06/09
1:34
PM ET
Last October,
Will Power
turned the biggest mistake of his racing career into his biggest break.
The 28-year-old native of Toowoomba, Australia, was running away at the front of an IndyCar Series exhibition race in Surfers Paradise, Australia, when he lost concentration and crashed.
Later that night, the crestfallen driver ran into Team Penske President Tim Cindric. It was a meeting that Cindric was unable to forget.
It also happened that Cindric was on the lookout for a driver to potentially substitute for Penske regular Helio Castroneves, who had just been indicted by the U.S. government for tax fraud.
[+] Enlarge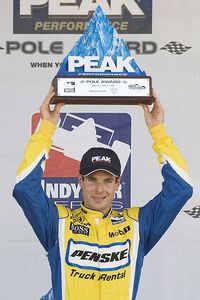 AP Photo/The Canadian Press, Jeff McIntoshWill Power won the pole for the IndyCar Series race July 25 in Edmonton, Alberta.
After briefly chatting with Power, Cindric knew he had found his man.
"I really didn't know him too well," Cindric recalled. "We were out that night and ran into him, and I asked him about [the crash]. He said, 'I made a mistake. I feel terrible, but that's what it was.' He was able to man up to the whole situation.
"I was impressed by the way he handled that. He's made that mistake now. You don't make those kind of mistakes more than once, usually."
As they talked further over the next few weeks, Cindric became even more convinced that Power had the right attitude for a job that offered plenty of potential, but little in the way of promises.
"It came down to his focus, determination, and you could tell that from an appreciation level and an opportunity level, this was a much bigger deal to him than it was for really anybody else we talked to," Cindric related. "We didn't know how the situation was going to play out, and there could have been a lot of gray areas.
"You didn't need a guy who was going to ask a lot of questions or put a lot of pressure on you, saying, 'When is it going to be my deal?' You didn't get the sense he was trying to steal Helio's program. You got the sense he was truly there to help with the situation, and whatever happens happens. That's what we needed. We needed something that would complement the situation, not complicate it."
Power made the most of his limited opportunity with IndyCar racing's most historic and successful team. He drove Penske's No. 3 car -- Castroneves' car -- to a solid sixth place in the IndyCar Series season opener at St. Petersburg. Then when Castroneves was cleared of his charges on the opening day of the Long Beach weekend, Penske rolled out another car, which Power promptly qualified on pole position.
Power's reward was a run for Penske in the Indianapolis 500, which in turn led to an additional five starts for the Aussie. He has made the most of the chance, never finishing lower than ninth and claiming two poles and scoring an impressive victory at Edmonton.
"In the position he was in, there was no clear-cut answer, but he's never missed a beat," observed John Erickson, who has managed Power's third Penske car, crewed by a group that usually prepares Penske's entry in the Rolex Grand Am sports car series. "At Long Beach, one day he was in the 3, the next day he was in the 12, and his attitude was like, 'No worries.' And he put it on the pole and drove a good race.
"He's just set the example for the way you would want anybody to handle it. He's a good racer, a good strategist during the races and a pleasure for everybody to work with. I've been impressed. Obviously the results are there, but his personality has fit right in. He's been a treat."
Now in his fourth full season on the American open-wheel scene, Power is indeed making his mark. He gained the reputation for being fast over one lap but sometimes inconsistent during his two-plus years in the Champ Car World Series (where he scored three race wins, including the IndyCar sanctioned 2008 Grand Prix of Long Beach). Thrust into the IndyCar Series when Champ Car folded, Power occasionally struggled to master oval racing.
Of course, now that he has aligned himself with the best team in the business, even if it is on a part-time basis, Power has proved to be a quick study. He has been smooth, fast and consistent every time he has taken to the track in a Penske-prepared machine.
"I didn't really contemplate much when I got the call from Roger," Power said. "I needed to be in a place exactly like this. You've always got a good car that never breaks down and I'm just finishing the races where it should finish. The first thing is to bring the car home, the next thing is to be fast and show that you can race well.
"I have driven differently this year, when I think about it. At Penske, you realize that sometimes you need to sit back and watch things unfold and sometimes you need to go. I definitely think about it more. We need to keep doing the job like that to have a better chance to be somewhere full time next year."
Cindric and Erickson definitely like what they have seen to date.
"On track he's probably exceeded our expectations, given the limited amount of seat time he's had with us," Cindric remarked. "Off track, it's really his approach to the thing that's given him the opportunity. It would have been pretty simple when Helio came back to just let Will go, basically, because we didn't have any commitments beyond that. With the way he handled that whole situation in Long Beach, we felt like if there was any way we could put something together for Indy for him, we really wanted to do that. But that was kind of where our loyalty card ended.
"Then it was a matter of trying to put together a proper program to run some limited races this year to see what we could do for a three-car program next year, whether it's limited or full time. The fact that he's still with us means that there is still hope."
For Power, the gamble of taking a part-time role this year with Team Penske rather than waiting on landing a full-time ride with another team has more than paid off. At this point, it would be a surprise if Penske didn't find a way to expand to three cars full time next year, which would mark the first time since 1994 that the team would run a three-car effort.
"I guess I showed I can run at the front week in and week out, especially on the road courses," Power said. "Even at the [Indianapolis] 500, I ran at the front and had a very good race there.
"I don't know if it's about showing people. Honestly, I just want a full-time ride, and I think I can win a championship if I'm given the opportunity. But I haven't been thinking too far ahead either. I've just been enjoying it and having fun."