Briscoe in command with two races to go
August, 30, 2009
08/30/09
2:14
PM ET
JOLIET, Ill. -- Ryan Briscoe said last week that he would need to win more races this year if he was to secure his first IndyCar Series championship.
He was good to his word.
The 27-year-old Australian obviously is peaking at the right time, because he won the Peak Indy 300 at Chicagoland Speedway on Saturday night to open up the largest championship lead any driver has enjoyed during the 2009 campaign.
[+] Enlarge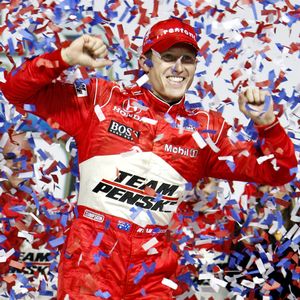 AP Photo/Nam Y. HuhRyan Briscoe will take a 25-point lead into the IndyCar Series' penultimate event Sept. 18 in Motegi, Japan.
With two races remaining, Briscoe is 25 points ahead of Dario Franchitti and 33 points up on Scott Dixon. The Ganassi drivers finished second and fourth at Chicagoland, with Dixon the runner-up to Briscoe by 0.0077 of a second in the fourth-closest finish in IndyCar Series history.
"That's the best I've ever seen you run!" victorious team owner Roger Penske exclaimed to his driver in Victory Circle.
Penske had just watched Briscoe drive back through the field after dropping to 15th place following a slow midrace pit stop. Saving his final power boost until the final lap, the Penske car was able to stay ahead of the Ganassi-prepared Dallara by 28½ inches on the run to the line.
Three of the four closest finishes in IndyCar Series history have occurred at the 1.5-mile oval near Joliet.
"I didn't think I was going to have enough for him, but once I got beside him, it slowed both of our cars down," Briscoe said. "The side draft evened things out and allowed me to beat him across the line. I didn't even know that we had won."
Dixon knew, and he knew it would happen long before the nine-lap green-flag run that ended the 200-lap contest.
"We came out about 30 car lengths ahead from the last pit stop, but we just didn't have the speed," Dixon lamented. "I could tell. I knew if we were going to come down to a shootout, we were going to lose. The last eight laps, I pushed [the power-to-pass boost] every lap. But I didn't have quite enough at the end. Credit to Ryan and Team Penske for obviously doing a great job.
"We need to push hard the last couple of races and try to lead as many laps as possible and go for wins," he added. "But I think we need to redefine what we are doing on our 1.5-mile aero program, whether it's drag or [how the] body fits or whatever. We clearly didn't have the speed the Penske cars did in qualifying or the race."
Dropping to near the back of the pack didn't appear to harm Briscoe, although he was worried because it forced him to burn most of his power-to-pass boost.
After being stuck at midfield for the better part of 50 laps, he suddenly emerged in third place, hunting down the Ganassi cars.
Briscoe had been mired back there because he'd missed his marks during his second pit stop and the fueler had difficulty fitting the hose to the car.
"It [was] not as smooth as I would have liked," Briscoe said. "The car was fast and consistent, but when I got stuck in the pack, it was like a wall in front of me with cars going everywhere. It was really hectic, and after 40 laps when my spotter said, 'Clear all 'round!' it was the best thing I'd heard in a long time."
Briscoe has been the only driver to maintain the IndyCar Series championship lead for two races in a row this year, and he's done it twice now. He'll have nearly three weeks until the next race is staged in Motegi, Japan, to think about it.
"It's no different, really," he said. "We've seen how quickly that can turn around, and we've got to stay focused and try to beat these guys. I sort of got myself into a little bit of trouble tonight, and we need to avoid those instances."
Briscoe's teammate Helio Castroneves crashed out at Chicagoland to officially eliminate himself from championship contention. But one Penske entry was stout enough to take on and beat two cars from the Ganassi stable.
"Ryan did a good job again tonight," Franchitti said. "We're going to have to make something happen these next two races. Scott and I are racing each other and competing for points; Ryan's got the luxury of Helio being out of it, so he can help him a little bit. If we end up having to back one horse for the championship, Chip will make that decision."
Of course, the way Briscoe is running, Ganassi may not have to make that choice. Briscoe has scored two of his three 2009 race wins in the past four weeks.
The Aussie has reached the point where he runs as strong on ovals as he does on road courses, and that's what it takes to win the IndyCar Series title. He'll have to travel to Japan and back to Florida to clinch it, but Briscoe has one hand on the championship cup.