Native drivers steal Motegi spotlight from Danica
September, 18, 2009
09/18/09
11:49
AM ET
MOTEGI, Japan -- Here's one of life's rich ironies: On a weekend when Danica Patrick actually should be the center of attention, she's not.
[+] Enlarge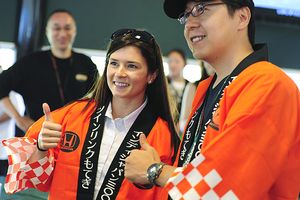 AP Photo/Shuji KajiyamaDanica Patrick poses in a racing-themed happi coat given to her by a Japanese fan.
Patrick scored her first -- and only -- IndyCar Series race win last year at Twin Ring Motegi. She led the last three laps when five of the six cars running in front of her had to stop for fuel, and Helio Castroneves didn't conserve enough of his to stay out front all the way to the checkered flag.
At a venue where she is the defending race champion, Danica might expect to gain the lion's share of attention. But she's playing second fiddle to the native drivers in Saturday's Japan Indy 300 -- her Andretti Green Racing teammate Hideki Mutoh, as well as part-timers Kosuke Matsuura and Japanese-American Roger Yasukawa.
Not to mention the IndyCar Series championship battle being waged by points leader Ryan Briscoe of Team Penske and pursuers Dario Franchitti and Scott Dixon from Target Chip Ganassi Racing.
After a strong start to her season topped by a third-place finish in the Indianapolis 500, Patrick has faded from championship contention. She's still a career-best fifth in the standings, but she has achieved only one top-5 finish in the past two months. The Andretti Green team has been in a perpetual state of implosion in that period, and Danica may be distracted by all the speculation about her possible long-term future in NASCAR.
Patrick was reportedly rebuked by her team following the IndyCar Series race at Infineon Raceway for revealing too much about her contract negotiations to remain with AGR and the IndyCar Series, and she was very testy when pressed about the subject at the next race at Chicagoland Speedway. At Motegi, on the setup day for the Japanese race, a member of the small American media contingent on hand who shall remain nameless (but who is often associated with a famous brand of cookie) took a bullet for the team and asked whether the Japanese fans could expect to see her back at Motegi for next year's IndyCar event.
"You'll know when I tell you," she snapped, in a manner reminiscent of her apparent new mentor, Tony Stewart.
Or maybe it was just Danica being Danica.
She was also unhappy when another reporter asked about the fact that her sole IndyCar victory was the result of a fuel-mileage gamble.
"Obviously I think that's unfair," Patrick said. "You have to be running well to win any race you go to. There have been a lot of people who have won on strategy; strategy is a huge part of it.
[+] Enlarge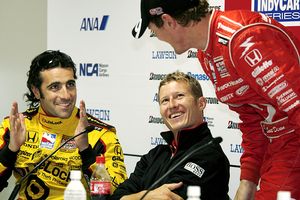 AP Photo/Shuji KajiyamaSure, Danica Patrick is the defending race winner in Motegi. But don't forget about Indy front-runners Dario Franchitti, Ryan Briscoe and Scott Dixon.
"Everybody wants to win in a record photo finish, or by a lap over the second-place car. I'm proud of the win and the way we achieved it."
Meanwhile, at the front of the field, Briscoe arrives in Japan with a 25-point lead over Franchitti and with 33 points in hand over defending series champion Dixon. The Australian Penske driver hasn't been the dominant driver in the IndyCar Series this year -- he has three race wins compared with four apiece for the Ganassi duo -- but he has been the most consistent, with seven second-place finishes padding his points total.
Unless Franchitti wins the last two races of the season (at Motegi and Homestead-Miami Speedway on Oct. 10) and also leads the most laps, another pair of second-place finishes will be enough for Briscoe to claim the championship crown.
Briscoe is coming off a thrilling victory at Chicagoland Speedway over Dixon, and he has compiled the best record in the series on 1.5-mile ovals in 2009.
"I'm really excited about going to Japan and have always enjoyed the atmosphere of racing there," said the Sydney native. "Team Penske has done an amazing job all year long, and I'm hoping to continue our streak of 1.5-mile circuit performances going into the final two rounds of the championship."
Briscoe will be hoping for an assist from his Penske teammate Castroneves, who like Patrick has faded in the second half of the season after he scored race wins at Indianapolis and Texas Motor Speedway.
Mathematically ineligible to win the title, Castroneves knows he is playing a support role this weekend.
"Those guys are having the battle," Helio observed. "I'm not in the mix so I will do everything I can to help Ryan out and get him the title. The Ganassi boys are battling each other for the title. If that becomes an issue, it would be a good issue for us."
Neither Dixon nor Franchitti has ever won at Motegi, despite the fact that both have competed at the Japanese oval for many years, dating to when the race was a round of the CART series.
Dixon suffered one of the biggest crashes of his career at Motegi, breaking his wrist during the IndyCar Series' debut at the track in 2003. He has finished fourth and third in Japan the last two years, leading 101 of 200 laps in 2008.
"It's completely different and definitely one of the toughest tracks we go to," Dixon said. "You have half the downforce you would have at a short oval and it's really on the edge. It's been a bit of a thorn in my side for some time. You need to have a lot of confidence on that track and you have to stay committed."
IndyCar Series officials are quietly hoping that at least one of the Ganassi drivers dominates at Motegi so that the championship fight will not be settled until the finale back in America. The last time the IRL title was clinched prior to the last race of the season was 2005, when Dan Wheldon locked it up with two races remaining.
Given the unpredictable nature of the Japanese round, dating all the way back to the CART era, it would hardly be a surprise at all if the points race was extended for a couple more weeks.